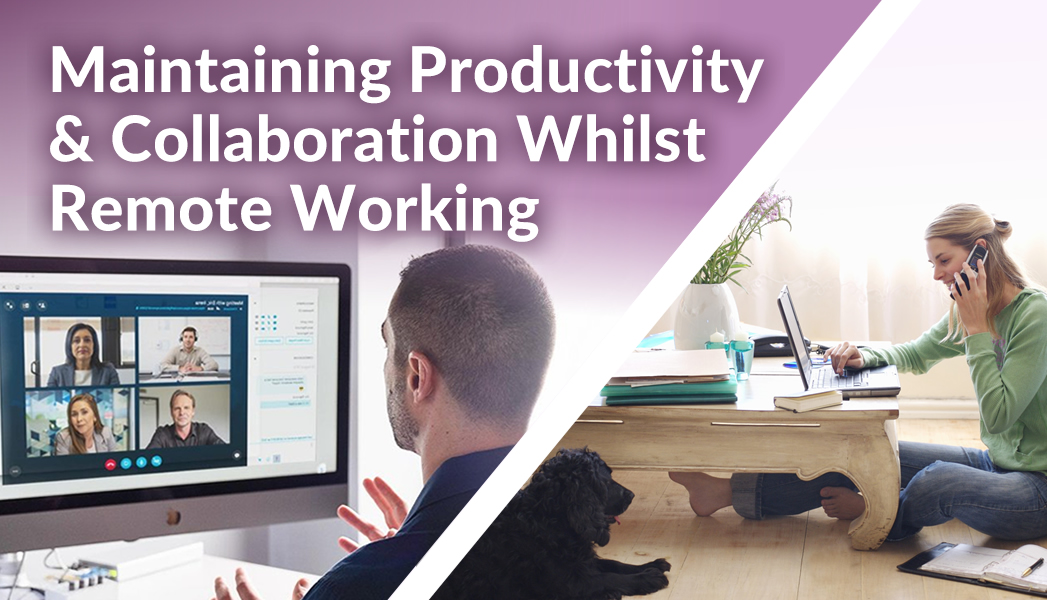 Maintaining productivity and collaboration whilst remote working
The Coronavirus outbreak is first and foremost a human tragedy, affecting hundreds of thousands of people across the world. It has already had a huge impact and will continue to affect the global economy for the foreseeable future. Those businesses and organisations that are struggling through the current crisis have had to design, develop and execute remote working systems and practices virtually overnight. This short article is intended to provide those working through these strange times with a view on evolving and adapting to working in a fully remote setting.
Here, Informed's Head of Talent, Nick Chadwick speaks to Richard Phillips, a Lead Practitioner in our User Centred Design team about his experiences to-date.
How well prepared were you and your team for the change to full remote working?
Richard: As consultants, it's typical for us to work with our clients in internationally distributed teams working remotely or alongside our clients at their offices. It's been a requirement for us to be able to conduct all aspects of our role from outside of Informed's physical office environments for quite some time.
The main challenge has related to the physical proximity to colleagues for brainstorming and idea generation, but we've found as natural a way to do that using a combination of online collaboration technologies and tools that we use as part of our user centred design community practices.
How have you managed to maintain productivity in a fully remote setting?
Richard: My productivity, as with many User Centred Design roles, is dictated by interactions with colleagues and project team members. My focus has been on making sure that people know when I'm available, and how best to contact me. The key is to find ways to imitate those little 5-minute discussions that are so natural in the physical workplace and make a big difference to our outputs. Distance is no barrier – we will all just pick up skype or slack in order to make sure we maintain that connection (without it being a distraction).
Aside from this – it is really quite different working remotely. I've tried to recreate my office space as much as possible within my home environment in order to gain a separation between work and home life, which is always important. I've got post-it notes on my new office wall, I've brought stationary back from the office, and I've made sure I have the space to draw UCD maps out in the same way as I would in an Informed office.
What have you and others within Informed done to maintain morale and team working culture, whilst working remotely?
Richard: Everyone has been great at keeping in touch – trying to recreate those lunch room and coffee break moments in a daily hang-out at 12.30pm every day so people can just drop in and catch up as often as they like or need. We've set up separate slack channels for some of the chatting that would otherwise take place across desks, mindful that it can be a real concentration and focus challenge having every channel 'always-on'. Aside from the daily 'stand-ups' we have set times for teams to catch up and share coping strategies. We're all different but ideas flow through teams pretty naturally.
It is a challenge working away from colleagues, so to try and inject a little bit of fun to daily working life, we've started our own version of TaskMaster (the TV game show), which has allowed people to indulge in the light-hearted competition that can be so natural in a work setting. It's also given us some insight into people's working remotely lives so that we can better understand each other and support when needed. Our inaugural pub quiz took place last week and was a real success.
What's the biggest remote working challenge that you have encountered so far?
Richard: For me, the biggest challenge is trying to keep home and work lives separate. Normally working in an office it's quite easy: A commute offers you the distance between work and life and gives you the chance to switch-off and transition back to a home mentality. It's a lot harder to switch that off when you have 5 metres between your office and the sofa. It's been quite important to not be tempted to look at the laptop in the evenings – or even remember when the end of the day is to stop working!
Has this remote-working period provided you with opportunities you wouldn't have received working in an office environment?
Richard: I guess I can see an opportunity to get fitter, given the chance. It's important to split your day out so that you can maintain productivity without getting into a daily rut.
What's your single biggest piece of advice for people facing the challenge of working remotely?
Richard: Working in digital service design and delivery, our work at Informed can carry on from a technical perspective – we have the technology backbone and system, tools and techniques that allow our teams to work remotely.
One of the main challenges is isolation as a result of 'social distancing' - we have some team members that have families and some live on their own – both situations bring distinct challenges. Finding ways to both find space and connect (authentically) is important.
If working remotely for an extended period for the first time, I'd say – make space in your home for you to separate your home and office lives. At the end of the day you can close the door on work, but during the day you can leave the door open to allow the natural demands of life to infiltrate and be manageable during lock-down.
For more insights into life at Informed, follow us on LinkedIn, go to our website at www.informed.com and get in touch.