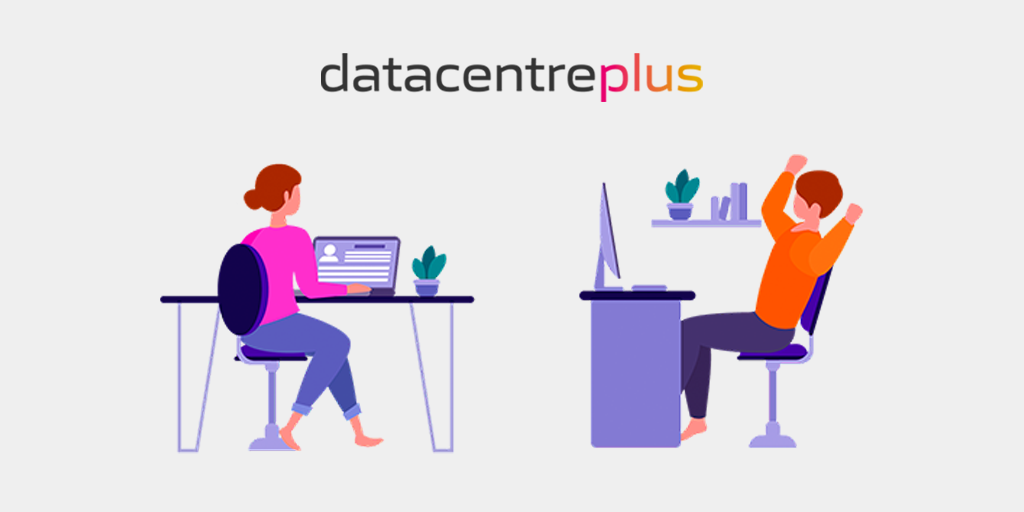 As we go into a third lockdown, we see many businesses' reworking their strategies and sadly have also seen a number of our friends and well-loved businesses close their doors for the last time. These are people who have done so much for Manchester and the North West; people who are more charitable and caring than they are credited for.
The current challenges we face as a nation means offices with multiple staff members face huge risks. In line with government regulations, we took the decision last year to change how and where we work to ensure we are keeping ourselves and others safe. Although now most of us only get to catch up with colleagues through a screen, we also operate a data centre on the doorstep of Media City and work hard to make sure everything runs smoothly – especially during lockdown periods.
How are data centres adapting to the challenge of Covid-19?
Our data centre allows businesses of all sizes to safely house their servers in a highly secure environment, with guaranteed power and connectivity. It employs a number of highly skilled engineers who work in isolated bubbles and will continue to work in teams in rotational shifts. The data centre support team is the engine of our business, providing support and technical assistance (for example, on migration services and backup solutions) and will always be based on-site. We have taken a number of precautions to ensure our Staff can continue to work in a COVID safe environment inline with the latest government guidelines.
Embracing the future of remote working
However, as a whole, we have seen big changes in how we operate as a business, especially when it comes to our office-based staff. Like many businesses, we've adapted our strategies and embraced remote working (with our admin, sales and marketing team based off-site) to ensure first-class customer support and to help customers ensure an online presence- which in some cases has become essential.
With this in mind, we have put together some considerations for anyone that is currently looking at remote working, alternative hosting solutions and IT services and what they entail.
Remote Desktop Solutions
Covid-19 continues to change the business landscape with more staff members working from home than ever before and the increased demand for remote desktop services. We have seen an increase in the number of businesses looking to connect to their data from all parts of the country, maintain business collaboration and ensure safe and secure access to their desktop applications with as little disruption as possible.
At Datacentreplus, we have the ability to assist clients with our own secure remote working solutions, offering a full desktop experience just as you are used to, but with more flexibility, greater security and better pricing. The reality is that most businesses will need at least some of their staff members to have access to remote desktop applications going forward.
Server Hosting and Colocation
The demand for temporary office solutions, with many set to close, has made way for businesses to look for alternative places to store their servers or set up dedicated servers to assist with this transition. Recently, there has been a surge in clients looking to colocate their equipment, many of whom we have been able to help through short-term contracts at favourable rates, helping businesses continue to function as we move into the New Year.
Remote working, tools & resources – what should I consider?
As part of our insight into employee remote working, Stephen Hobson, Business Director at Datacentreplus, shares his insight and top tips on remote working, his choice of collaborative tools and resources, the importance of cybersecurity and how you can get that CRM working!
What's your advice when it comes to managing your team remotely?
It's important to carefully pick your tools of choice and make sure everyone has a go at using them. The amount of Zoom video call fails, Google Hangout hiccups and Microsoft Teams tantrums last year made it clear that no matter what position the staff member is in, it's a great idea to put together a simple guide for your staff on how to use your chosen work tools, rather than assuming everyone will get it straight away. It's important to note, not every meeting needs a video call, sometimes an old fashioned conference call over the phone is all that's needed to make sure your team is on track.
Since the start of lockdown, there has been a big uptake in users using applications like Zoom (and other similar cloud-based services) across all nations. JPMorgan analyst Sterling Auty says third-party data indicates that daily Zoom usage was up more than 300% from before the pandemic forced workers into their homes. Similarly, Microsoft says there has been a 775% increase in growth in Teams' calling and meeting monthly users in a one-month period in Italy, where social distancing or shelter-in-place orders have been enforced.
How important are Microsoft Office 365 and G Suite to your work?
Office 365 is one of the most popular software suites in the world that businesses rely on to communicate, create documents and record task-based activities. Similarly, G Suite is widely utilised due to its user-friendly and multi-functional cloud-based productivity services. It may be a good time to review and evaluate your business collaboration tools and internal software to increase employee productivity and work efficiency when working from home.
How can you manage the risk of cyber threats?
The risk of damage to your network and attacks on your environment can be increased with remote working due to the unknowns of home-working environment setups. A complete audit and ruleset is often needed for those working from home and engaging with someone to complete a full cybersecurity check is often a good way to manage the risk of cyber threats. This service is usually offered at a reasonable rate and can save businesses time and money early on.
What's even more worrying, the fact that cybersecurity threats have not diminished, but instead evolving and becoming more frequent. According to the Cyber Security Breaches Survey 2020, almost half of businesses (46%) and a quarter of charities (26%) report having cybersecurity breaches or attacks in the last 12 months. The past year or so has opened up opportunities for malicious hackers as the UK has seen a 31% increase in cyber crime amid the pandemic it has been reported, especially concerning hacking through email and social media.
Chris Ashcroft , Head of Technical Services, at Datacentreplus says:
"A cybersecurity audit is a valuable tool for organisations which helps to mitigate the consequences of a security breach. It is even more important for those businesses who may not have yet documented their internal and external risks, vulnerabilities and threat exposure".
How important is your CRM System for your business?
Now could be a great time to get that CRM working. If it has been broken or simply needs tweaking, now may be a good time to better engage with your customers. According to Salesforce, 60% of customer interactions are now taking place online and the use of artificial intelligence by marketers surged 186% in 2020, emphasising how companies are looking to digitise their businesses and how technology can drive innovative customer experiences. Luckily here at Datacentreplus, we spent a lot of time with our sister company and Salesforce expert Sandyx Systems to make sure everything is set up correctly.
These are just a few considerations to think about when it comes to your team effectively working from home. We always welcome anyone looking for a fast, UK alternative data centre who provides great support and assistance – 0161 464 6101.