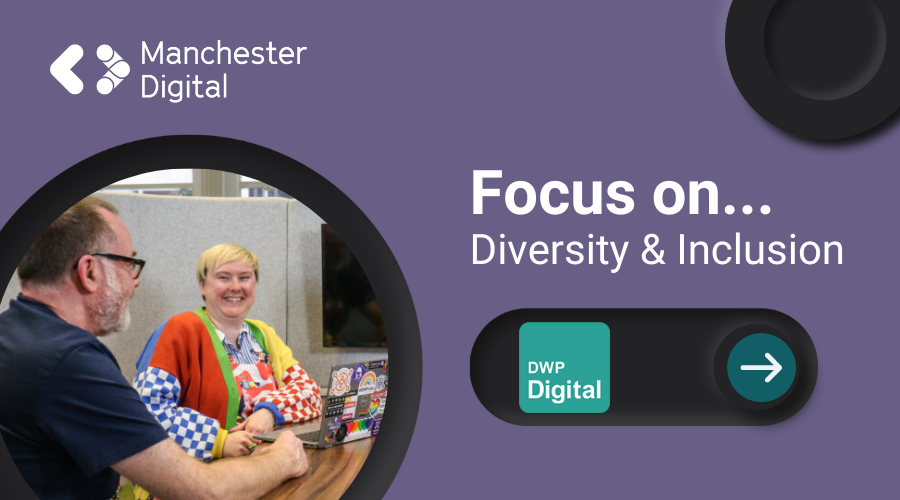 Focus on...Diversity & Inclusion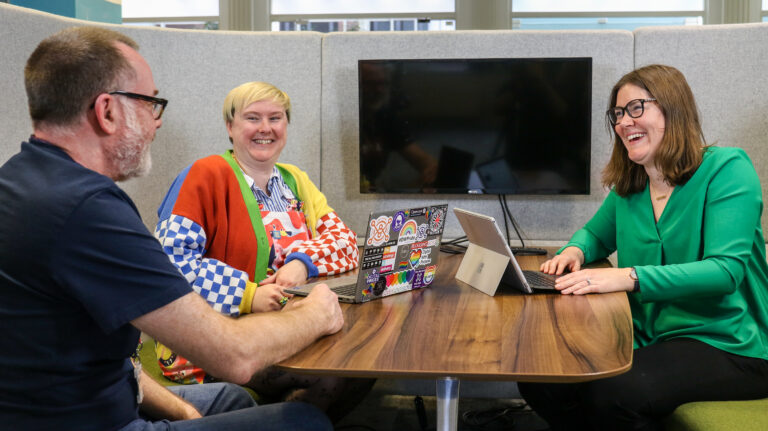 One of our missions at Manchester Digital is to help end inequality and increase diversity in the technology and digital sector. We hope to inspire and encourage more individuals from a diverse background to consider careers in technology and digital.
We want to understand what our members are doing to build and encourage diversity and inclusion across their organisations and share best practice advice. We spoke to DWP Digital to find out what initiatives they have in place across their organisation.
How would you describe your culture and behaviour in your current teams?
We have an extremely supportive culture at DWP Digital, every person matters. It's important that we have a diversity of cultures, experience, and skills, to reflect the citizens we serve.
We are a collaborative team of like-minded people, all committed and passionate about our purpose to enable millions of people access the help, advice and financial support they need.
We strongly believe that a diverse and inclusive workforce brings greater experience, innovation and creativity. Through valuing our differences and working collaboratively, we're making DWP Digital a better place to work.
We have DWP wide minority networks to bring communities together, e.g., DWP Pride for LGBT+ colleagues and THRIVE for disabled colleagues. Networks for people who identify as ethnic minority and groups specifically aimed at gaining gender parity, providing a safe space to connect and receive support.
Our benefits package provides a real work-life balance. It's built around reducing barriers and including family-friendly policies i.e., term time, flexible and hybrid working. We allow people to shape how and when they work.
In the workplace, we ensure colleagues have the right technology to be their best, such as adaptive and assistive tools. We have a workplace adjustment passport, ensuring that when a new joiner has an adjustment, that adjustment travels with them as they develop their career or move around the business.
Our behaviour includes always looking at how we can continue improving as a place to work, listening to our colleagues by asking for feedback, undertaking regular focus groups and we regularly analyse data from our annual People Survey.
Do you have Diversity and Inclusion objectives in place?
Simply, our objective is to as be as diverse as the citizens we serve. We want to be representative of all cultures, genders and ages.
We strive to provide services that embrace and value diversity and promote equal opportunity within our workforce. The goal is to ensure that these commitments, reinforced by our values, are embedded in the day to day working practices with all our colleagues, customers, and partners.
We are working hard to understand the barriers that are preventing representation, having set tangible objectives to work towards. These include telling a clear and honest story about our position and proposed actions along with data that supports this. Having a taskforce to drive our D&I priorities forward and clear D&I plans in each senior leadership team.
What are your areas of focus and what initiatives are you working on?
Our focus is attracting unrepresented groups to apply for our roles, we are particularly focused on encouraging ethnic minorities and disabled people to apply for roles here, we are working on a recruitment process that enables them to succeed.
We are also focused on helping DWP Digital colleagues to gain promotion if they wish, to help us increase diversity at a senior grade. We strive to support our talented people to always be their best and enable them to pursue their career through equal access to opportunities.
According to the second annual 'Diversity in Tech' report for 2022 from Wiley Edge, which surveyed UK respondents aged 18-24 years, 6% of people from a black background said that a lack of ethnic diversity is a deterrent to pursuing a tech career. To combat this, we are showcasing inspiring and visible role models. We shar our colleagues' stories and perspectives, celebrating their achievements, to help raise awareness.
The survey went on to say, almost 15% of women said that a lack of role models puts them off entering the sector. Our award-winning Digital Voices programme has just concluded its 5th year. This programme, aimed at women, builds confidence by providing networking opportunities and interactive sessions, encouraging the women involved to share their stories to inspire others.
We analyse our recruitment process through research and insights, removing gender focused language in job specifications, and have used a 'name blind recruitment' policy since 2015, to reduce the risk of bias. Continuing this focus on recruitment, we are now encouraging unrepresented groups to volunteer to join recruitment panels.
We've recently set up a senior diversity task force consisting of individuals who hold significant scope and influence in their roles. This task force is testing new ways of hiring, promoting, and selecting, which ensures we drive equity and equal experience.
We continue adjusting during the hiring process, with the Disability Confident employer scheme, a government initiative designed to encourage employers to recruit and retain disabled people and those with health conditions. Through this, we are providing guaranteed interviews. We are also trialling a new interview method where candidates are provided with interview questions in advance, helping those who struggle to think on the spot. We're shaping our hiring process to accommodate different needs, whatever people need to be their best, we will try to do it for them.
We have a dedicated diversity and inclusion manager and a top-down commitment, giving senior leaders clear objectives. Each director has a plan to support diversity.
We're also proud to have signed up to the Tech Talent Charter for the 4th year running, a visible pledge to diversity.
Have you had any successes with your initiatives?
Our statistics reflect the work we have done to increase our diversity and inclusion. Almost 35% of the workforce are women, compared to the tech sector in general which is at 27%. Our senior team is nearly 40% women, and our executive team are 50/50.
In the 2022 census, 3.2% identified as LGBT, our workforce is 6%. 9.3% of the population are Asian and 2.5% are black, we're proud 13% of our workforce are from ethnic minorities.
We have increased our diversity across the board and are working hard to continue attracting people from different backgrounds.
Further evidence of success comes from the previous cohorts of the Digital Voices programme. When reporting confidence in talking about their work externally, levels increased from 0% to 100%, encouraging role models to encourage others into the tech sector. Many of our participants have also gone on to achieve promotions following the programme.
Our initiatives and achievements have enabled us to be recognised in the tech industry as the best place to work in digital for women. In 2022, we were listed in 'The Times Top 50 Employers for Women' for the fourth year running and we won 'Employer of the Year' at the Women in IT Awards in 2023. We go beyond that, and we believe we're the best place to work for everybody.
What support and resources have you used to help improve D & I?
Our colleagues' opinions and perspectives are our main support and resource.
Making sure our people feel included, respected, and listened to is important. We want to understand barriers and how we can overcome challenges that are faced.
We communicate with our wealth of networks in DWP Digital, we receive regular feedback and work alongside them to improve diversity and inclusion.
We are encouraging our diverse colleagues to join listening circles so we can hear first-hand their viewpoints and opinions. These are focused on a different theme each month such as career development, progression, and culture.
We also have a colleague challenge group who critique the work we do providing real accountability and transparency.
We continuously gather diversity and recruitment insights from our data, including our annual People Survey. Reflecting on previous initiatives and actions, assessing what has been successful and how we can improve. This resource helps us better understand the issues that affect colleagues and make informed decisions.
Do you have any standout advice for other businesses when it comes to growing a more diverse and inclusive team?
Having leadership commitment to inclusivity is vital. DWP's Chief Digital and Information Officer Rich Corbridge is also the DWP Gender Champion. He said:
"DWP is striving to create a workplace that is diverse and inclusive with equality at its heart, allowing us to be the best we can at everything we try to achieve. This means having visible role models and helping colleagues develop a broad skillset - not just technical but also engagement, leadership and confidence."
Our advice is to listen, educate, and acknowledge bias and inequality in the workplace. We know it's also important to having transparency in what you do.
It is important to focus on continuous improvement, constantly look at updated data and ask for feedback from underrepresented colleagues. It's good to acknowledge successes, but always to continue to strive to do better.
To find out more about careers at DWP Digital, click here.