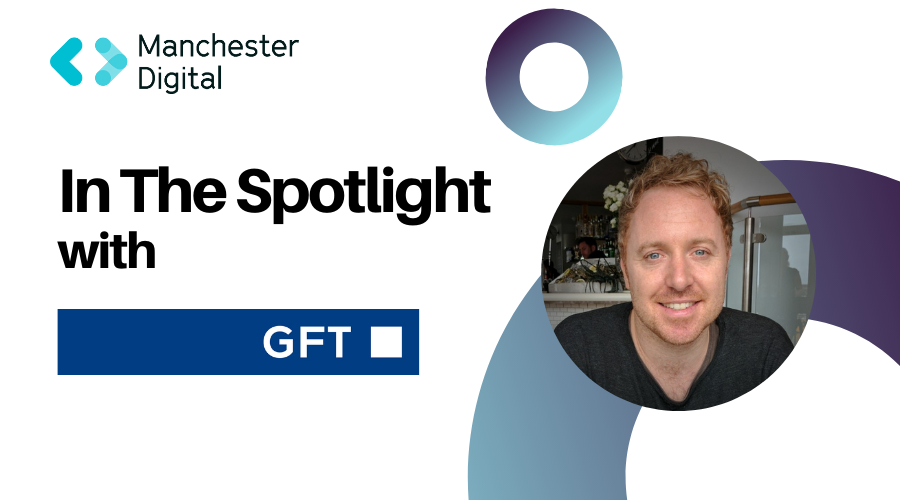 At Manchester Digital we like to interview our members to find out a bit more about what they do and their work in the Greater Manchester digital and technology sphere. This week we're speaking with Pete Coulter, UK Regional Director at IT services and software engineering provider GFT.
What does your organisation do?
GFT is a digital transformation specialist. We work with businesses and organisations, mainly in the financial services and manufacturing industries, to create scalable and sustainable IT solutions using technologies such as cloud and artificial intelligence.
To do this, we partner with some of the industry's largest technology providers such as Google Cloud, Amazon Web Services (AWS), Microsoft Azure and Guidewire, to help businesses release their potential through technology transformation.
What do you think is currently the biggest issue facing the tech industry?
The biggest challenge the industry is facing is what we call the 'skills gap' whereby there are not enough people with the right skills to deliver the scale of digital transformation required. The digital landscape has advanced so quickly that our education and training institutions have struggled to keep up with demand for the emerging skills that are needed.
At GFT we have 8,000 experts working for us globally, and we are continuing to grow every day; but finding the best talent with the right skills is becoming increasingly challenging.
It is hugely important to us that we play our part in supporting the training of digital skills, which is why we recently launched our Manchester Innovation Hub, which will act as a base for us to leverage our experience in the sector to entice a new wave of talent into the digital industry.
What is your organisation's biggest achievement?
Our biggest achievement has got to be the expertise that we have developed in our ever-growing team and how they help businesses reach their potential every day through the application of innovative technology.
We have extremely creative experts working across cloud, data, application development and artificial intelligence, all working with our customers to create innovative IT solutions that solve what can be very complex issues.
We've seen a huge increase in demand from organisations seeking to leverage all the data they have stored over the years, and our experts are providing new, innovative ways to make their data work harder, to ultimately make our customers more efficient and improve their bottom lines.
What would you consider to be your organisation's biggest challenge?
Our biggest challenge, similar to the wider industry, is addressing the skills gap. More and more businesses are wanting to harness cloud technology and artificial intelligence and we want to make sure we have the best people to help them do so.
We recently conducted research where we spoke to small and large banks, which have historically been slow to embrace cloud technology, to understand where they are on their cloud adoption journey. 90% of respondents told us they now have at least one application in the cloud, which is clearly great news for us and our industry. However, it highlights just how quickly cloud adoption is continuing to grow, highlighting that we need to address the skills gap if we are to continue meeting this unprecedented demand.
What do you think the future looks like for Manchester's tech sector?
Manchester is an incredibly exciting city to be a part of. We chose the city for our Northern hub as we could see the incredible potential that it holds. The city is securing huge volumes of inward investment and the sheer number of homegrown Manchester tech start-ups coming forward is testament to the vibrant tech ecosystem that has developed. It sounds like a cliché but there is a real buzz in Manchester and we are really keen to find the right people to join us to help support our aggressive growth strategy.
Finding this talent will be key to ensuring that our Manchester hub exudes innovation and is a reliable source of technology expertise, which is vital for providing exceptional customer support for our clients.
Tell us something that we might not know about your company?
Whilst GFT has been helping clients in the UK for over 20 years and now has over 200 employees here, we are in fact part of the larger global GFT Group, operating in 15 countries with over 8,000 specialists.
Many of our clients span the globe and our UK teams lead many international projects involving GFT colleagues from many countries, including Poland, Spain, Brazil and Costa Rica to name but a few. Besides opening our new Innovation Hub in Manchester, in 2021 GFT also opened a new development centre in Vietnam and has helped launch one of the most innovative new online banks in Hong Kong known as Mox.
Having worked with clients on IT programmes across different industries for many years, we are increasingly being asked to help with the most cutting edge digital transformation work, involving cloud, artificial intelligence and data analysis, opening up many new potential opportunities for existing and new employees.
To find out more and #exploreyourpotential just drop us a line at:
Thank you Pete!
To find out more about GFT, click here.
Want to raise your business's profile? If you're a member, contact thom@manchesterdigital.com to discuss featuring your content on our site, social media or newsletter. If you're not a member, get in touch today to discuss the benefits of membership.