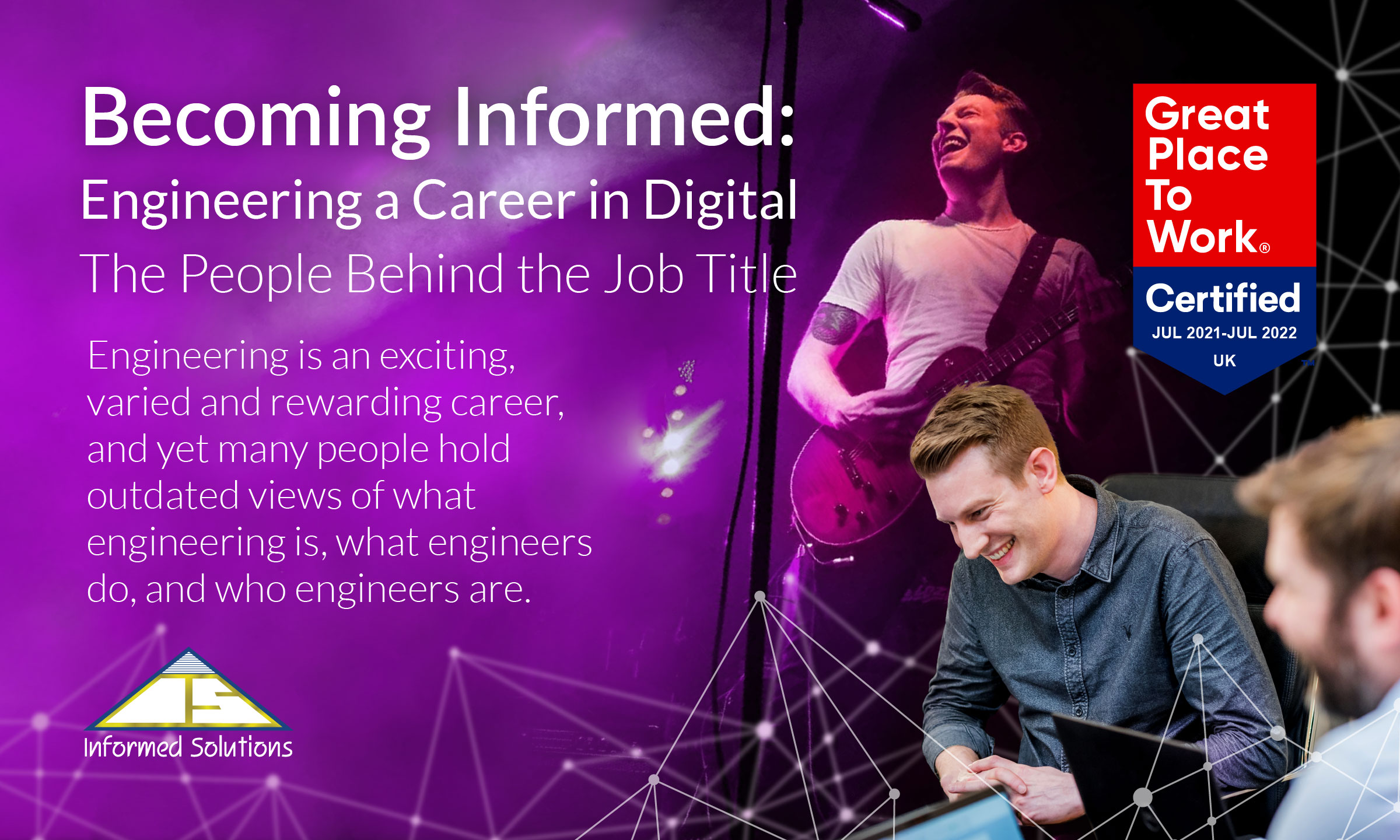 Engineering is an exciting, varied and rewarding career, and yet the UK has a shortage of engineers and engineering skills. One of the prime reasons for this shortage is that many people hold outdated views of what engineering is, what engineers do, and who engineers are.
Richard Naylor, Senior Infrastructure Engineer, Informed Solutions
I was never sure what I really wanted to do as a career. I'd always dreamed of being a rock star, and so chose to pursue my quest through higher education at Leeds College of Music, joining as many bands as I possibly could, whilst also setting up a business to fund my education - building and repairing computers and offering digital and basic technical skills to people. The business did well – with word quickly spreading around the community through word of mouth. Eventually, I realised that I had built a business simply to support the logistics and cost of being in a rock band, and so decided that a career in tech was becoming more attractive for my longer-term future.
I managed to secure a job as 3rd line Infrastructure support with a large company but struggled to get the on-the-job training and development to progress. I knew I didn't have quite the level of experience needed to step up into a more senior role but continued to search job adverts looking for a position that would better support my ambitions.
One day, an advert from Altrincham-based digital practice "Informed Solutions" stood out. A line in the advert simply said "Don't have the experience? Apply anyway, we can train you". I applied immediately and soon found that not only is this statement true, it's a core principle of Informed Solutions' learning and development culture.
Roll on two and a half years and I'm now a Senior Infrastructure Engineer at Informed Solutions. On paper my job is to maintain and enhance Informed Solutions' core infrastructure and global digital backbone, which has served us so well over the past 18 months through lockdown, enabling our people and clients to work, connect, and collaborate with each other seamlessly.
Outside of this critical role and like everyone at Informed, I'm given the opportunity to work with other areas of the business through business improvement initiatives and technical Communities of Practice, where people come together to improve collective understanding of the latest digital technology and service design techniques, and also to work on activities not necessarily related to day-to-day responsibilities, such as running a 'Mapathon' to add data to geographical maps in unmapped regions for our charity partners like MapAction.
Additionally, we gather in working groups to enhance Informed's operating procedures, or simply to share best practice information on a wide range of digital transformation disciplines. Nobody at Informed is simply defined by the department they work in.
Through my line manager, coaches, and mentors, I'm always encouraged to seek out training and personal development, and constantly offered training courses to develop my skillset. From vocational technical courses to expanding my wider professional skills with new areas of personal development such as presentation skills, personal resilience, or business communications.
This level of support (and active encouragement for development) are natural ingredients of continual improvement at Informed, with everyone given the freedom to explore their own career path and develop new skills to support development: Are you a developer looking to get more Service Management experience? Working in Infrastructure and want to do more client-based work? - It's all highly encouraged!
Career progression at Informed can (and does) happen in a much more fluid and agile way than the rigid structure of many organisations. I am constantly introduced to new areas of work and the best part about it is that I get the support and training to develop both from professional and personal perspectives.
Nowadays, I'm still a weekend-warrior rock star, but I'm very happy to have found a career with a company that is excited about my own development as it is for 'company success' and I'm very proud to work with colleagues who feel the same way too. It's what helps make Informed Solutions a Great Place to Work.