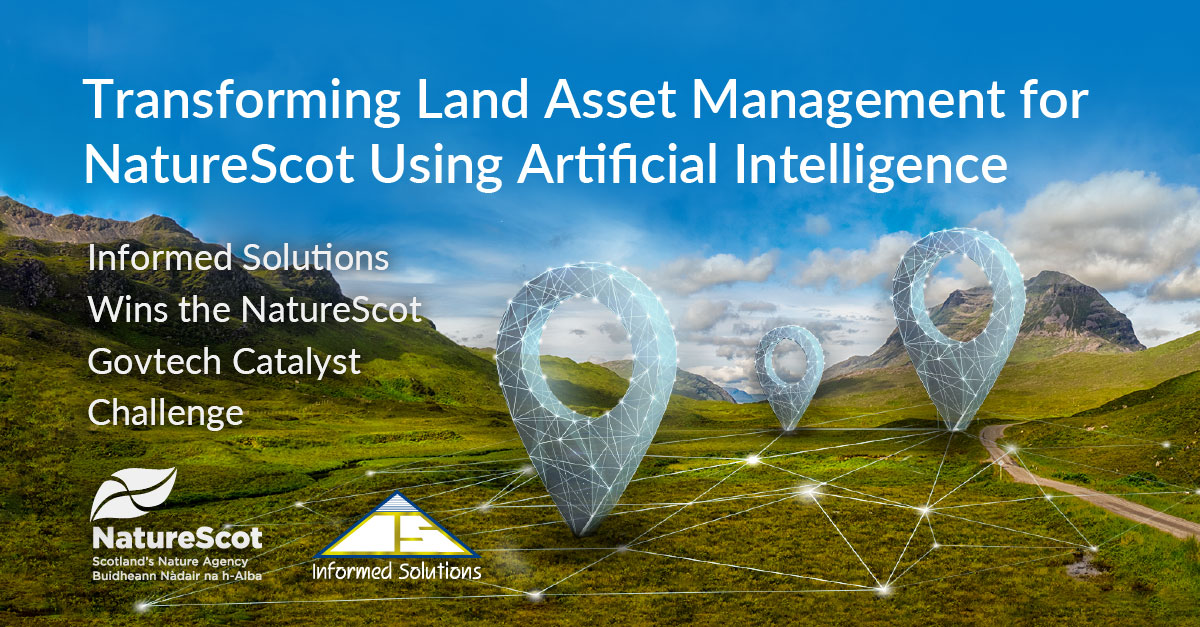 Edinburgh/Manchester May 20th 2021: Informed Solutions has won a prestigious NatureScot Govtech Challenge to produce a first-of-its-kind digital land asset management solution that will help manage protected and environmentally sensitive land across Scotland.
Informed Solutions won the challenge due to the innovative nature of its solution for Scottish land management, and for the potential for the solution to be applied elsewhere in the public sector, both nationally and internationally. Winning the Govtech challenge sees Informed Solutions receive funding to develop a beta version of the service ahead of launching a go-to-market version that can be used by NatureScot and exported across the globe.
NatureScot (formerly known as Scottish Natural Heritage) is the lead public body responsible for advising Scottish Government Ministers on all matters relating to Scotland's natural heritage with a specific responsibility for; promoting the sustainable use of Scotland's natural heritage; promoting sustainable economic growth; reducing greenhouse gas emissions and helping Scotland to adapt to climate change.
NatureScot wanted to understand the potential for innovative technologies such as AI, Chatbots and Location Intelligence to provide rich, targeted information on environmentally sensitive areas to non-expert users. These users include farmers, estate managers, landowners, and developers who interact with NatureScot to obtain information that provides clarity around land use applications, whilst NatureScot assures the protection of environmentally sensitive areas through the planning process.
The NatureScot challenge was part of The GovTech Catalyst - a £20million innovation fund that connects government departments and public bodies with SMEs to stimulate the development of innovative digital solutions for the public sector. The innovation fund was used for fifteen challenges across the four nations of the United Kingdom: England, Scotland, Wales and Northern Ireland, with a strategic objective to develop products and services that could be applied across the public sector in the UK and internationally.
The Govtech Challenge had many cross-border dimensions being supported by a central UK team based in the Government Digital Service (GDS), Scottish Enterprise - an agency responsible for Scotland's economic growth, and Scotland's CivTech Accelerator.
To address the NatureScot challenge, Informed Solutions worked with its Alliance Partners, Environment Systems and LandInform to propose an innovative cloud-based information service that would integrate and exploit recent advances in digital service design, mapping, data analytics, satellite, earth observation imagery, and AI capabilities to answer complex questions in a simple manner.
Combining the spatial data integration and analysis and Machine Learning capabilities of its InformedINSIGHT© platform with the Queen's award-winning user-centred Natural Language Processing capabilities of the InformedENGAGE© digital experience platform.
In developing a first-of-its-kind solution architecture that enabled Artificial Intelligence, Machine Learning, Natural Language Processing and spatial analytics capabilities to be integrated through cloud-based services and open standards APIs, the digital service includes real-time integration of data derived from environmental and ecological models, across multiple data sources including SENTINEL-2 Earth observation data to provide a within-site view of environmental risks and opportunities.
Additionally, real-time integration with data from NatureScot's case management system and real time integration of Natural Language Processing provided by InformedENGAGE© produce intelligent environmental models that are made available through a geospatially enabled digital platform allowing users to ask questions and gain real-time answers about specific areas of interest from chatbots.
This integrated mapping and conversation-based user interface components will help users understand protected areas in more detail, joining-up and making sense of information that was previously 'locked away' in a growing volume of text documents stored in a variety of locations and often siloed in legacy databases.
The Partnership between NatureScot, Scottish Government, GDS and Informed Solutions has provided data and evidence on how to undertake new approaches to cross-border innovation funding and demonstrated how such funding can be applied using agile methodology as championed by GDS and the Civtech Accelerator to develop services and products that can be scaled and applied elsewhere in the UK and across the globe.
Seth Finegan, UK CEO at Informed Solutions comments: "This is a proud moment for Informed Solutions. This NatureScot GovTech Catalyst challenge is an incredibly important initiative, not only for this unique project to help protect land in Scotland, but for environmental projects the world over.
"We're excited to be able to use our digital experience and data integration and analytics platforms to deliver a unique service that will help look after environmentally sensitive areas for future generations in Scotland and beyond.
"It's really encouraging to see governments collaborating to invest in our digital futures through the creation of innovation challenges that encourage the adoption of innovative, data-driven services that will help look after our society, our economy and our environment".