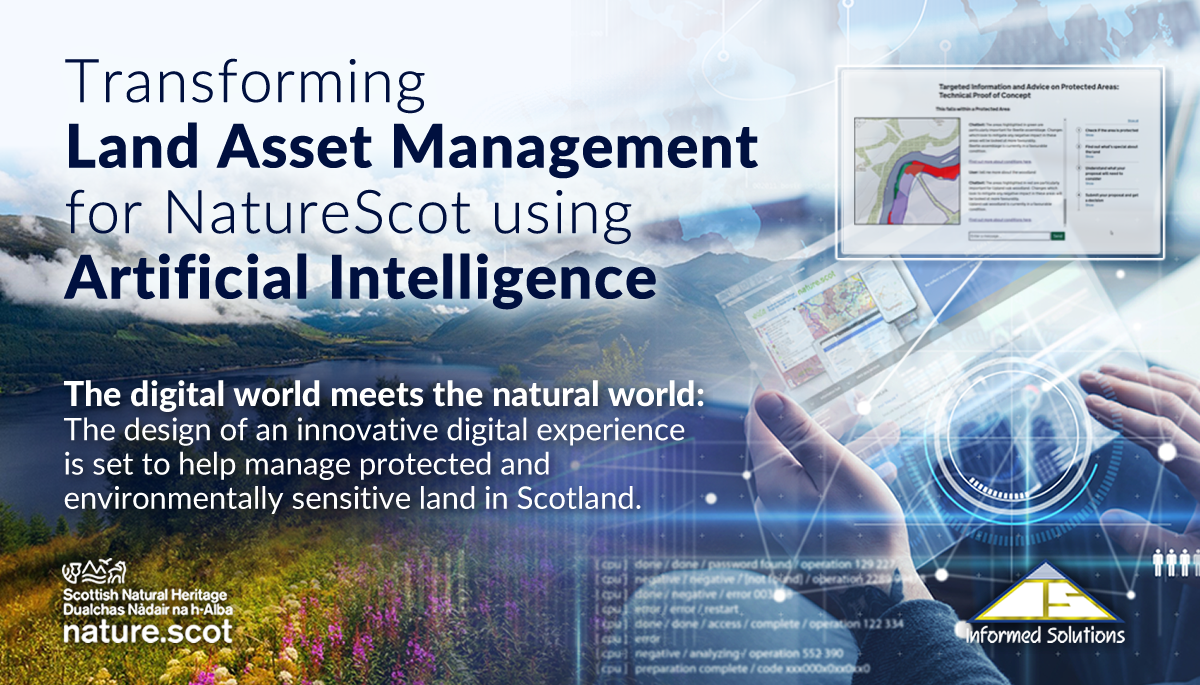 Informed Solutions has developed a first-of-its-kind digital solution architecture that takes advantage of AI, location intelligence, earth observation data and chatbot innovation to provide targeted, intelligent and area-specific access to information on protected areas and locations of critical environmental importance and sensitivity.
NatureScot (formerly known as Scottish Natural Heritage) is working with the Government Digital Service within Cabinet Office to undertake a GovTech Catalyst Challenge – an innovation hothouse engaging world-leading experts in the field of digital service design and development to demonstrate how ground-breaking innovation can transform engagement with farmers, land managers and developers in efforts to safeguard and improve sensitive habitats and environments across Scotland.
The challenge is to make use of previously under-used data on protected areas to provide immediate, clear information on planning to land managers, developers and the public. Through new and innovative digital services, users will be able to get the most relevant advice based on the specific location and development envisaged, with emerging technologies such as cloud computing and artificial intelligence able to predict potential impacts on protected areas. For example, a developer interested in a new project could use the portal to see the sensitivities or opportunities in a particular site, as well as any actions that may be required to avoid damage to important wildlife areas.
Five companies* were chosen to work with NatureScot to develop prototype platforms using technologies such as geographic information systems, remote sensing, machine learning and advanced analytics.
Brian Eardley, Protected Areas and Nature Reserves Team Manager at NatureScot comments: "We wanted to understand the potential for innovative technologies such as AI, Chatbots and location intelligence to provide rich, targeted information on environmentally sensitive areas to land managers, developers and others interested in land use changes to give a better insight in to the effects this might have on environmental assets across Scotland. Having the ability to automate routine enquiries would also allow us to focus our attention on critical, complex or high value land management decisions to support a nature rich future and contribute to the Green Recovery".
David Lawton, Technical Director at Informed Solutions comments: "To address the challenge, we worked with our alliance partners Environment Systems and LandInform to propose an innovative proof of concept, cloud-based information service that would integrate and exploit recent advances in digital service design, mapping, data analytics and AI capabilities to answer complex questions in a simple manner".
Combining the spatial data integration and analysis and Machine Learning capabilities of its InformedINSIGHT© platform with the Queen's award-winning user-centred Natural Language Processing capabilities of the InformedENGAGE© digital experience platform, the service integrates Natural Capital models from Environment Systems.
In developing a first-of-its-kind solution architecture that enabled Artificial Intelligence, Machine Learning, Natural Language Processing and spatial analytics capabilities to be integrated through cloud-based services and open standards APIs, the digital service includes real-time integration of data derived from environmental and ecological models, across multiple data sources including SENTINEL-2 Earth observation data to provide a within-site view of environmental risks and opportunities.
Additionally, real-time integration with data from NatureScot's case management system and real time integration of Natural Language Processing provided by InformedENGAGE© produce intelligent environmental models that are made available through a geospatially enabled digital platform allowing users to ask questions and gain real-time answers about specific areas of interest from chatbots.
This integrated mapping and conversation-based user interface components will help users understand protected areas in more detail, joining-up and making sense of information that was previously 'locked away' in a growing volume of text documents stored in a variety of locations.
"Informed Solutions UK CEO, Seth Finegan comments: "This NatureScot GovTech Catalyst challenge is an incredibly important initiative, not only for this unique project to help protect land in Scotland, but for environmental projects the world over. We're excited to be able to use our digital experience and data integration and analytics platforms to deliver a unique service that will help look after environmentally sensitive areas for future generations.
"It's really encouraging to see government continue to invest in our digital futures through the creation of innovation challenges that encourage the adoption of innovative, data-driven services that will help look after our society, our economy and our environment".
###
*Informed Solutions, Exegesis Spatial Data Management, Natural Capital Research, Stevenson Astrosat and Two Worlds Consulting.