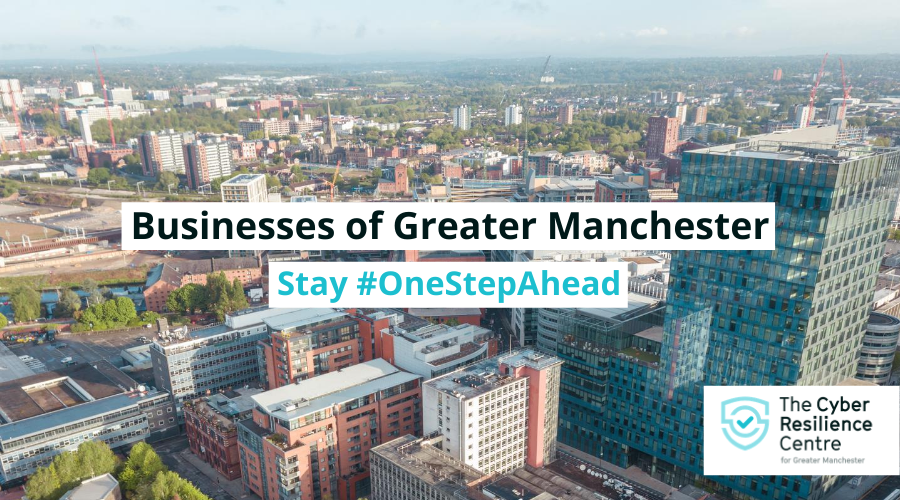 The nature of cybercrime is constantly evolving, and criminals are always on the lookout for new opportunities, whilst becoming more and more sophisticated. According to the DCMS 2020 Cyber Breaches Survey, cyber-attacks affect businesses of all sizes across the UK – from micro and small to medium and large – and they have also become more frequent, with 46% experiencing an attack in the last year, of which 32% were attacked at least once a week. The survey also highlighted the current top threats, which are Phishing, Impersonation and Malware (including Ransomware). The only way we can beat them is to stay one step ahead of them.
The Cyber Resilience Centre for Greater Manchester (CRC) in partnership with Greater Manchester Police, are delighted to launch their new campaign #OneStepAhead. With this campaign, the CRC is encouraging and assisting businesses of Greater Manchester to stay one step ahead of cyber criminals by providing expert help, guidance and support.
This campaign aims to grow and strengthen the regions resilience to online crime and cyber-attacks, by raising awareness of the threats businesses face. The unique partnership with Greater Manchester Police, mean the CRC has access to the latest cyber crimes trends being reported, helping businesses adapt according to the current threats.