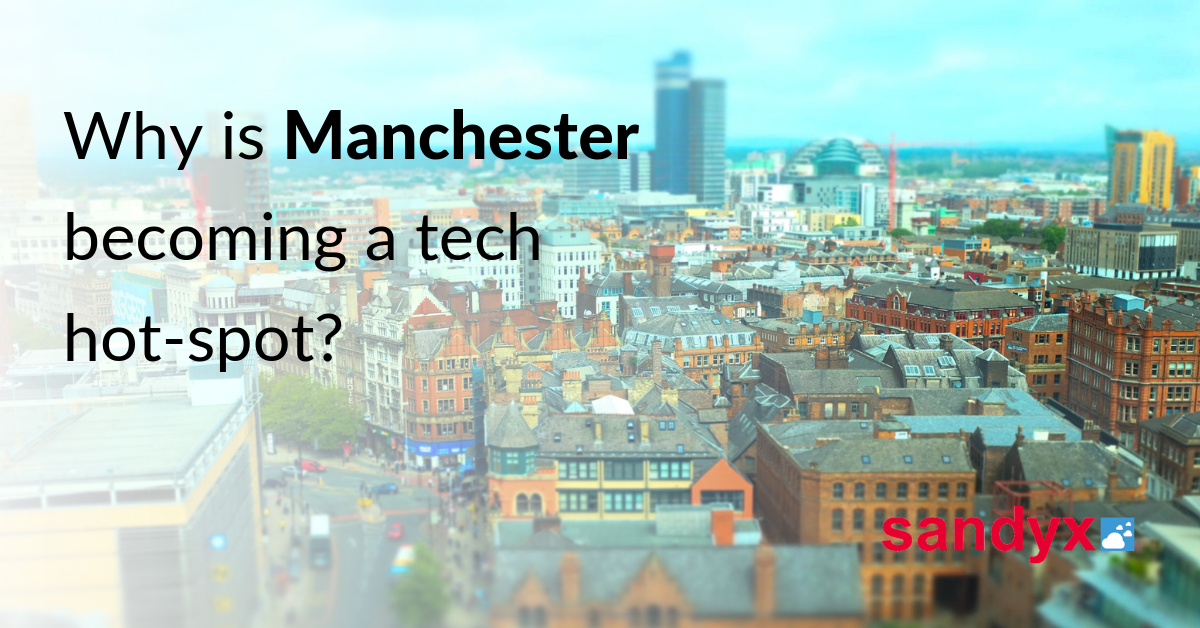 Leaders of the industrial revolution, creators of the world's first stored program computer and a frontrunner in UK media creation and football teams, Manchester has achieved a lot as a city.
Tech start-ups flocking to Manchester
According to an analysis by RSM, there were 1,079 Manchester-based software development and programming companies incorporated in 2018, which was a 48% increase from the previous year.
This was the highest growth out of all UK regions.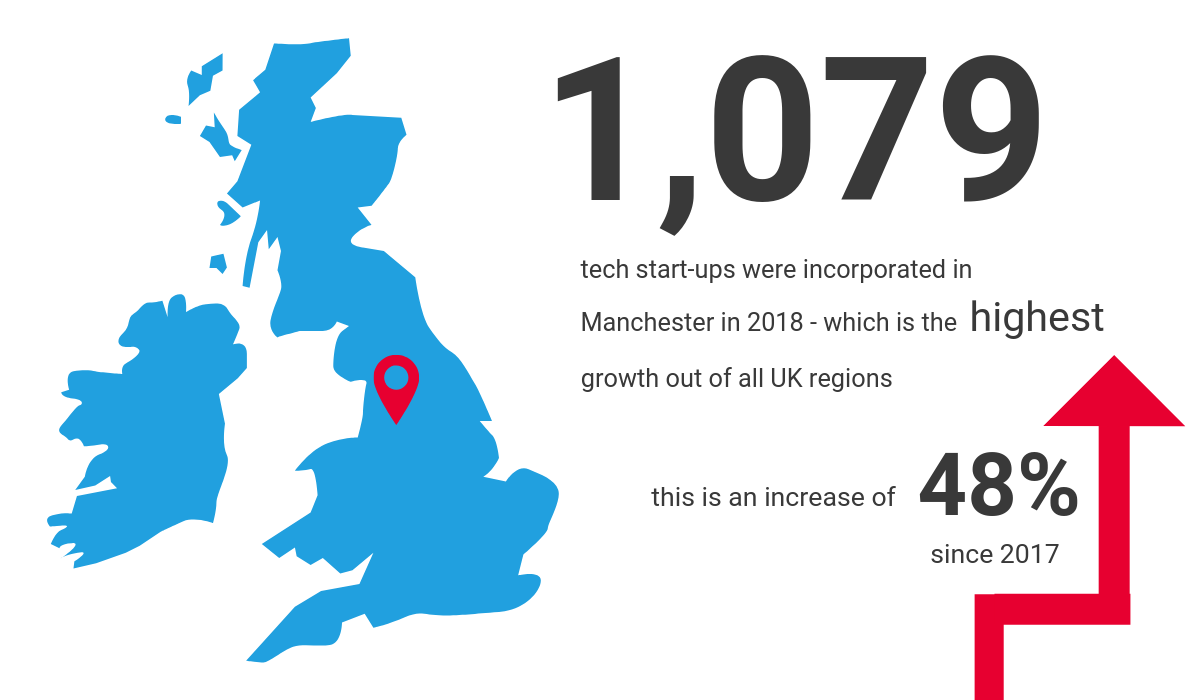 Leaders in tech paving the way for the North West
Given some of the prestigious names to come out of Manchester, such as LADBible, the BBC and Kellogg's, it's hardly surprising that new companies aspire to work next to such big names.
Manchester boasts a flourishing tech scene like no other city and is currently home to many companies using technology in a groundbreaking way. Auto Trader, Missgudied and On the Beach are also great examples of Manchester-born companies that have built a strong digital presence despite operating in completely different industries.
Why is Manchester so popular with tech start-ups?
Research by CWJobs revealed that of the 9% of employers who feel Manchester has the best talent in tech, 56% of them believe this is because Manchester has better 'tech-focused' educational institutions. Only 43% from the same group believed London has better institutions.
Aside from offering top-notch education, Manchester hosts a variety of popular events and attractions all year round and is located within easy reach for the rest of the UK.
Being a city that offers affordable yet idyllic locations next door to industry leaders, combined with generous SME support, why would you want to set up anywhere else?
New research highlights success of the city
Tech Nation revealed in their 2019 survey that there is a total of 13,665 digital tech businesses operating in the North West, with 88,000 people currently employed in the sector. Furthermore, a survey by Yorkshire Bank has shown that 63% of business owners based in Manchester rate the city 'very highly' in regards to the business community – quite a lot higher than the national average of 47%.
Manchester chosen for IoT development
Manchester was specially selected to become an IoT City Demonstrator as part of an innovation project called CityVerve. £10 million in funding was awarded to help build a powerful IoT presence across the city through the creation and installation of smart connected devices, especially relating to public transport, healthcare and environmental services.
Look out for the following - this is how the CityVerve project is making Manchester smarter: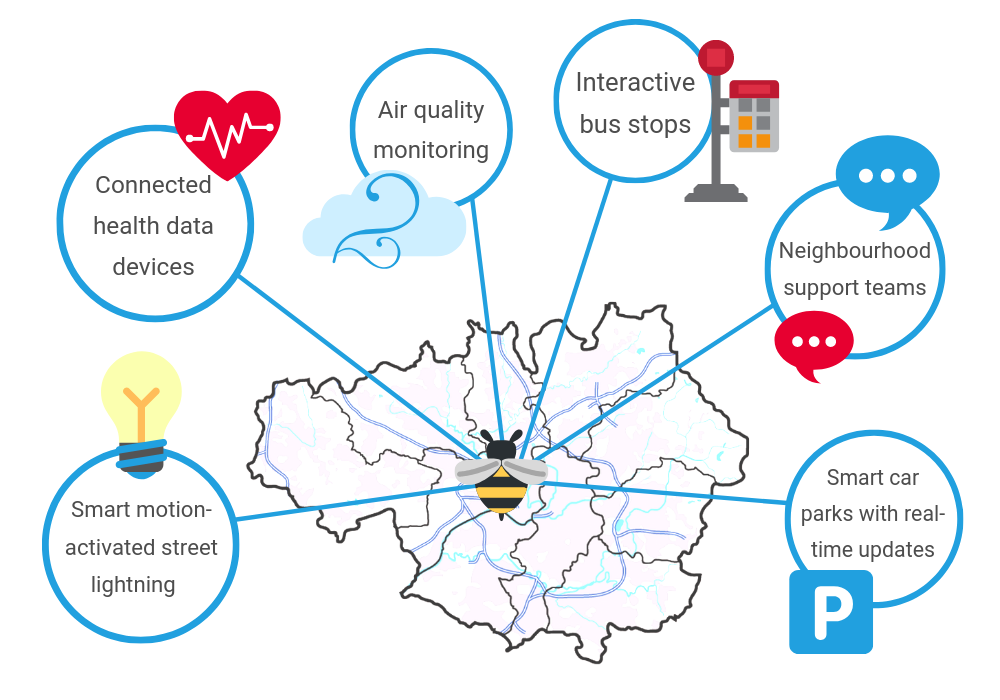 Manchester is a competitive city with big ideas
Ever since splitting the first atom back in 1917, Manchester hasn't stalled in regards to technological developments. We've seen huge broadcasters like ITV and the BBC setting up headquarters in Media City in 2012 and 2013, which has naturally brought more wealth and prestige to the area.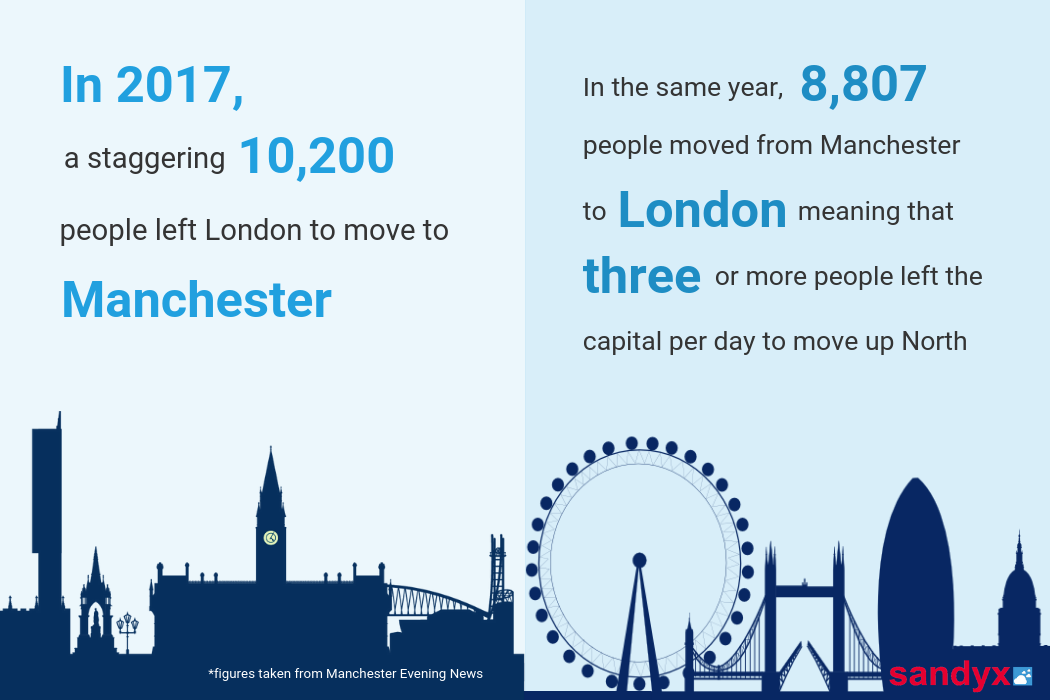 According to Deloitte, 2018 saw more building work taking place in Manchester than Chicago or Los Angeles. Both city centre offices and apartments are in high demand due to Manchester's considerably lower cost of living compared to the capital, making the North even more welcoming to aspiring entrepreneurs.
Get in touch with Sandyx today
Being located in Media City ourselves, we understand why so many companies are drawn to Manchester – there is opportunity everywhere. We know we don't need to be London-based in order to attract the top clients and given the evidence above, we're not the only ones who know that.
If you would like to discuss any aspects of the topics discussed in this article, or understand how Salesforce can help your business, then please get in touch. You can also ring us directly, on 0161 710 3250