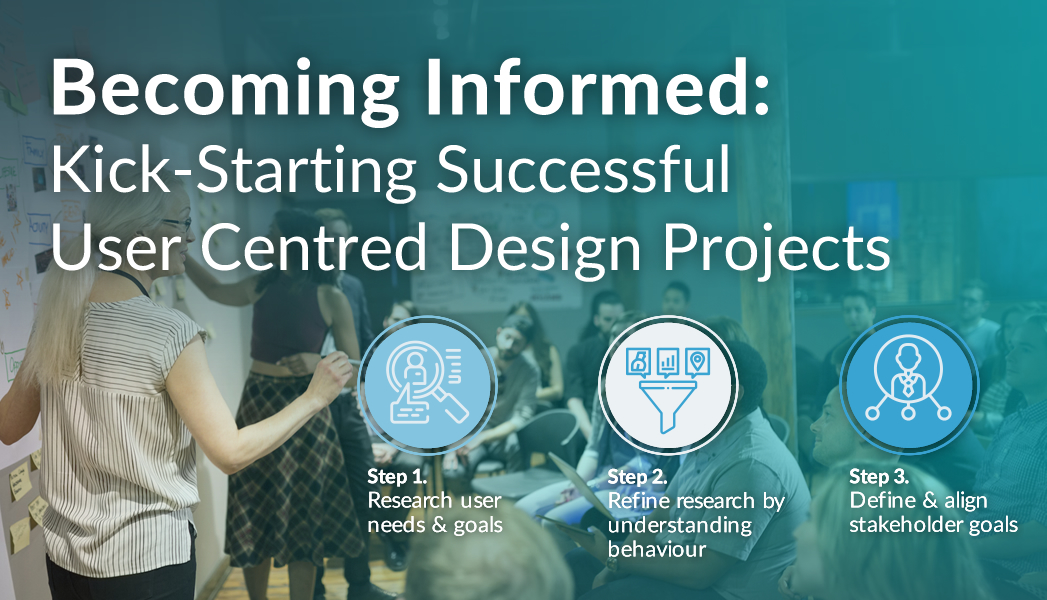 Informed Solutions pedigree and sustained record of success in digital transformation for some of the world's most recognised organisations starts by ensuring that our digital designs are informed by the needs and behaviours of users, and with consideration of stakeholder goals.
We ensure this by engaging with users and stakeholders at the beginning of the project lifecycle; before we ideate, prototype and develop solutions. These critical first steps include identifying and understanding the goals, behaviours and needs of users and stakeholders in the context of supporting data.
This information subsequently provides a foundation for our design, build and delivery cycles. Continual engagement with users and stakeholders throughout the project lifecycle will ensure that the digital experiences continue to improve in line with user needs and goals.
Step 1: Research- hearing the user
The key to designing an effective digital solution is to truly understand the problem or challenge it will need to solve. This starts with the people with a problem or a need – the users. This process is called user research. However, it's often misconstrued as a requirements gathering process, collecting users reports on what they do, what they want and what solutions or features they'd like to see in future designs. Why? Because people struggle to describe typical behaviours, conceptualise how something could be improved or how they would think or feel in a hypothetical situation when faced by a challenge or need.
Instead, user research is asking people to demonstrate how they perform a particular task. Through observing a user's behaviour in context, we're able to ask context-specific questions to better help us define a user's pain points, workarounds, needs and goals. Collecting this insight is the first step to ensuring that our design solutions work for those who are going to use them.
Step 2: Refine- understanding user behaviour
To thoroughly understand users, and design solutions that meet their needs, we refine our user research and analyse the rationale behind the observed behaviours of the user. This deeper dive allows us to answer questions like: what motivates user behaviour? What are a user's thought processes when using digital services for their needs? Are users subject to any preconceived biases or emotional states when going through the process?
Sometimes these questions are difficult to answer, and often require drawing upon psychological principles and cognitive science. However, they allow us to incorporate evidenced, behavioural principles into our design solutions, ensuring that they more closely associate with the user and address their needs and goals intuitively and effectively.
Step 3: Define- aligning with stakeholder objectives
Ensuring that business and organisational needs of the client align with the user experience is crucial to developing successful design solutions. We achieve this by implementing a series of requirements gathering processes, which start with investigating a client's current business policies, structures and operations. We identify any weaknesses in the 'as-is journey' using a series of elicitation tools and techniques. Weaknesses can include things like bottlenecks, pain points, workarounds, manual processes and non-value adding processes.
Capturing this type of data allows us to accurately articulate the complex business problems that require solving and most importantly work collaboratively with stakeholders to align user and organisational needs. This alignment and putting people first is what helps ensure that a digital design succeeds the first time around.
As the winner of a Queen's Award for Innovation, we work with some of the world's largest and most respected organisations, delivering digital services that are used by millions of people every day. The critical first steps outlined in this piece provide a reliable foundation for our digital transformation projects. They allow us to progress onto designing, building, testing and delivering optimal solutions that users are satisfied with and continue to use with ease.