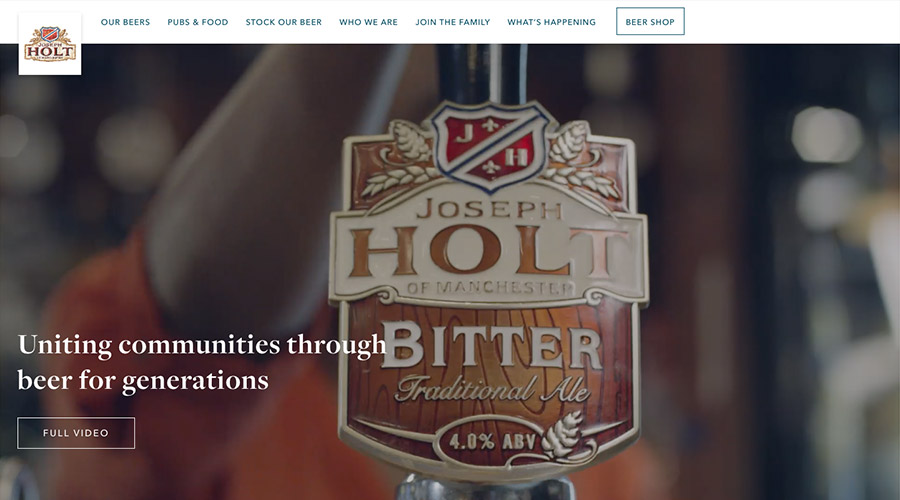 Manchester brand and digital studio, Design by Day (DBD), has launched a striking new website for local Manchester brewery, Joseph Holt, making it easier for punters to browse the brand's famous beers and find their new favourite local.
Working closely with the in-house marketing team at Joseph Holt, the DBD team used its branding and design expertise to give the website a modern facelift while remaining true to the brewery's heritage and customer base.
In addition to creating a fresh visual aesthetic that would appeal to Joseph Holt's loyal customers and reflect its rich history, DBD created a new, easy-to-navigate structure and interface, putting good user experience at the forefront of the project.
Showcasing Joseph Holt's full, award-winning beer range and featuring an intuitive 'Find Your Local' search function, the new website is designed to provide a seamless, informative and highly visual customer journey.
Alongside vibrant, professional photography, the new website homepage also welcomes visitors with a striking new brand video. Collaborating with local Manchester content producer, SoupCo.tv, DBD created a visually-engaging, community-led brand story, filmed at two of Manchester's best-known Joseph Holt pubs: the Spread Eagle and the Horse & Jockey. Together, the new website and brand video embrace and embody Joseph Holt's strapline 'Uniting communities through beer for generations'.
The website build project also placed a great emphasis on the user needs of the brewery itself, featuring an intuitive, behind-the-scenes platform to help the Joseph Holt team easily keep track of their impressive portfolio of 125 pubs.
Angela Roche, Creative Director of Design By Day said: "Being big fans of both beer and websites, the team were excited to be working with this iconic Manchester brewery. The new website is fresh and modern, and we took great care in remaining true to the brand's heritage and customer base. There's also some handy behind the scenes features to make managing cross-pub events a simple task."
With a rich 171-year history, the Joseph Holt brewery has become a mainstay of the Manchester and North West pub scene. Over its impressive lifespan, the brewery has earned an enormous and highly-loyal customer base that provided the key central focus for this community-led website design and launch.
Ben Hardman, Digital Marketing Lead at Joseph Holt said: "From the beginning of this project, we had a clear idea of creating a completely new, engaging and customer-centric website that combined our core pillars of beer, pubs, heritage and community. DBD fully understood what we had in mind and completely hit the nail on the head with their brilliant design and management platform that allows us to get the most important information across to customers in the simplest of ways. Couple this with a full raft of fresh pub photography, exciting brand video and ability to buy beer online, and we couldn't be happier with the final product."
To see the newly-launched website, visit: www.joseph-holt.com and for more information about Design By Day, visit: www.designbyday.co.uk.