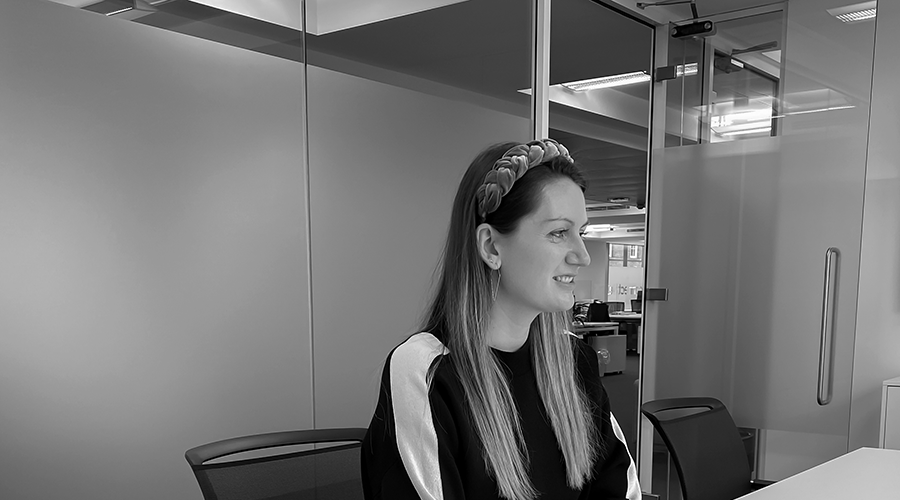 What does a typical day look like for you in your role?
It sounds cliché, but no two days are the same. If I have a lot of strategy work on, or a pitch coming up, I'll try to spend a whole day on it (with a few calls usually scattered throughout the day), but below I've included a mixture of all the different types of work I typically carry out.
8.30-9am: I'll get into the office for 8.30am, make a cup of tea, and then scroll through Twitter to see what's going on in the world. I'll also check my Teams and emails, and reply back to any messages.
9am-9.30am: Every Monday morning, the content team catch up and check in with each other, and see what we've all got planned in for the week. Chances are, that our plans have changed completely by Tuesday lunchtime, with last minute work coming through, but that's just the nature of agency life!
9.30am-11am: I'll get stuck into some strategy work. If we've got a new client, I'll crawl their website, carry out keyword research and start making recommendations for each of their pages. Alternatively, I might be putting together a three-month blog roadmap, so will be doing keyword and competitor research to come up with lots of new ideas.
11am-12.30pm: I'll usually have a few meetings throughout the day – often a mixture of internal and client meetings. We'll always have internal meetings ahead of a client call, to check in with each other and see what we're all working on, so we can stay connected.
12.30pm-1.30pm: Time for lunch! La Bottega Milanese is my favourite place to go to at the minute – I can't get enough of their pistachio cannoli.
1.30pm-2pm: We get multiple pieces of work sent through to proof everyday – whether it's a blog post, award entry or pitch deck, there's not a day that goes by where I don't have to proof a last-minute request!
2pm-3.30pm: The whole company work on multiple new pitches all the time. On the content side of things, we'll audit the site to see what's currently working for them, and what could be improved; and then research into new content ideas – it could be new landing pages, a blog, or the creation of a content hub.
3.30pm-5pm: I'll often end the day with some copywriting. Whilst my lovely team of content writers pick up the bulk of copy, I've always enjoyed writing, and I like to make sure I get the opportunity to write some copy every now and then – even if it's nowhere near as much as I used to!
What do you love most about your role?
It sounds cliché, but I love the variety. I come from an SEO background, and when I transitioned into a copywriter role a few years back, whilst I enjoyed it, I got a bit bored after a while. I love the fact that I can switch to keyword research, or put a strategy together and come up with some new ideas; or for pitches, where I can look at a completely new business and think about how I'd like to improve their content.
I also really enjoy the management side of my job too – I have a great team, and we get on so well.


What is the biggest challenge in your role?
Content – specifically, in an agency – is an extremely fast-paced area of work. We work with practically every single department in the agency: not only do we have our own on-page content clients with planned work in, we have so many last minute requests from PR that will come through too, or things that urgently need proofing, or extra tasks from the marketing and SEO team that we need to look at.
It can be really stressful trying to manage deadlines and get everything done on time, but somehow, we always manage to!
What advice would you give someone who is thinking of working in your role?
My biggest piece of advice for anyone who's looking to get into content, is to learn the fundamentals of SEO, and understand how it works with content. Writing is a talent, but from there, you can easily learn how to weave in keywords, format your subheadings and conduct internal linking in a seamless way – and if you can do that, you'll make a Strategist's life much easier!
Plus, if you understand SEO, it means you can start to grow in your role and over time, create roadmaps, carry out audits, and put together strategies.
Want to join our team? Head to our careers page to see our vacancies!