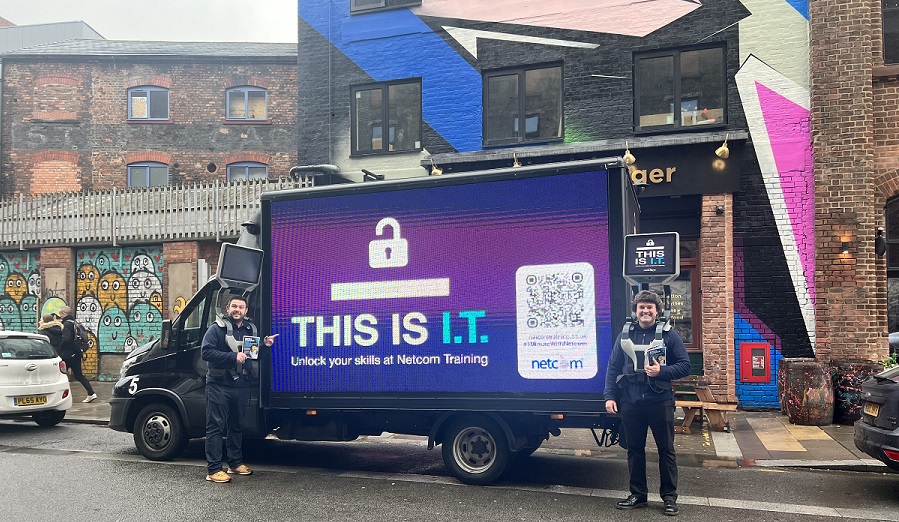 Technology skills provider Netcom Training has been working with Manchester creatives One Minute Briefs to promote its fully funded courses in cyber security to the people of Liverpool City Region.
Netcom Training is delivering free virtual training sessions to residents in Liverpool and surrounding boroughs including Knowsley, Halton, Sefton, St Helens and Wirral. To get the word out, they partnered with quick-thinking creative community One Minute Briefs, who asked their almost 40,000 followers to create engaging advertising campaigns for the digital data courses in less than one minute.
There was a huge response to the callout with submissions ranging from references to football icons like Mohamed Salah to musical legends the Beatles. Respondents co-opted well known slogans to fit the brief, such as 'You'll never code alone'. Many were used as part of a guerrilla marketing tour around Liverpool city centre.
Netcom is hoping to use these ideas to mobilise the people of Liverpool and make them realise that a career in cybersecurity, coding and technology is achievable for them with the right amount of training and guidance.
If you live in the Liverpool City region and are interested in taking a course with Netcom, you can find out more here.