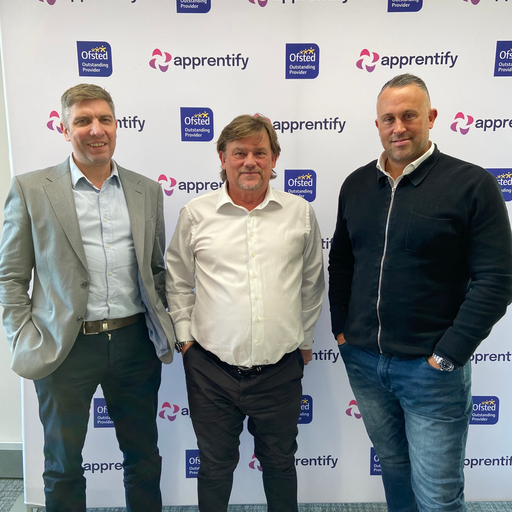 Training provider Apprentify Group has launched a new company offering Sales Accelerator courses that are open to everyone. Upskilla will provide training and a guaranteed placement in a relevant role, with no fees payable until learners are employed and earning a starting salary of at least £25,000.
Their flagship course is aimed at anyone who is looking to supercharge their career in sales, whether they already work in a sales environment or are looking for their first role. The courses are delivered online, in a learner friendly format, allowing everyone to access their modules from anywhere, anytime. Learners are issued with free industry course textbooks to assist them and will benefit from industry leading keynote speakers throughout the courses to give them unparalleled insight into the world of sales.
Upskilla learners will study an accredited and interactive curriculum, developed and delivered by Apprentify's experts. The trainers at Apprentify have a 25-year history of working with students, other training providers and employers to create meaningful courses and hold an outstanding Ofsted rating for their curricula and teaching.
Learners will also receive additional help in the form of career counselling, financial support, and individual tutoring, both during their studies and in their subsequent job search. The courses are designed to help people from hard-to-reach communities who are under-represented in the technology sector, such as ethnic minority groups and those from lower socio-economic backgrounds.
CEO of Apprentify Group, Jonathan Fitchew explained: "There is a critical skills gap in the UK which is only partly addressed by apprenticeships and funded bootcamps. With Upskilla, we are looking to bridge that gap with a commercial offering that gives access to high-level training and a route to employment without the same financial pressures as other qualifications."
"Our mission is to provide a full-service approach to learning and the high-pressured job application process. We will provide our learners with a bespoke programme, all the way from the first day of their course up to helping them to secure their first role."
Fitchew has over 25 years' experience in designing combined training and placement programmes in the technology sector. His knowledge of the needs of businesses and prospective employees has led him to launch Upskilla. He concluded: "We believe that everyone has the capacity to learn and grow, and we are committed to providing the resources and support our learners need to reach their full potential."