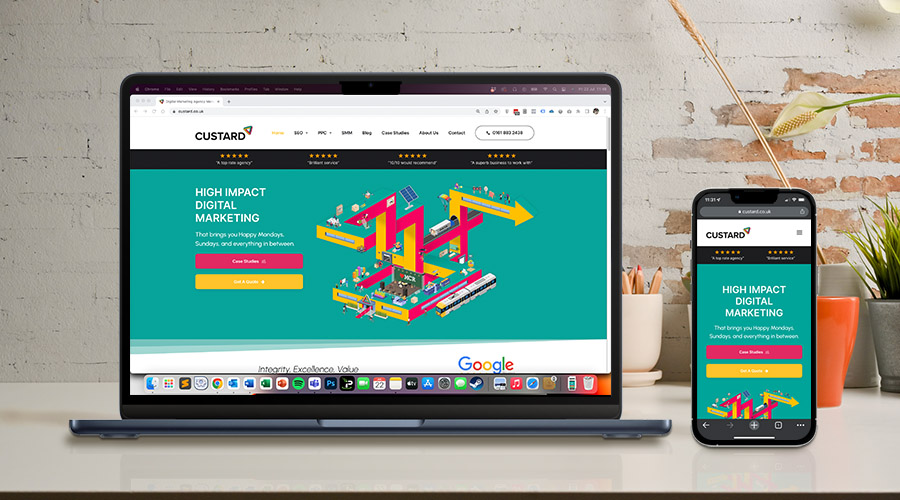 Custard's CEO Chris Smith, who has been running the agency since 2017, said that the fresh branding and revised tone of voice marks an important milestone in the company's evolution into an integrated performance-marketing agency.
Chris said: "Over the past 5 years, we've rebuilt Custard from the ground up – focusing on getting the right team fit and structure to deliver results we can be proud of and that our clients deserve. It's been a journey, but we're now at a stage where we can start shouting about the good work we've been doing and the people behind it. So it feels like the right time to pause and turn our focus inwards for a bit to find a more authentic tone of voice and brand aesthetic. I love what we've ended up with, and am excited about how we're planning to take it further. Watch this space."
Custard's Head of Delivery Alex Duthie added: "We've been after a new website and branding for a while, but haven't had the capacity internally to do it justice. We even looked at farming it out at one point, which just seems daft given mine and Chris' history! But we got there, and the whole team is behind our new look and what it stands for."
Custard Online Marketing Ltd is based in Manchester city centre and provides organic search (SEO), paid search and paid social media services to businesses from all verticals. The agency has a team of 10 and operates out of offices just off Market Street.
Chris Smith has been a part of the Manchester digital scene since 2004, originally founding web development agency Kudos Web Solutions, which made its name building a string of high-profile ecommerce sites and web applications, before moving into digital marketing.