By The North West Cyber Resilience Centre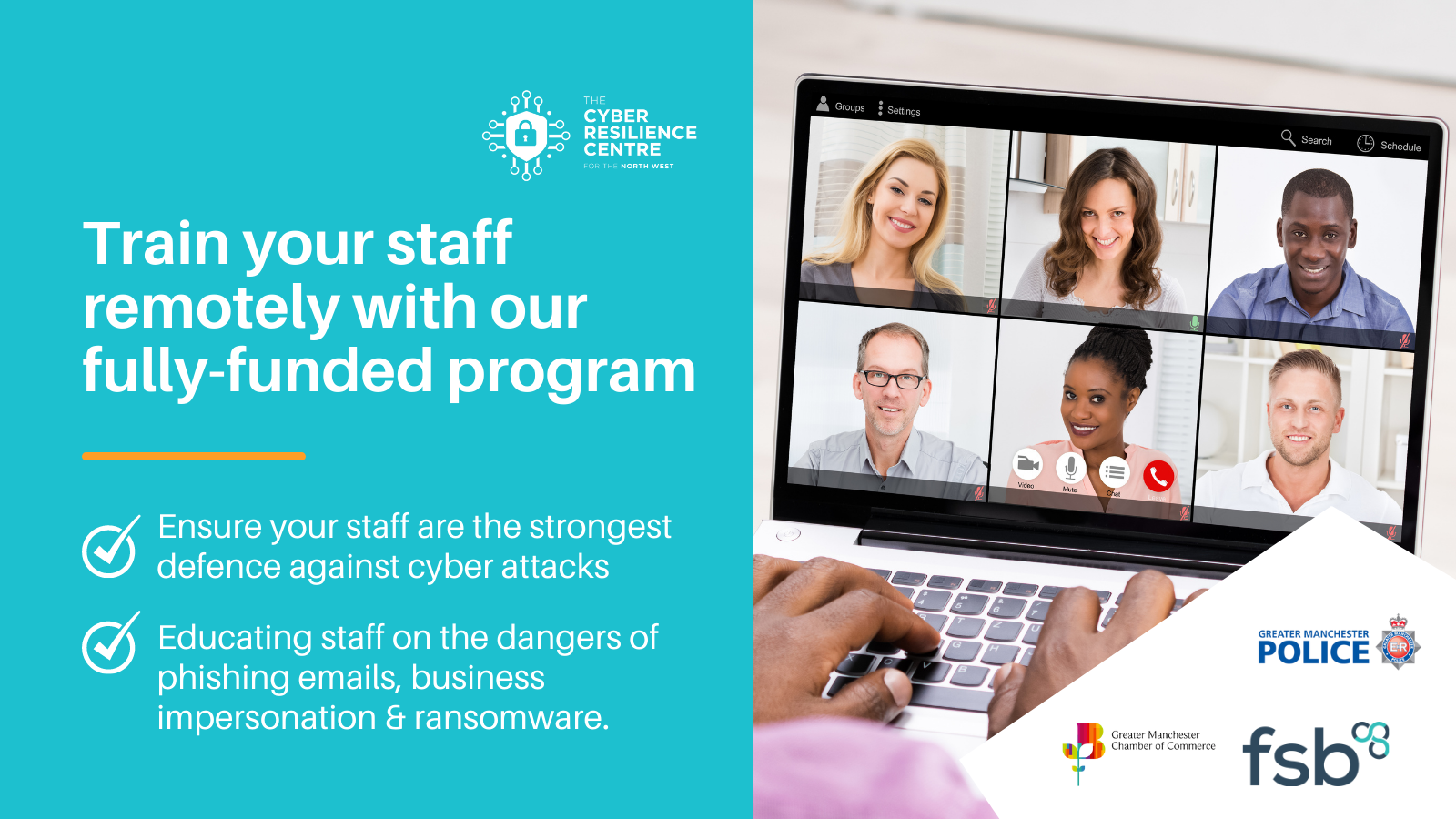 The North West Cyber Resilience Centre's fully-funded Business Resilience program for businesses based in Greater Manchester can help businesses train staff remotely this year.
More than 50 businesses have already enrolled in the Business Resilience program, which helps improve cyber resilience through assessment, testing, training and education - signposting to free or affordable police and government-backed guidance and tools where required.
Fully-Funded Business Resilience Program includes remote Security Awareness Training
The 2021 Cyber Security Breaches Survey reported that just 14% of businesses train staff on cyber security and 1 in 5 have tested their staff response to cyber incidents.
Remote security awareness training ensures your staff are the strongest defence against cyber attacks by equipping them with the information they need to identify, report and stop any cyber attacks before any damage can be done.
The program was funded via the Asset Recovery Incentive Scheme, money seized from criminals under the Proceeds of Crime Act is used to fund crime reduction activities that benefit the local community.
Business owners are being urged to claim one of 300 places as soon as possible to avoid missing out.
Jade Hutchinson FCCA, Forensic Accountant, GMP said:
"It is important to ensure that your employees receive ongoing training in identifying scams, particularly those working in accounts payable, as the consequences of falling for Invoicing fraud can inevitably result in redundancies and the closure of businesses."
Managing Director of the NWCRC, Neil Jones, said:
"It's been a hugely difficult 18 months for firms in Greater Manchester with the challenges of Covid-19, Brexit and a range of other external factors. As a result, business owners and managers have innovated, found new ways to work remotely and developed new ways of reaching their customers.
"This program is a great way to support businesses in the region by training staff remotely and providing them with simple and effective knowledge to understand their environment and provides the confidence to challenge when something doesn't look right."
"As well as the Business Resilience Program, there are several affordable cyber security services that the North West Cyber Resilience Centre offer, which helps businesses assess, build and manage their organisation's cyber security capabilities, build confidence, understand their vulnerabilities and secure their business. Businesses can find out about all of these services by getting in touch with the centre."
The Business Resilience Program Funded by Greater Manchester Police
The funded Business Resilience Program, which is being funded by the Greater Manchester Police through the Asset Recovery Incentive Scheme is available to 300 businesses. The program is aimed at small businesses – and particularly the self-employed sole trader or micro business – who have found themselves at the greatest risk and without the budgets to afford relevant cyber support and services.