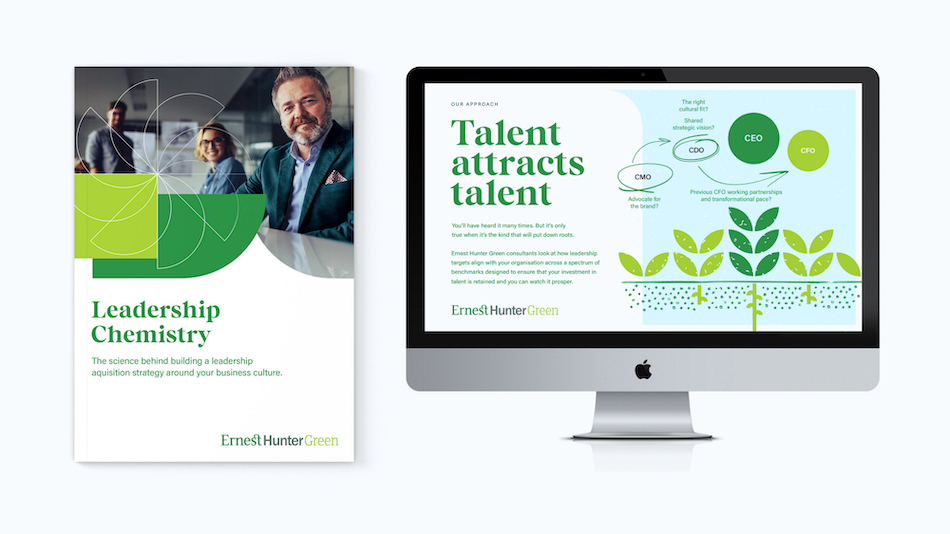 Northern digital agency Fablr has won a new brief with recruitment agency Ernest Hunter Green to create a brand refresh and a new website design and build.
Fablr, which has offices in Manchester and Leeds, has already completed initial branding and messaging workshops with the senior team at Ernest Hunter Green and will be delivering a new, modern and dynamic website.
The recruitment agency, which works with executives and senior leaders all over the UK, needed an updated digital presence to reflect their rapid growth trajectory. The new website, which will be a bespoke custom-build in WordPress, will also integrate with the business's CRM and marketing platforms. As a vehicle for the agency's new branding and key messages, it will firmly position Ernest Hunter Green as a progressive and forward-thinking consultancy within the leadership acquisition space.
Laura Deegan, co-founder and director of marketing and communications at Ernest Hunter Green, said: "Finding Fablr was exactly what we needed. Not only has their marketing, design and digital expertise been outstanding, they took the time to get to know our business and what we stand for and were able to bring that to life in their designs.
"Working with them has been effortless and no question went un-answered. While their creativity has been amazing, so has their project management and organisation."
Geoff Bretherick, creative director at Fablr, led on the project and explained, "Ernest Hunter Green are a really special collective group who have dared to rethink how a recruitment consultancy might and should work for its employees.
"Our job has been to give them a visual framework and design system that feels premium and elegant, but also gets across their inherent warmth and approachability which is important for their marketing as the business expands and grows."
Chris Bennett, head of operations at Fablr, added, "We are delighted to be commissioned by Ernest Hunter Green and to work alongside their senior leaders to assist them in positioning the business as a leading agency within their sector."
Fablr was launched in 2015 by experienced industry veterans Geoff Bretherick and Philip Bennison, who constantly champion industry best practice. They pride themselves on delivering high-quality technical solutions that look and feel beautiful.
Their services include branding, design, web development, mobile applications and digital marketing for multiple sectors, including FMCG brands, professional and financial services and the arts.
For more information visit: https://www.fablr.co.uk/