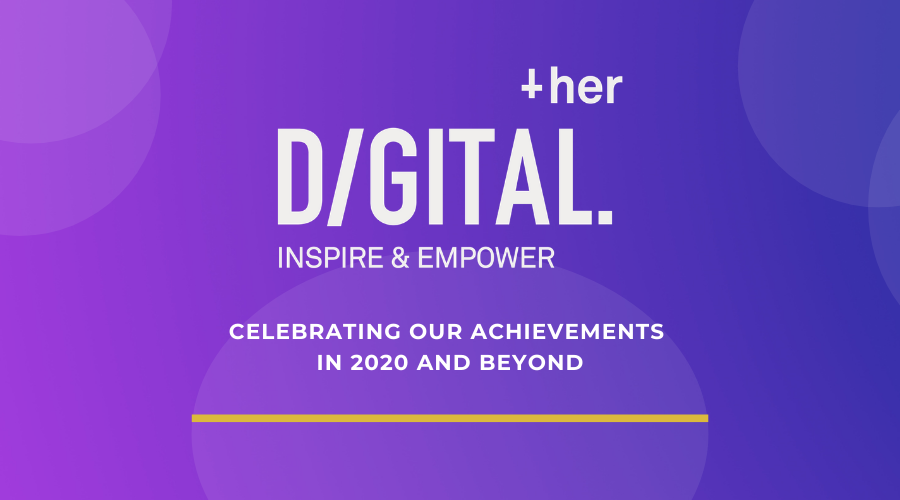 At the start of 2020 we had a full events calendar planned out for Digital Her, with venues, colleges, schools all signed up and employers confirmed to deliver live interactive workshops for young women across the region. Not long after completing our first live event at Trafford College, we were forced to cancel all plans and make Digital Her an online programme.
There were numerous challenges to overcome with schools and colleges closed, from the practicalities of safe guarding to ensuring students had the right equipment to access the online events. I'm please to say that thanks to an amazing team behind the scenes and some committed employers we made it work - although we have learnt a lot along the way.
As we aim to launch the 2021 calendar of (online) events, a couple of the challenges we faced and things we've learnt.
Online has definitely made it easier for us to reach a much wider audience, in fact we've over delivered on the target we set for ourselves and were able to reach women outside of Greater Manchester by teaming up with partners such as Tech Spark and IOC to deliver some of the events nationally. However not everyone has access to a laptop or computer, and accessing events via mobile phones doesn't always deliver the greatest experience.
The choice of platform is key. We've trialled using different platforms through the events we have ran, keeping safeguarding and reach front of mind, our options are somewhat restricted. Hopin allowed us to create a safe space where we could limited the access between students,
Online delivery does impact the interactive element. Whether its restrictions on the platforms, cameras being turned off for safeguarding, or lacking the confidence to speak up on screen, we've noticed a reduction in the number of conversations and questions from people in the room. We're missing the conversations amongst friendship groups during the sessions, and being able to walk up to groups and get involved in debates, and it's much harder to build that rapport with the students when you're on the other side of a screen. However building more time for introductions, adding elements such as polls, shaping the workshops to be add more defined interactive elements and where possible delivery of smaller group sessions has definitely overcome this.
Most importantly, you can still make an impact. Whilst the delivery may be different, the feedback, uptake competitions, and messages we've received following events has proved the importance of keeping the momentum of programmes such as this, even in the face of adversity.
So what does Digital Her look like in 2021? Whilst there is still so much uncertainty we're planning to stay with online deliver for at least the first half of the year. We'll continue to run larger online roadshows for young adults aged 16+ and will be opening these up to as wide an audience as possible. For the younger ages we're going to take a slightly different approach, we'll continue to deliver online but working direct with the individual schools to deliver sessions direct into the classrooms. Our podcast will be out early April, and we're also developing some additional partnerships, and programmes to support all women of all ages and backgrounds with their journey in digital and tech - watch this space.
If you're a college or community group working with young people aged 16+ and would like to register for one of the online digital roadshows you can do so here.
If you're a secondary school and would like to arrange for an in school roadshow to be delivered, register your interest here and we'll be in touch with more details.