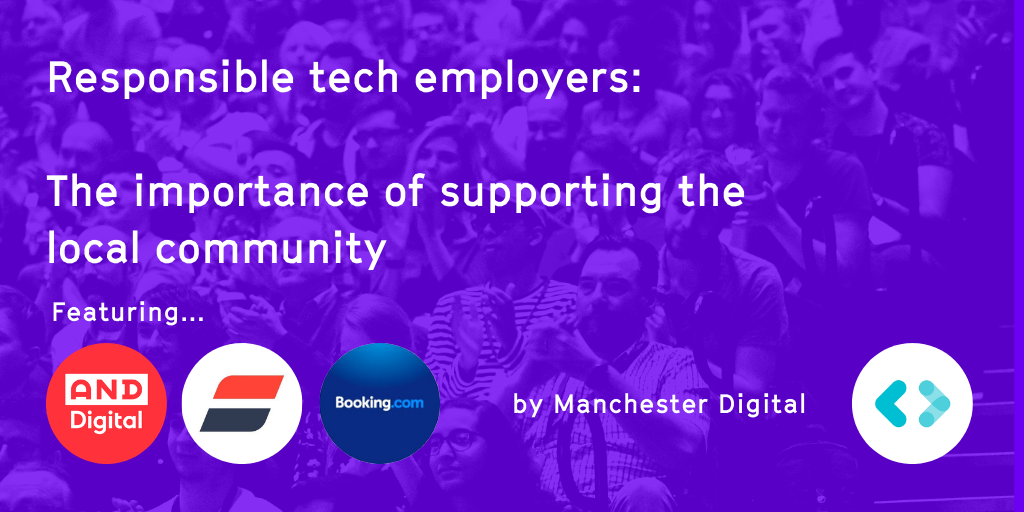 Manchester's tech and digital sector is enjoying continued growth, in 2018 it contributed over £4.5bn to the UK's economy.
This growth, coupled with Manchester employing more UK-based digital workers than anywhere outside of London, is attracting a host of big-name players to the region, keen to join the global organisations already here.
Manchester's popularity amongst large corporations is advantageous; helping to cement the region's reputation, create new jobs, attract more talent and generate wealth and increase the capabilities that exist in an already buoyant ecosystem.
However, there are some potential disadvantages, too. For Manchester's talent pool to grow in line with predicted growth, it's important that any companies coming here add to the rich community that already exists, embedding themselves within Manchester's culture instead of existing outside of it.
Luckily, Manchester is home to many companies that understand the important role forward-thinking businesses can play in developing the community around them, many of which are active members of Manchester Digital.
In this article, we have caught up with a few of the progressive companies in our membership, asking Auto Trader's Jane Fitzmaurice, AND Digital's Malcolm Seagrave and Booking.com's Gavin Barton why their organisations are committed to making Manchester an even better place for tech companies to do business.
1. Why is being part of the existing Manchester business community an important driver for your organisation?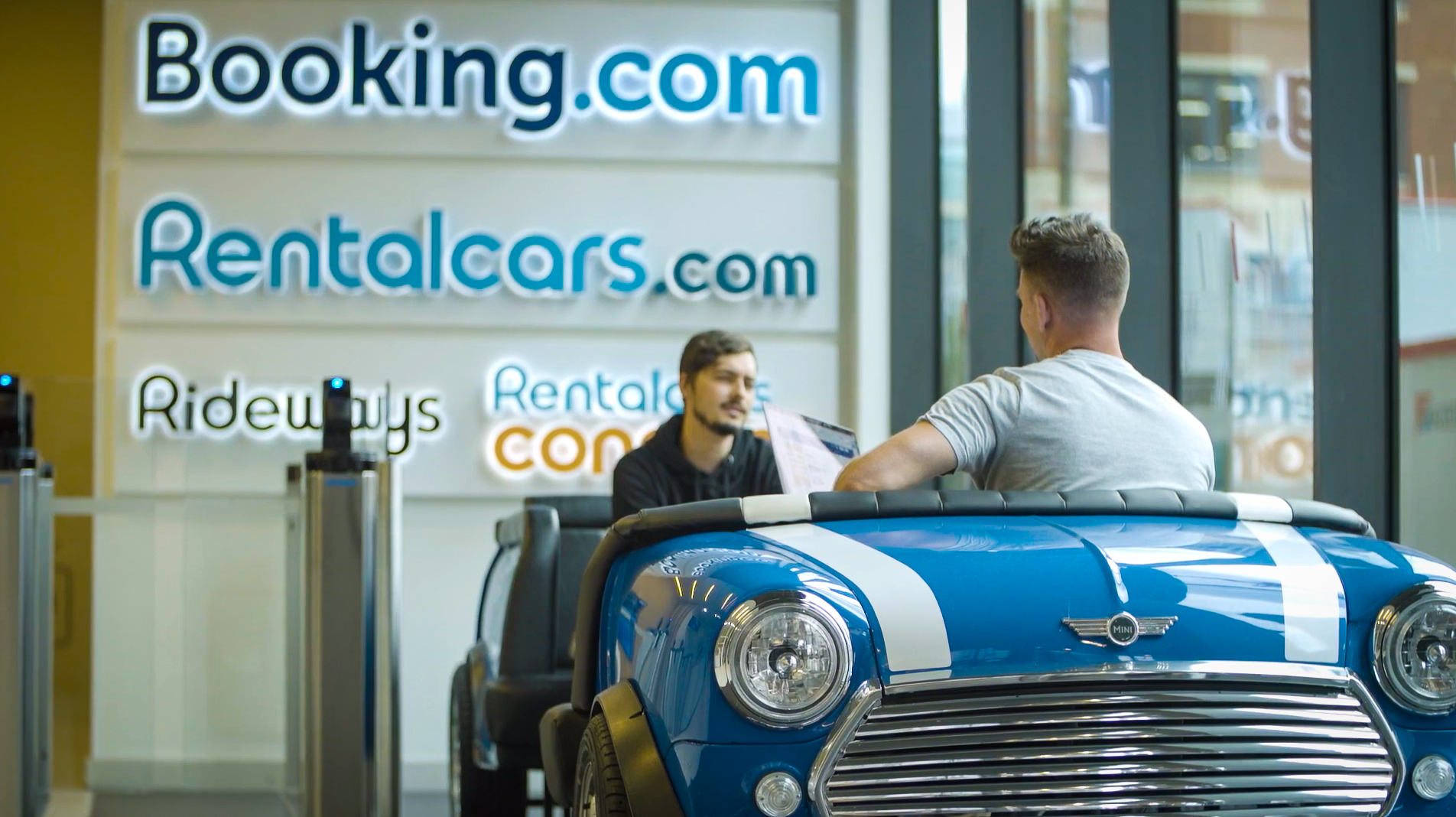 Gavin Barton, Booking.com
We are one of the bigger employers in the market – we have over 600 people working in product and technology in Manchester City Centre – we feel it's a responsibility of ours to find ways to support the community, nurture talent and create the opportunity to build a diverse workforce. To be successful at our scale we need to be committed and engaged in the local community.
We aspire to help to answer questions such as 'how do you get people into tech? How do you grow the community? How do people learn about tech? How do you provide more pathways into the industry? How do you give back to the schools and universities?'. We want to be a part of the solution, at a local level.
Jane Fitzmaurice, Auto Trader
Being a part of the community is massively important to Auto Trader. When relocating our headquarters to Manchester in 2014, we were keen to join the community and contribute and build upon existing activities. It not only helped us establish relationships with other businesses but developed our reputation as an engaged tech employer within the region.
From a talent perspective, we're passionate about nurturing and retaining home-grown talent while attracting new people to the city. The only way this is possible is if the community works together to strengthen Manchester's reputation in the tech landscape.
Malcolm Seagrave, AND Digital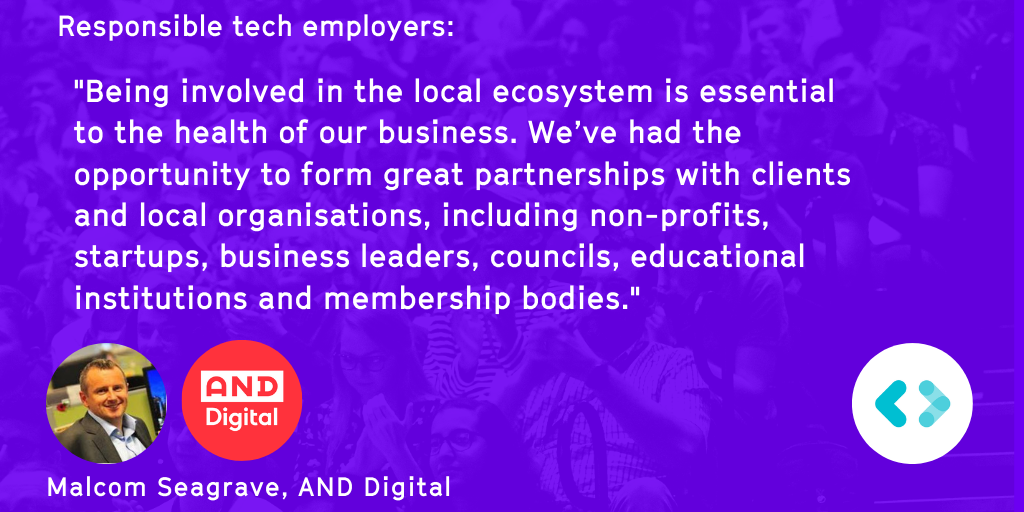 Back in 2014, AND Digital set out on a mission to close the world's digital skills gap - that's a pretty big, bold mission. On the one hand, we get to do that directly through our work - accelerating the digital capabilities of our clients. But the skills gap is a complex issue that's bigger than the immediate work we do. Importantly, fulfilling it means we have built in to the fabric of AND Digital the necessity of working with broader communities - because if we don't, there is no way to fulfil our mission.
That means we knew from the outset we can't work in isolation. Communities hold a huge amount of power to positively improve an area - digital skills gap or otherwise - and we're much more powerful together. So, only by bringing communities and businesses together, can we help to reduce the digital skills gap across the UK.
2. What steps have you taken to become more aligned with the community?
Jane Fitzmaurice, Auto Trader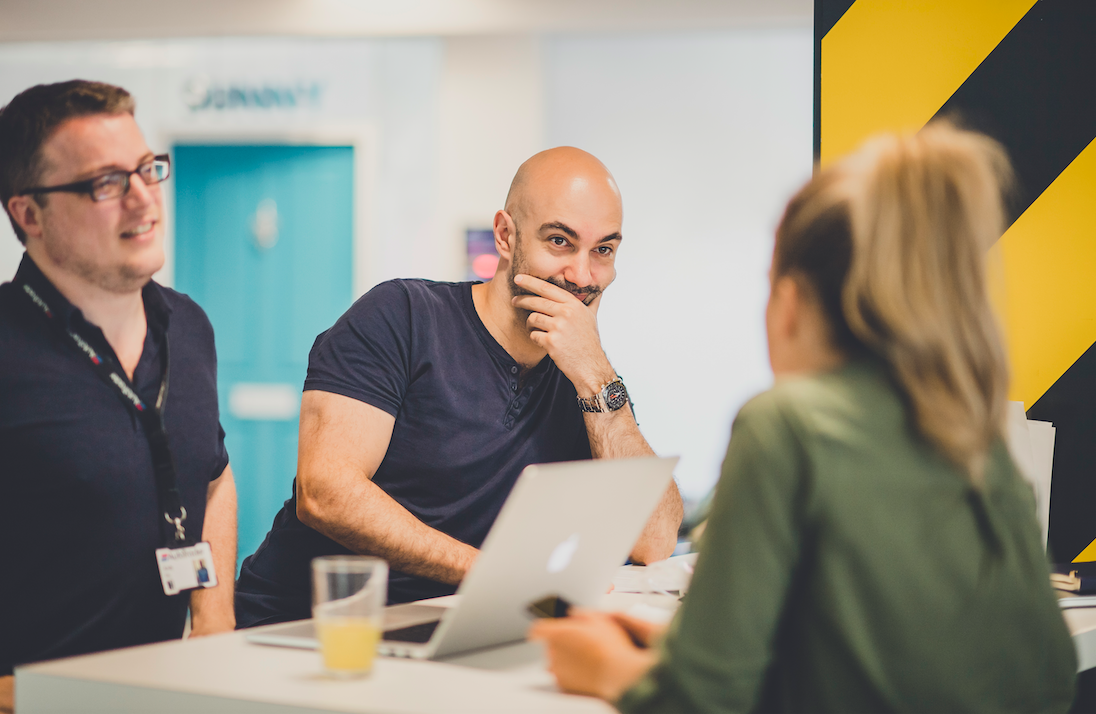 In the beginning, we started small. Hosting and sponsoring meet-ups and conferences, attending seminars and visiting universities became the norm for us. Fast forward to the present day, and it's a key part of Auto Trader life.
As our involvement grew, we began to participate in more significant initiatives, especially those focused on future talent. We refreshed our talent strategy to diversify the pathways into the business and put as much focus on apprentices as we did on graduates. We understood the talent shortages and knew that if we searched for people in different places, we knew we'd reach a broader demographic of people.
We were one of the first companies involved in the construction of Manchester Digital's Digital Future Stars Apprenticeship programme in 2016 alongside other companies such as Waters, Zuto and Booking.com. It's taken time to embed the apprentice programme into the business, and we've learnt a lot along the way. The apprentice route isn't an overnight fix to the talent shortages we continuously talk about in the tech industry, but it's a step in the right direction and the right thing to do.

Gavin Barton, Booking.com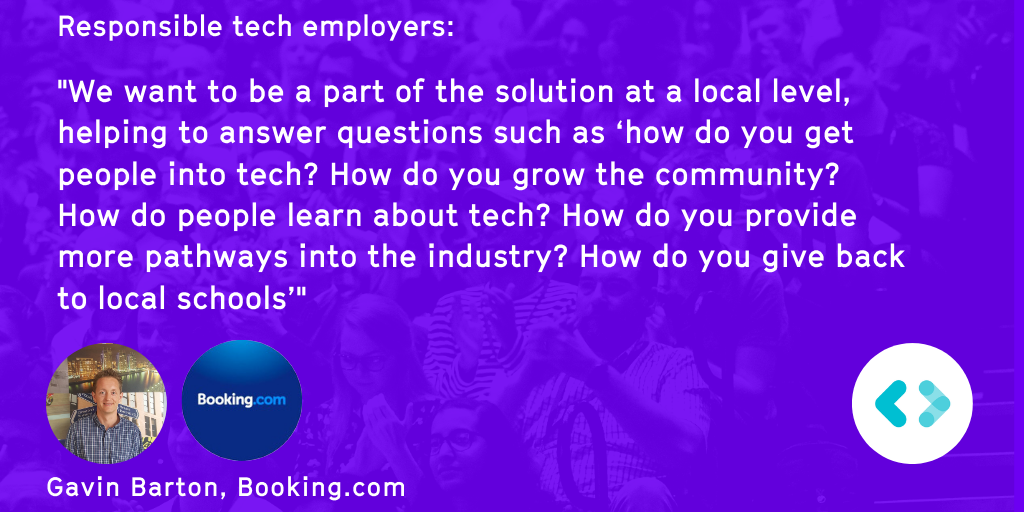 We've taken many steps. We are involved with a lot of the meetup communities, as well as programmes such as Digital Her – recently we had year nine girls come in from a school from Bolton for a talk about possible careers and to show them around the office.
We are a key partner in shaping and developing Manchester Digital's Digital Future Stars Apprenticeship programme, we have a large graduate programme and recently started the Tech Returners initiative. Our business today has over 65 apprentices across many different disciplines with our latest being a Test Engineering apprenticeship.
We are also engaging with local universities to shape and sponsoring programmes in this area.
Malcolm Seagrave, AND Digital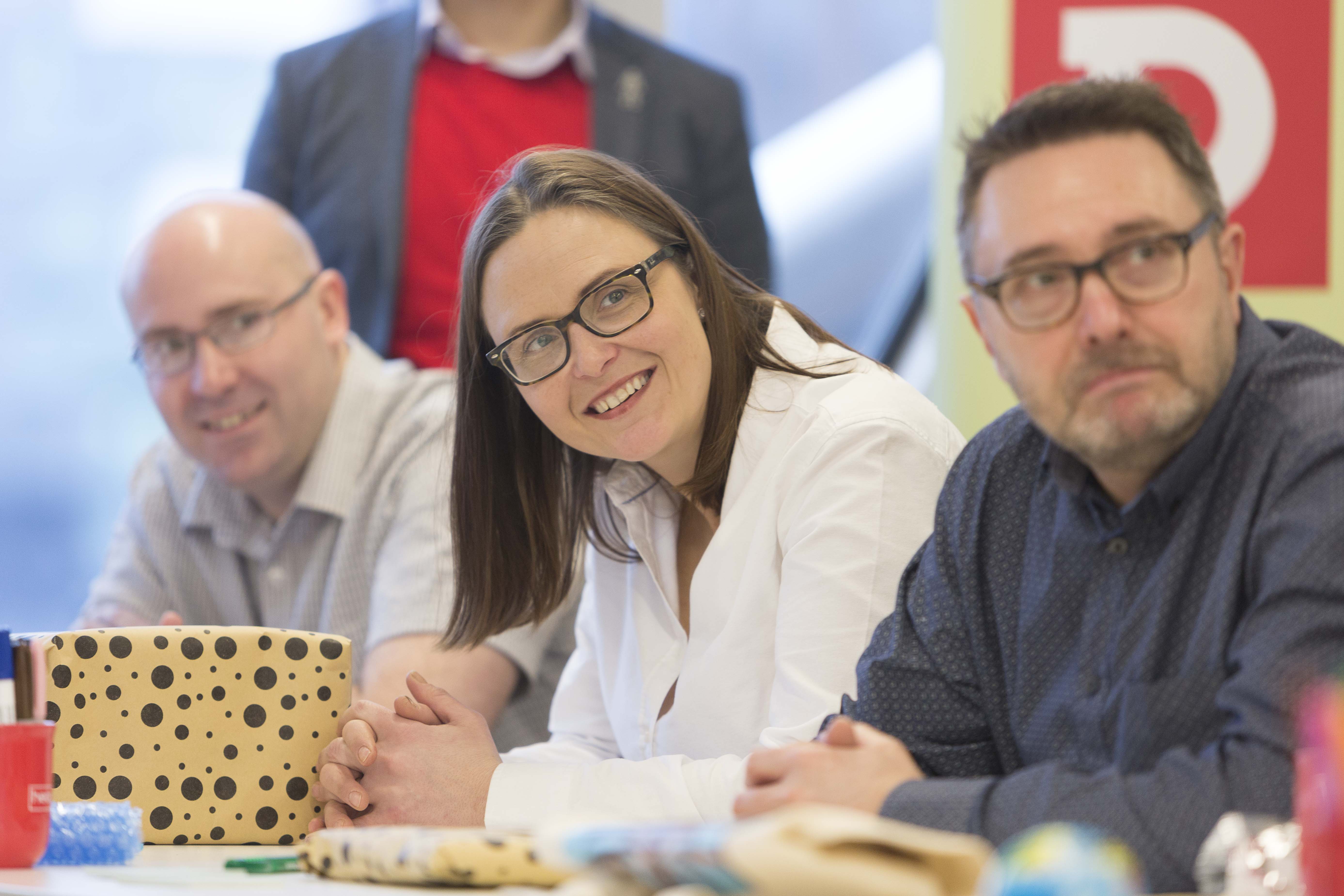 We took two key steps - the first related to our people, and the second to help the local community understand who we are and what we're about.
When we set up our Manchester Club - that's what we call our offices - we put a large emphasis on getting the right people in to shape the club for success.
I was brought in when the club launched to help build strong links with the community. I've been working in the digital industry for more than two decades, and have always tried to embed myself in the community - whether that's through attending local meetups or sitting on a panel.
I've worked with others at AND to build a senior management team in Manchester that really understands what it means to be a great, local company. We've partnered with membership bodies such as Manchester Digital, supported charities like The Men's Room, and have been visible at multiple local events and meetups. Our Cloud lead, Tina Howell, has also been a key appointment for us, as she works tirelessly to promote women in tech across the area, and has even brought YouEqualTech to the North.

Next, it was important for us to share what we do and what we stand for with the Manchester community. Fundamentally, that's two things: we work with our clients' people to build impactful digital products and, at the same time, help them build high-performing digital teams. All this means we can help our clients to unlock value faster from digital and technology. Crucially, it's this last bit - a commitment to talent development - that means we're fundamentally here to give back, and not just take from the community. We work hard to do that wherever we can.
3. How does being involved in the community/ecosystem benefit your business?
Malcolm Seagrave, AND Digital
Being involved in the local ecosystem is essential to the health of our business. We've had the opportunity to form great partnerships with clients and local organisations, including non-profits, startups, business leaders, councils, educational institutions and membership bodies. All of these relationships have been crucial to help us raise awareness of AND, spot new opportunities to deliver great work and fulfil our mission - and, importantly, they have made our teams feel at home.
Community involvement has also meant we've been able to tap into a pool of exceptional digital talent, and to identify areas where we can positively contribute to the talent pool through events and learning opportunities. This is great for the community, but it's also a win-win for us.
Jane Fitzmaurice, Auto Trader
One of our company values is being 'community-minded', and every colleague receives two volunteering days a year. 75% of our colleagues actively support our commitment to making a difference to the communities around us, and events such as Digital Her, code clubs and community hacks are popular ways for our colleagues to spend their time.

Giving our colleagues the chance to interact with the community contributes to their satisfaction, and with 92% of employees telling us that they're proud to work here, we're confident that being able to make a difference contributes to their overall happiness in the workplace.
From an external perspective; there are numerous benefits from getting involved. We've built awareness of our employer brand, collaborated with other tech businesses, and helped shape future talent initiatives.
Gavin Barton, Booking.com
For one, it is a positive thing to do and helps to motivate our colleagues. It gives our colleagues a sense of purpose and a chance to give back to the community. In addition to this our colleagues use this as an opportunity to broaden their capabilities in terms of coaching, developing and mentoring others. It also provides our colleagues with a different perspective to problems and tackling problems in different ways.
In addition to motivating our colleagues creating a more sustainable technical community and talent pipeline helps to protect our business.
4. If you were to offer advice to companies looking to relocate, what would it be and how would you recommend that they embed themselves into the region to ensure that they are viewed by the community as a positive addition?
Malcolm Seagrave, AND Digital
If you're looking to relocate, it's undeniable that the North is a growing powerhouse for tech. In Manchester, digital tech jobs and business turnover have both increased by almost 50% since 2014.
To be part of this growth, you can't underestimate the power of community. Keep in mind that, although Manchester is a fast growing tech hub, digital tech employment is still about a tenth of the size of London's digital tech job market. This smaller tech community means relationships are very important - and it's in everyone's interest to see that community grow.
The most important thing to remember is that relationships are human-driven and a two-way street - sounds obvious, but with all the business objectives to meet and the initial set-up of a new location to consider, it's very easy to forget that. There is no shortcut to getting to know people and your community - it's something that requires investment of time.
The best piece of advice to get started is that when you move to the area, make sure you take the time to watch and listen: spend time attending events, joining meetup communities, connecting with influential bodies before you take to the stage, for example. That way, when you do, what you're sharing will reflect and benefit the local community much more powerfully, and ultimately better benefit your business.
Gavin Barton, Booking.com
You've got to be up for it. The tech scene in Manchester is vibrant, exciting and fast moving. You have to be in it for more than just grabbing talent, get your engineers out there in the tech community, listen and learn what others are doing too. Finding ways to motivate and encourage your staff to be engaged in the community is critical, for example we have OKRs to focus us on event engagement with a key result being how many times we get invited to talk at events.
Getting involved with Manchester Digital is a great opportunity to connect and network with other business in Manchester too.
Ultimately it all takes time and effort, it's worth it but dont underestimate that it takes commitment and effort over time.
Jane Fitzmaurice, Auto Trader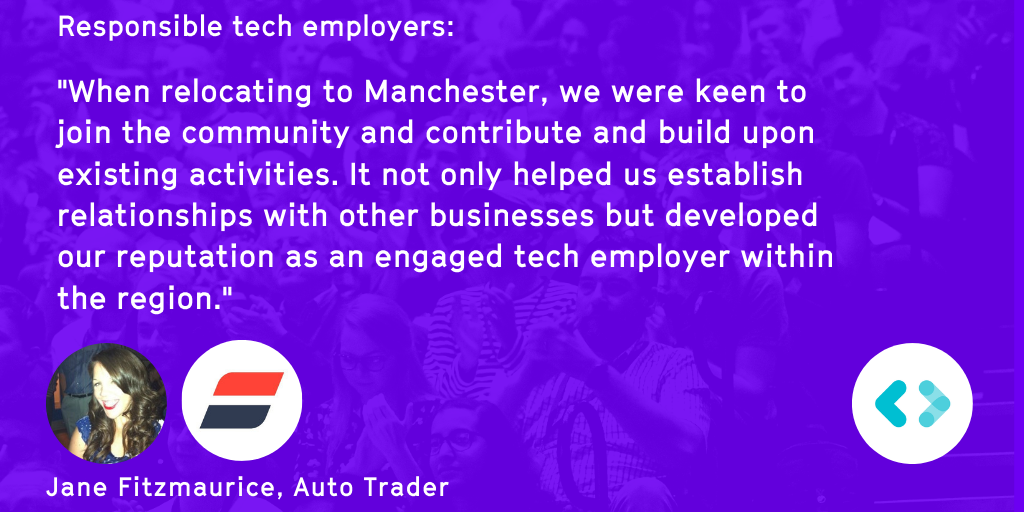 Manchester's a natural spot for tech businesses to set up camp in or relocate to, but the city is so much more than a hotbed for talent. It's collaborative and community-driven and establishing credibility and authenticity takes time. New businesses can do this by balancing how much they contribute with how much they receive from the community.
The Manchester tech scene is made up of companies of all sizes, from the smaller agencies to the large-scale tech operations. For a business moving to the city with the primary aim of hiring technologists, take time to understand the talent shortages. Aiming to hire 200 developers is unrealistic and will impact the tech eco-system, especially if inflated salaries are used to achieve aggressive hiring targets.
We would encourage any new business moving to the city, to become a member of Manchester Digital. It's a fantastic way of plugging into the community and understanding the broader challenges faced by the sector. Understanding the level of existing activity will quickly help companies decide where to focus their efforts.
Want to get involved?
The best way to get involved in Greater Manchester's tech and digital scene is to become a member of Manchester Digital.
If you would like to find out more about membership benefits, download a free membership benefits brochure here. If you would like to feature in future content pieces, contact thom@manchesterdigital.com