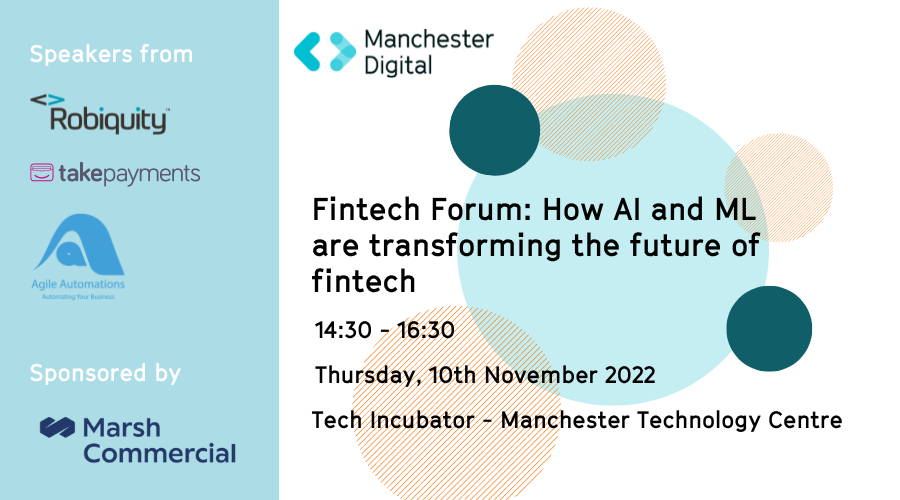 Fintech Forum: How AI and ML are transforming the future of fintech
Manchester Digital were delighted to welcome guests to the Tech Incubator for our final Fintech Forum of 2022 on 10th November. The event, sponsored by Marsh Commercial, considered how Artificial Intelligence and Machine Learning are transforming the fintech industry.
The digitalisation of financial services has undoubtedly improved customer experiences and driven operational efficiencies over the last decade.
Joining us to consider what opportunities there are to use data in exciting new ways, predict customer behaviours and accelerate back office processes and discuss some of the strategies they've helped enable were Agile Automations, takepayments and Robiquity.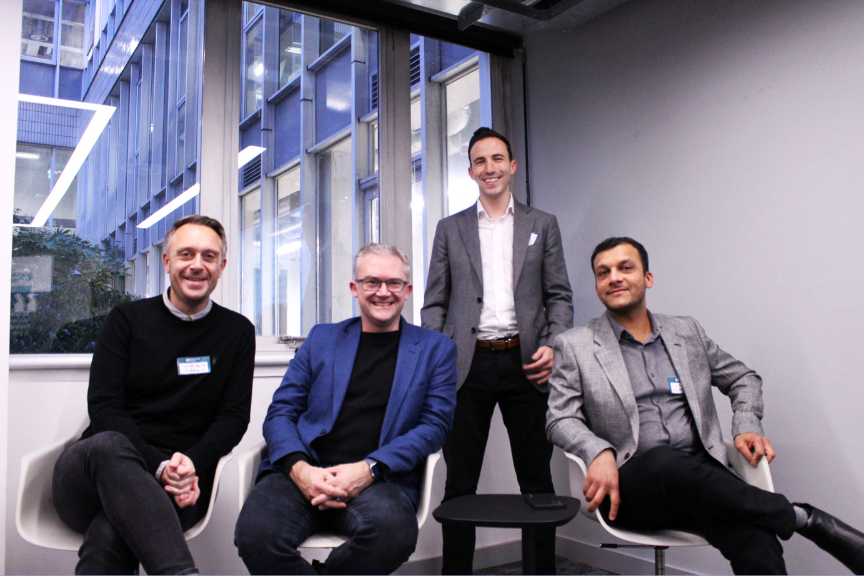 L-R: Lee Egerton, Paul Cooper, Matthew Tattler, Ronak Halani
Speakers included:
Ronak Halani of Agile Automations
Our first talk of the afternoon was delivered by Manchester-based automation solutions provider Agile Automations, as Ronak Halani discussed 'The Future is Automated: Intelligent Automation in FinTech'.
Ronak ran through some of the key features of Intelligence Automation (IA), that go above and beyond Robotic Process Automation (RPA), which include:
Contextual Intelligence
Process and Data Orchestration
Connected Systems
Agile & Scalable
"An intelligent bot not only automates tasks but also learns from the circumstances."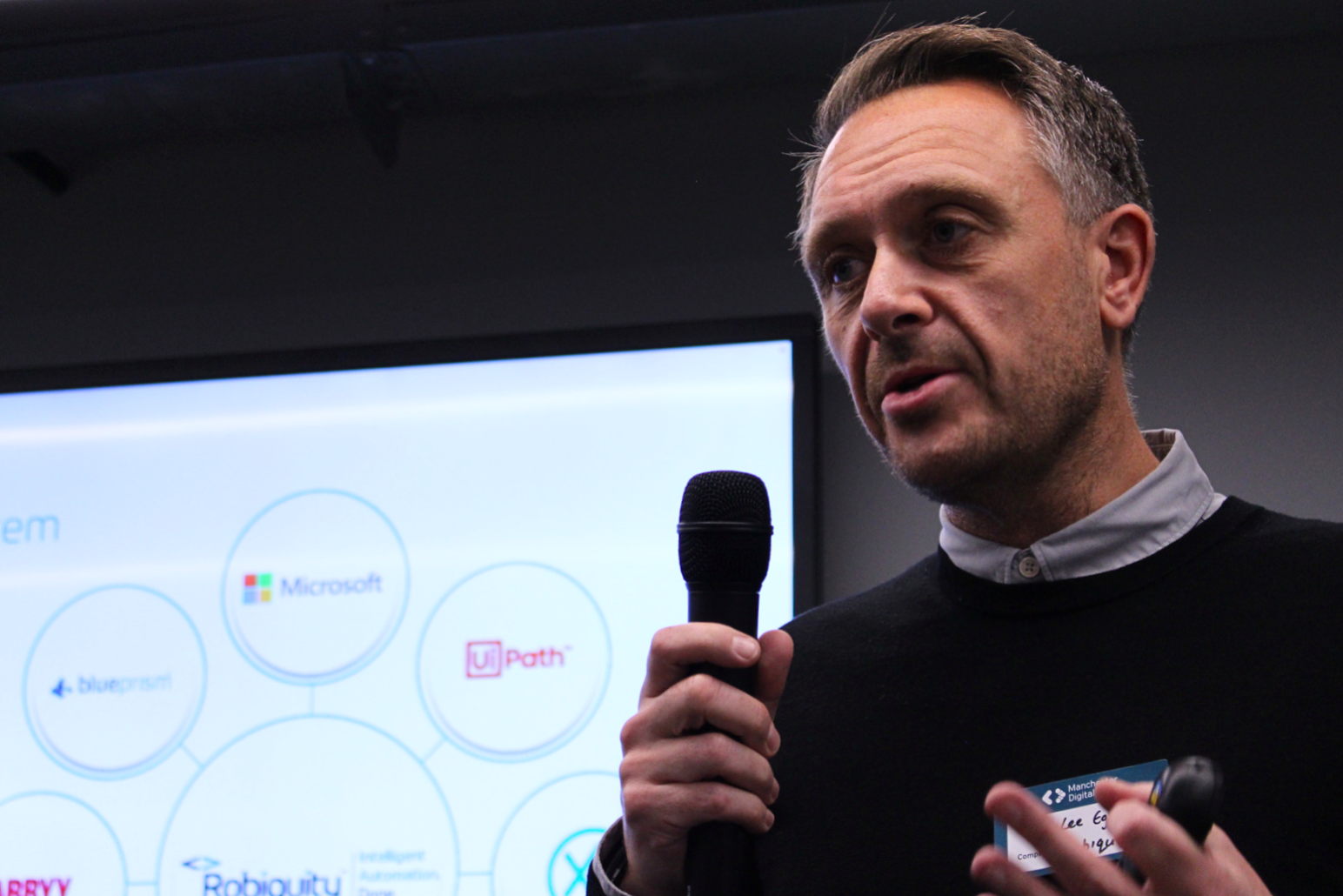 Lee Egerton of Robiquity
Our next talk of the afternoon was delivered by Lee Egerton, Head of FS at leading 'pureplay' Intelligent Automation (IA) services provider Robiquity.
Focusing on 'Applying Intelligent Automation in Secured Lending', Lee provided more information on Intelligent Automation and why it's increasingly used by Financial businesses:
Growth
Value
Compliance
Experience
Efficiency
Lee also discussed end to end automation in secured lending, and detailed a case study on Conversational AI.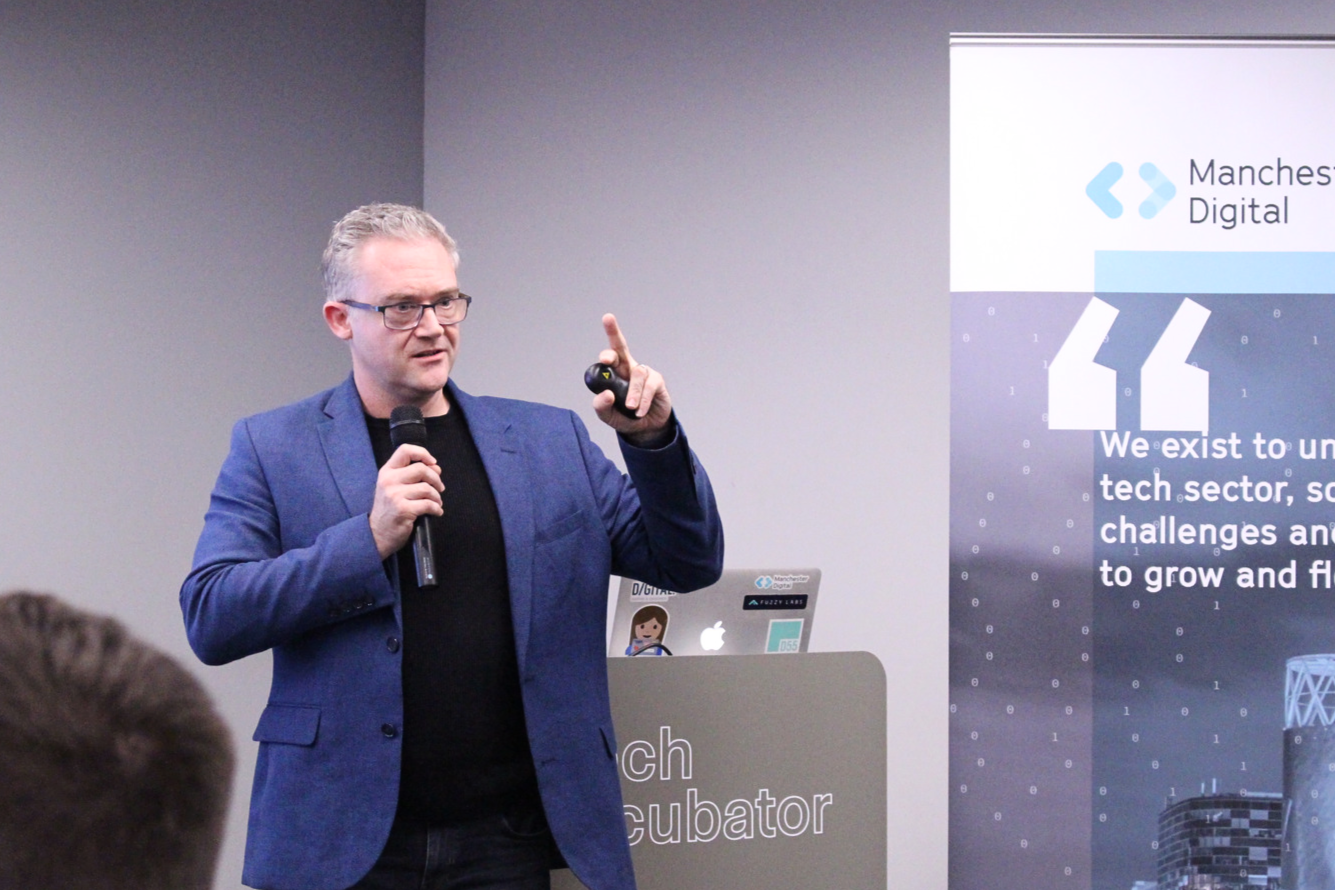 Paul Cooper of takepayments
Our final talk of the afternoon came from payment solutions provider takepayments, as Paul Cooper, Head of Technology Delivery, who discussed how using AI can improve awareness and trust.
"If you automate a bad process, it's still a bad process. AI isn't to replace humans, it's to help them deliver value added activities."
Paul outlined some of the ways that Machine Learning helps with the solutions they offer their customers, for instance:
For sales:
Awareness of the customers market using anonymised transaction information to help position our products
Understand their business risk to see if we can help with business funding
For customers:
Understand customer behaviour to help with retention
Predictive analytics so we can reach out to customers that may need further assistance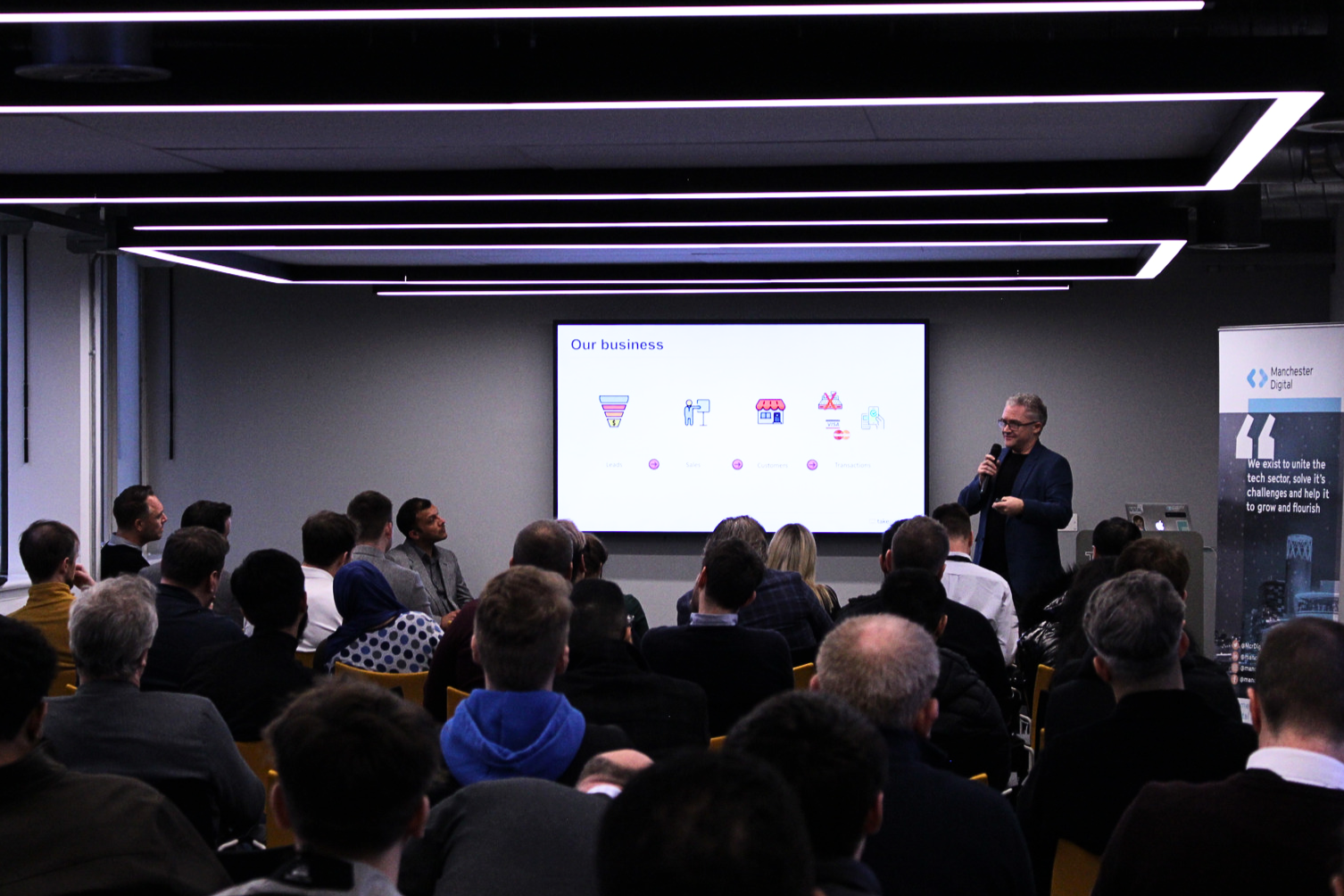 Paul Cooper of takepayments
About our sponsor
Marsh Commercial is a diverse colleague community, serving a diverse client community with insurance, risk management and access to employee health & benefits advice. We leverage the scale, expertise and access to products and services provided by Marsh McLennan Companies for our clients' benefit – whilst maintaining a personal client-centred approach.
Our approach, combined with our passion and knowledge for the tech sector, enables us to advise across the entire spectrum of risk services, including specific projects, risk categories, or challenges.
To find out more about the work that Manchester Digital does to support the region's thriving fintech sector, click here.
If you would be interested in attending or speaking at the next Fintech Forum, please email kate.wilson@manchesterdigital.com.