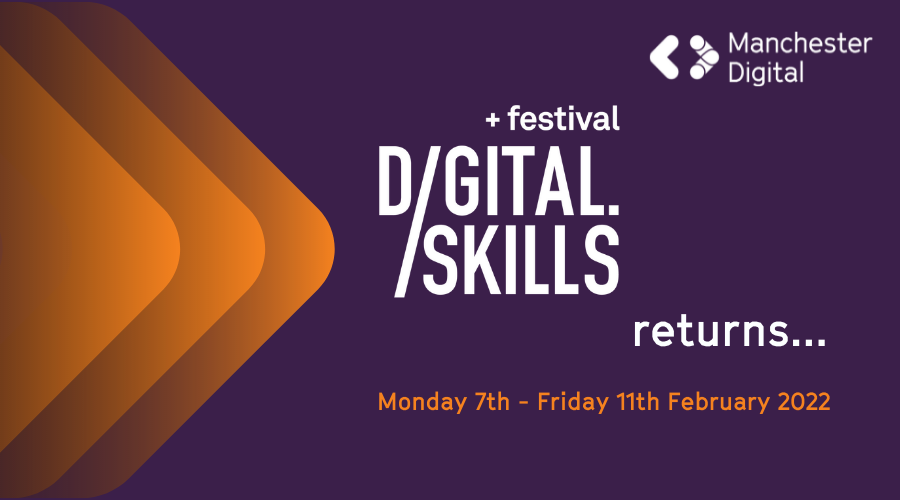 Manchester Digital is delighted to announce that the Digital Skills Festival will return in 2022 for a week-long programme that will unite industry and education as we tackle the common goal of building a strong future for the sector.
Leading Manchester automobile brand Autotrader has confirmed it will be lead sponsor of the event, bringing its knowledge and insights to share with delegates.
The Digital Skills Festival 2022 will take place between Monday 7th February and Friday 11th February and will be delivered as a hybrid series of events and activities as we look forward to the return of in-person events following 2021's online edition.*
Katie Gallagher, Managing Director at Manchester Digital, said: "Our 2022 Skills Festival will showcase the best digital and tech companies that Greater Manchester has to offer and puts them in front of the brightest graduates and job seekers.
"Greater Manchester is seeing a larger than ever skills shortage due to the huge growth in the tech and digital industry in the city, which was accelerated by the COVID-19 pandemic.
"Over the past 18 months, the pandemic created a definite shift in the way we work, live and shop in a very short space of time. This will create even more opportunities and job roles, so as an industry we need to start training and upskilling our young recruits."
The festival is one of the most important events in the digital and tech sector's calendar in Greater Manchester and attracts leading industry professionals, educators, students and job seekers. Events are free to attend and there are opportunities for Manchester Digital members to sponsor or exhibit at Talent Day and meet the tech stars of tomorrow.
The Programme
Held across five days, the programme for the Digital Skills Festival 2022 will be as follows:
Monday 7th February - Conference & Skills Audit Launch
Tuesday 8th February - Industry Insights Day
Tuesday 8th February - Digital Apprenticeship Day
Wednesday 9th February - Talent Day
Thursday 10th February - Professional Development Day
Friday 11th February - Professional Development Day
To find out more about what's planned for each day, click here.
Get Involved
Whether you're an employer looking to connect with future talent, a professional looking to enhance your knowledge or a job seeker/student keen to discover opportunities at some of North West's leading employers, there are many ways that you get involved with the Digital Skills Festival 2022.
To discover more about the Festival and register your interest in attending, please click here.
* Current Covid-19 regulations permitting