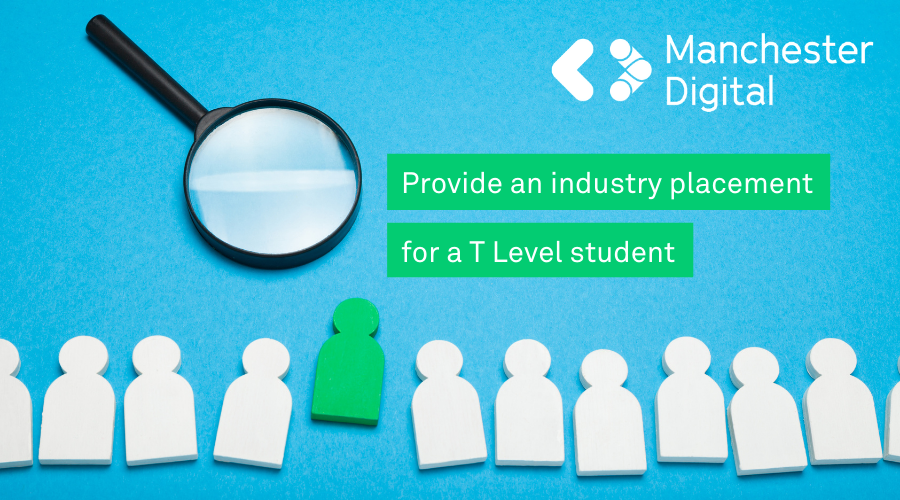 Do you want to be part of a pilot scheme to ensure new technical digital training is fit for and integrated into the workplace?
How can you help?
Provide a 45 day industry placement for a student in their 2nd year of study to put into practice their new practical and technical skills and help us develop essential case studies to promote how technical training is being showcased and supported in the workplace across Greater Manchester to report back to central government.
Placements can be in a block or spread out over the year - whatever suits your business and current projects/workflow best.
What is it?
Students are studying digital T Levels - a new training course that has been informed by tech employers and mapped to a range of occupations in our industry
Students will be studying one of the following digital pathways:
Digital Production, Design and Development
Digital Support & Services
Digital Business Services
What you get
Fresh ideas and perspective to your team projects /workflow
An additional resource to support team members
An opportunity to try out local emerging talent for your organisation
Opportunity to provide a vital opportunity for a budding techie at the start of their career in our industry
Opportunity for your staff to have a go at line management / mentoring
Support to select the right candidate for placement at your organisation
Support to plan the industry placement
This pilot starts in September 2021. Sign up now if you'd like to take part!
If you're interested in joining our pilot, contact Emma Grant, Head of Talent and Skills, via emma@manchesterdigital.com.