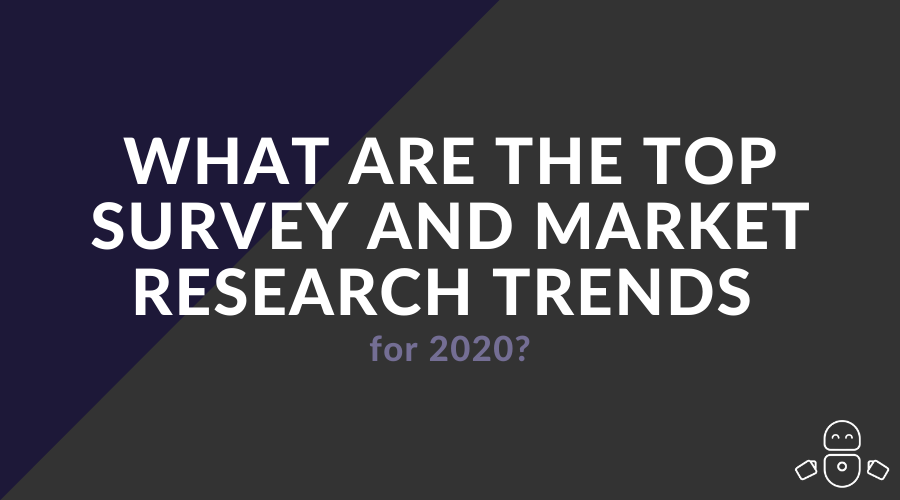 2019 was one hell of a year - not just for technology, but for market research as a whole. Now as we enter 2020, an entirely new decade, we wanted to spend some time considering just what the main survey and market research trends will be for the coming year.
From developments in AI to the rise of using social media to engage with survey participants, we have some exciting predictions for the top survey and market research trends for 2020.
Read on to find out what they are.
1. The rise of artificial intelligence
When most people think of artificial intelligence they think of things like robots, however the actual day to day of artificial intelligence is a lot less glamorous than the likes of i-Robot and the way AI is portrayed in pop culture.
The development of AI is meant to save humans time by being able to do tasks that before, only humans were able to do - things like decision making, language translation, speech recognition and visual perception.
There have already been huge developments when it comes to AI - but we're only just beginning to see the ways in which AI will be incorporated into surveys and market research.
In 2020, expect to start seeing smart technology that can dictate spoken answers to survey questions. Similarly, panel participants will no longer have to be glued to their laptops or smartphone to answer surveys - they'll be able to do using only their voices via devices such as Google Home and the Amazon Echo.
2. Beautiful, responsive mobile surveys will be seen as the norm
Last year shocking research by MRS, Dynata, Kantar, Lucid and Toluna revealed that almost a third ( 30%) of surveys globally restrict respondents to a desktop experience only, and 20-25% of surveys did not allow phones at all.
Considering that the average person spends 3 hours and 15 minutes a day on their phone, the fact that market research companies are still not prioritising mobile survey compatibility is shocking.
Similarly, even when surveys can be completed on mobile, the design and usability are so poor that panel respondents are far more likely to abandon completing the survey mid-way through.
An an industry, why would we want to miss out on valuable panel participants and data for the sake of the simple task of making a survey easy to complete on mobile?
Beautiful, responsive mobile surveys should be the norm and are something that, as a company, we feel strongly about and have discussed in more depth in this blog post.
In 2020, things will change. As people get even more reliant on their phones, time spent using them will increase - meaning that market research companies can no longer ignore the need for seamless mobile survey design - or so we hope!
3. We'll see an increase in "social data"
Over recent years, market research has become less of a specialist industry only known to those who work within it as elements of market research, surveys and polling have become more widely known to the public.
A large part of this is what we like to call "social data". What we mean by social data, is data obtained through the use of social media and other, less-traditional platforms.
We've gradually seen the general public become more involved in the market research industry - whether they recognise it or not - through things like Twitter polls.
Now, a simple browse of a news article on a local newspaper's website will usually be accompanied by the option to complete a short survey before the reader can "unlock" the full article.
Similarly, when browsing videos on Youtube, instead of traditional ads that play before the main video there are now similar, short polls inviting the viewer to give their thoughts on a particular topic.
In 2020, short surveys, polling and "social data" will only gain in popularity as a quick, easy way to gain consumer insight on any particular topic.
In fact, this year we are planning to launch a brand new product that will position us at the forefront of impartial, reliable opinion polls and data.
Watch this space!
4. Surveys will have to adapt to face the ever-growing demand on peoples' time and attention
Every single day we are completely bombarded with content from all angles. It's no secret that this, in turn, is wrecking humans ability to focus and concentrate on any one task at a time.
In 2020 we predict that surveys will have to evolve and adapt to address the growing demand on peoples' time and attention.
Part of the reason that short surveys and opinion polls are so popular is because they're short, engaging and they don't take a lot of time to complete.
As a result, these types of surveys will continue to become more popular, whereas longer surveys will provide more of a challenge to get people to complete.
As part of this, market researchers must ensure that their longer surveys are beautifully designed, intuitive to use and engaging to stop panel respondents from dropping out before completion.
In 2020, badly designed, unresponsive survey designs simply won't do. Everyone will have to up their game to ensure their surveys get the best possible completion rates.
So there we have it - our top survey and market research trends for 2020!
How many of these do you agree with? Do you think we've missed any out?
You can reach out to us on Twitter and LinkedIn - we'd love to hear your thoughts!
Get in touch
We're on a mission to give you the smartest all-round operations support for your market research. It's what we do best.
No nonsense. No jargon. Just brilliant surveys for brighter insights.
If you're curious about what we do and would like to get in touch, we'd love to hear from you.
Visit our website, call +44[0]844 974 5010 or email hello@omnisis.co.uk where a senior member of the team will get back to you as soon as possible.