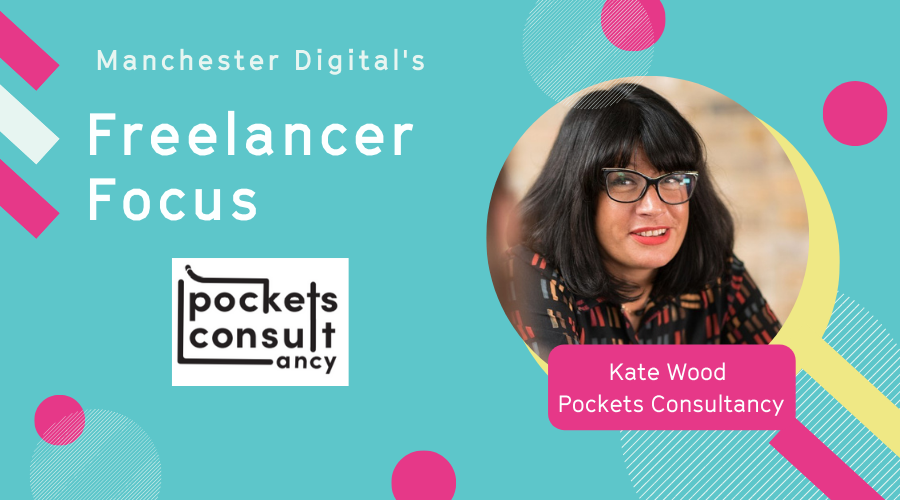 Manchester's tech and digital ecosystem is blessed with a host of talented freelancers. Our series, Freelancer Focus aims to give our freelancers the chance to raise their profile via our digital community.
Today's Freelancer Focus meets tech workplace culture expert Kate Wood of Pockets Consultancy.
Tell us about your company
Everyone knows about Software as a Service, but I offer Culture as a Service to the Tech Sector.
Employee Engagement is a global issue. Only 15% of employees worldwide are engaged in their jobs (Gallup) I am on a mission to change this.
I am determined that everyone can maximise their potential at work, which in-turn will have a positive impact on their life.
Highly engaged workplaces see a 10% increase in customer ratings and a 20% increase in sales, but more importantly highly engaged employees have happier home lives.
Engaged at work, means people perceive themselves better able to deal with issues at home, became better companions, and more effective overall in the home environment.
In other words, engaged employees are beneficial to more than just your workplace; engaged employees are beneficial to their families and friends and happier people make for a happier world.
I work with businesses to improve their company culture, ensuring your teams feel valued and cared for whilst improving business performance.
I am continually driving the Women in Technology (WIT) agenda, I sit on the WIT North and WIT Network UK Board, CRN Advisory Board and am an enthusiastic and entertaining public speaker. I am a Non Executive Director with Unlimited Potential. I volunteer with Oxfam Originals, Manchester Fashion Movement, StateTalking and run a litter picking group called Keeping Salford Smart.
What led you to set up your own business?
I was bored and ready for a new challenge after working for 9 years in a corporate business. I really like the variety of working with lots of different types of businesses and enjoy the flexibility freelancing provides me. No week is ever the same, I am continually learning, meeting interesting people and I feel a sense of achievement when people have a problem and I can help them resolve it.
Do you have a unique proposition?
I have a proven track record of working with growing tech businesses in difficult circumstances (acquisitions, old world to new world transitions etc) every problem you have with employee engagement I have lived!
I have harnessed what worked in my role as Culture Director for Chess, where I galvanised the £120 million pound turnover Technology Business (550 people /7 sites) to go from 63rd to 1st in the Sunday Times Top 100 Companies to Work for list and retain their place in the list for over 10 years.
What is your company's biggest achievement?
My biggest achievement might sound daft to some people, but my freelance work now allows me to balance earning money doing something I love, with affording me time to volunteer and be part of my local community. A level of balance I had previously not had.
What do you think the future looks like for Manchester's digital and tech sector?
I always say whoever you are and whatever your life experience there will be a role for you in a tech business. Getting into tech changed my life and there is no better better city to live in if you want to get into tech. Whatever your age, education or experience opportunity is everywhere in Manchester. We are very lucky and need to shout about it!
Tell us something we might not know about your business?
The name Pockets Consultancy comes from the fact that I believe all dresses need pockets. The fact little girls clothes don't have pockets but boys do, means they are at a disadvantage from an early age. Equal Pay starts with Equal Pockets.
Thanks Kate!
The next Women in Tech North event, Inspiring Manchester's Next Generation into Tech, takes place on 6th May 2021.
Are you a freelancer that would like to raise the profile of your business?
If so, contact myles.hamilton@manchesterdigital.com for more details.