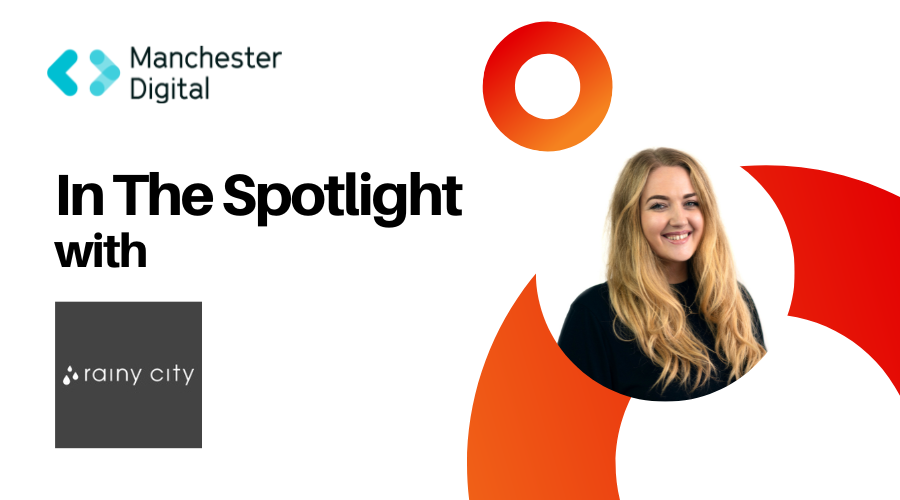 At Manchester Digital we like to interview our members to find out a bit more about what they do and their work in the Greater Manchester digital and technology sphere. This week we're speaking with Rebecca Worsley, CEO of Rainy City Agency.
What does your organisation do?
Rainy City is a Shopify Plus Partner who specialises in UX design, front and back end development and strategy for high growth Shopify merchants. We like to work with brands over the long-term and work alongside them as a proactive partnership who are on the lookout for opportunities in the market. We're not just a regular To-Do list dev agency, we care about our brands and their growth. Our projects consist of full website redesigns or replatforming over to Shopify from other CMS's. We typically help merchants across Health & Beauty, Fashion & Accessories and have a particular love for subscription brands!
What do you think is currently the biggest issue facing the digital and tech industry?
I think the fear of the unknown, particularly eCommerce. The industry has had massive highs with the increase in online shopping since the start of the pandemic, and now we're coming back into some sort of normal, consumer shopping behaviour online has changed. Since the start of this year we're seeing trends in conversion rates dropping, this coupled with the rising advertising costs and the changes to iOS15 I think is making brands nervous. From speaking to multiple brands we work with, the focus is now on customer retention vs acquisition. What can we do to keep our customers coming back, introducing referral and loyalty programmes and subscriptions for consumable brands is a big part of this.
What is your organisation's biggest achievement?
Our biggest achievement so far has been being promoted to Shopify Plus Partners, this is a huge deal for our industry. We're now one of 20 Shopify Plus Partners in the UK and I'm the first female founder to have built an agency to Plus Partner level in the UK and Europe. I have built this company on three core values, Communication, Trust and Reliability and we have some amazing brands we work with that would back up this.
What would you consider to be your organisation's biggest challenge?
I think our biggest challenge is growing organically whilst retaining our profit margins, we're totally self-funded and have built the agency without any help. We've wanted to grow organically, meaning not over-hiring and trying to balance growth and bringing on the right team members at the right time. Recruiting at the moment is fairly challenging, the significant increase in salary expectations over the last 18 months and candidates not really looking to move has proven difficult. Especially for our industry - Shopify talent in particular is in short supply across the north west, but we've found some really great talent based in Manchester and like to try and hire locally as best we can.
What do you think the future looks like for Manchester's digital and tech sector?
I think it's really exciting, there's a lot going on in Manchester with events, and some big companies getting involved in getting Manchester in the spotlight for digital and tech. We have a couple of big projects in the works at the moment, our first is to start bringing events to the Manchester scene - there's a lot of great talent and tech in the city but we don't have a big presence for Shopify and its merchants and that's something we're going to change. We'll be hosting our first Shopify Meetup in Manchester city centre in Q3 - think amazing industry insights, AMA panels and of course a happy hour for the chance to network and learn from each other. We're hoping this is just the start for us and events and will really help us create a name for ourselves in the North West.
We're going to be putting a heavy focus on Women in Tech - this is something I'm really passionate about. Our industry is very male dominated - I've often been to events and been the only female there and i'd like to change that. I want to encourage female entrepreneurs, coders, designers - everyone that works in our industry. Our team is actually made up of 10 females out of the 18 we have employed so we're doing pretty well in terms of balance!
Tell us something we might not know about your company?
We're named after the weather! Growing up in Manchester I don't think you realise how rainy it actually is here until you leave and you're like wow it really does rain in Manchester! I've never been great at coming up with brand names, but when I thought of this one it really stuck - at first I was concerned about the negative connotations from the name, but I love it now and it's a great talking point when introducing us, the name coupled with a Manchester accent can be difficult for some of our US clients to understand but we add an American accent to it and they get it!
Thank you Rebecca!
To find out more about Rainy City, click here.
Want to raise your business's profile? If you're a member, contact thom@manchesterdigital.com to discuss featuring your content on our site, social media or newsletter. If you're not a member, get in touch today to discuss the benefits of membership.