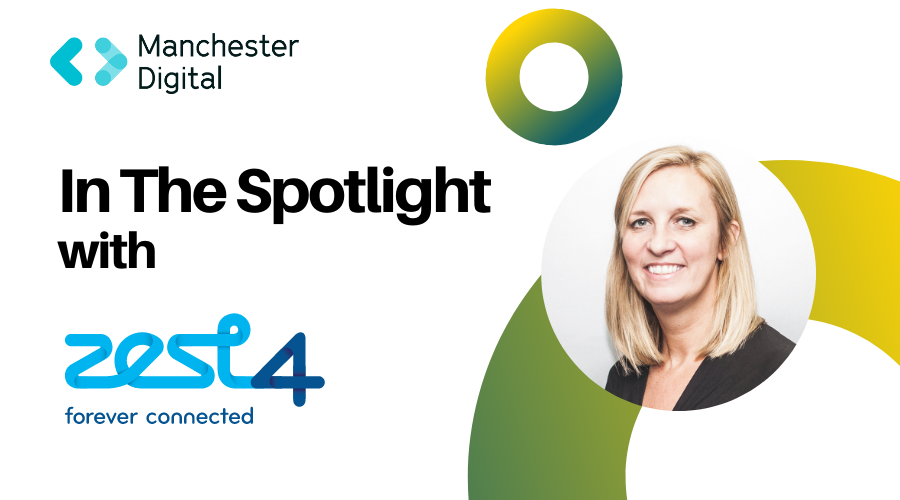 At Manchester Digital we like to interview our members to find out a bit more about what they do and their work in the Greater Manchester digital and technology sphere. This week we're speaking with Mandy Fazelynia, Managing Director at Wilmslow based communications experts Zest4.
What does your organisation do?
We deliver unified communications to the reseller channel in the UK. For a business to operate you need connectivity; be it cloud, mobile, IoT or telephony, you get this from your business communications supplier, and we supply them.
Our portfolio is headed by experts, making sure that we always have the latest and most relevant solutions available. We enable our Partners to sell these products and services effectively by making sure they have all the training they need. Any questions and we're always here to help.
What do you think is currently the biggest issue facing the digital and tech industry?
Digital adoption: one benefit of the pandemic (if we're looking for silver linings), is that it has sped up the acceptance of available tech. In a period of 18 months, we've moved on about five years in take-up of digital solutions, moving businesses away from tied-to-the-desk legacy systems.
The digital solutions are readily available now; and businesses are keen to move over, to give them more flexibility. But, replacing the old systems and training up on the new digital options is frustratingly slow.
At the moment the connectivity infrastructure isn't keeping pace. In order to maximise the potential of the available digital solutions it needs to at least keep pace with demand.
The country is still in the roll-out phase for FTTP, 5H and LPWA networks – once these are in place it will accelerate take-up and benefit everyone.
What is your organisation's biggest achievement?
Consistent and organic growth has led us to be where we are today, an award-winning supplier of UC solutions. We couldn't achieve any of this without the Zest4 team.
We have a dedicated leadership team consisting of veterans of the industry and collectively have 100 years working in telecoms. This team are dynamic, driven and very proud of the business we have created and the service we provide. We ensure everyone in our business feels both proud and responsible for the standard of the service we provide, and everyone is recognised for the achievements of the business. We care about our team and focus on making zest4 a great place to work and be a part of whilst achieving personal and career goals.
By listening to our Partners, we have developed a suite of portals to facilitate ease of business with us and their customers. From submitting contracts and checking service levels, to customers being able to log in to their own billing details, checking unbilled usage and setting and removing bars and changing tariffs amongst other key functions.
What would you consider to be your organisation's biggest challenge?
The continual evolution of the technology solutions we have in our portfolio means that we have a recurrent need to invest to keep up to date and fully certified for them all. We head our portfolio with industry experts, each dedicated to making sure their range of products and services is relevant for their Partners.
Our Partners service business from every faction of society, from banking to charity, manufacturing and beyond. We need to have a range of solutions that can service them all. As well as this, we need to be experts ourselves; from understanding the technology to deploying and installing in some cases.
What do you think the future looks like for Manchester's digital and tech sector?
The future is unpredictable, but one thing that will always be constant and that is the need to move forward with digital and tech solutions. Manchester is a vibrant and diverse place, pulling in talent from across the world.
Tell us something we might not know about your company?
Something wonderful about Zest4 is the number of awards we have won. It's always an honour to be recognised for the effort we put in to keep our Partners, and their customers happily connected. We're also in the Top Tech 100 Companies in the North-West. None of these awards would be possible without our wonderful team, proudly based in Cheshire.
Thank you Mandy!
To find out more about Zest4, click here.
Want to raise your business's profile? If you're a member, contact thom@manchesterdigital.com to discuss featuring your content on our site, social media or newsletter. If you're not a member, get in touch today to discuss the benefits of membership.