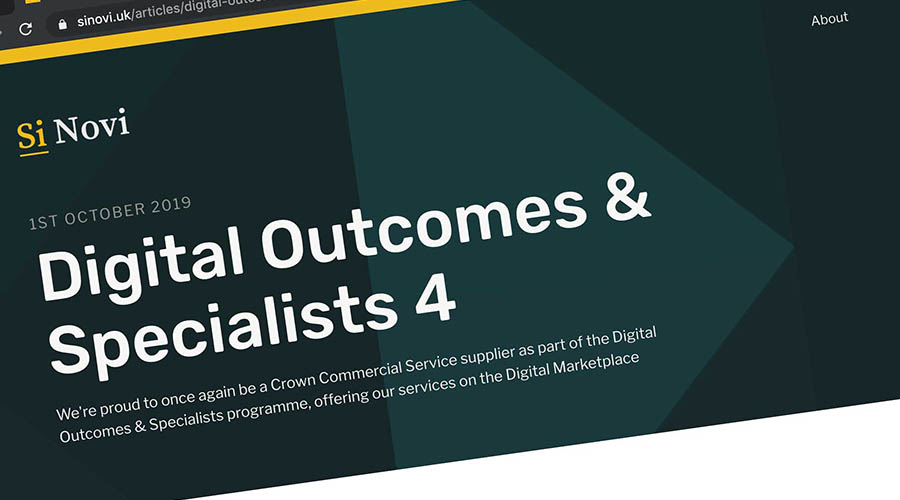 We're proud to announce that once again we're part of the Crown Commercial Service's Digital Outcomes and Specialists programme. Now in its fourth year of operation, the DOS Framework helps the public sector buy, design, build and deliver digital outcomes by finding specialist private-sector companies to deliver agile software development.
The Digital Outcomes and Specialists framework assists in the tendering of public-sector contracts to private companies, and provides a structure to ensure that the developed outcomes comply with the gov.uk Service Standard.
Having been participants of the Digital Outcomes & Specialists 3 programme from October 2018, Si Novi now offer cloud and digital development services through the Digital Marketplace on the Digital Outcomes & Specialists 4 programme which begins on 1st October 2019.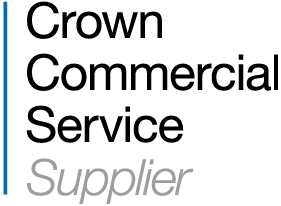 Si Novi are offering services within the Digital Outcomes service category, providing a team of specialist developers to deliver digital projects, collaborating with the buying organisations own stakeholders and technology units.
Within Digital Outcomes, we offer a range of web development capabilities, including
Software development: Web Application development, API development, Cloud-based service development, development of Content management and Customer relationship systems, Digital Transformation, Systems integration, mobile app development
Security: Infrastructure reviews, Risk management, Security policy and Vulnerability and penetration testing
Support and operations: Cloud Hosting with AWS, DevOps Tooling, Systems administration, Monitoring and Incident management
User experience and design: Accessibility, Cross-platform design, and Prototyping
Crown Commercial Service supports the public sector to achieve maximum commercial value when procuring common goods and services. In 2018/19, CCS helped the public sector to achieve commercial benefits worth £945m - supporting world-class public services that offer best value for taxpayers.
---
Si Novi is a software development studio based in Manchester. We work as an outsourced technology team for businesses and public-sector organisations, delivering cloud-based web and mobile applications. We specialise in delivering the web technology and infrastructure that powers successful, performant and secure web applications.
Read more on our website: https://sinovi.uk/articles/digital-outcomes-and-specialists-4
For more information about our participation on Digital Outcomes & Specialists 4, contact Si Novi at hello@sinovi.uk.