Download a free membership brochure and discover the benefits of joining the Manchester Digital community for your business.
Supporting the sector
Greater Manchester is home to an innovative healthtech hub, with a number of startups and established businesses making the city their home. Manchester Digital is committed to supporting these businesses, offering a range of services and events to meet the requirements of the region's healthtech businesses.
Raising the profile of the work being done by healthtechs in the Greater Manchester region
Showcasing the work emanating from the sector via events and speaking opportunities
Providing healthtech-focused networking opportunities
Offering marketing and PR support to our healthtech members
Making valuable introductions for healthtechs to investors, other business or universities
Lobbying on behalf of the healthtech sector at both regional and national level
Healthtech Events
On 26th May 2022, Manchester Digital hosted its first Healthtech focused event, part of the Emerging Technology Forum series.
We were joined by Foolproof, NanoGraft, NorthWest EHealth and Bruntwood SciTech for a discussion around which businesses are transforming healthtech and the latest innovations of the sector, plus an opportunity to nework with peers from across the sector.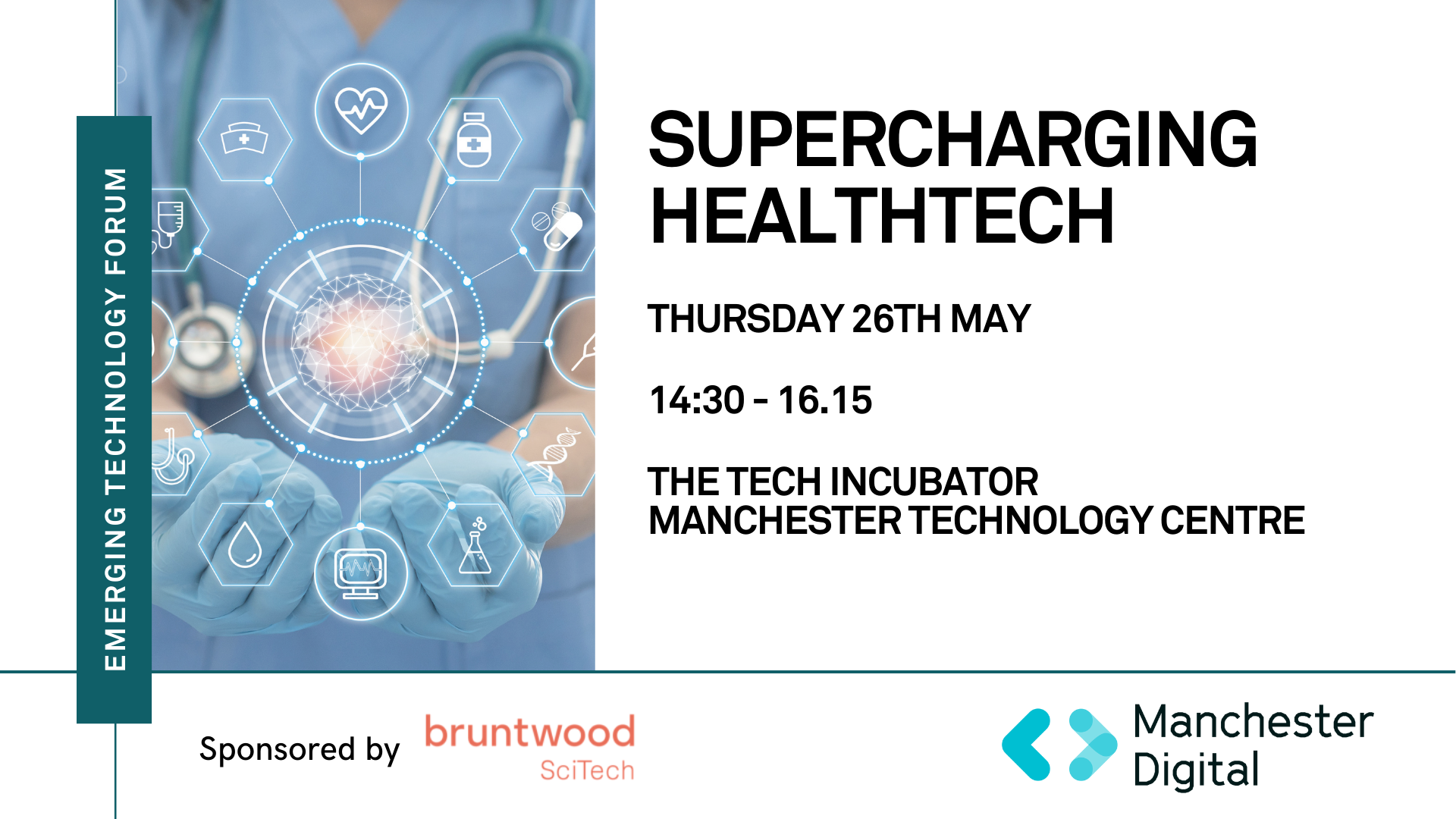 Read a roundup of this event here.
Details of future healthtech events will be announced soon.
An innovative sector
Greater Manchester has established itself as an international hub for healthtech and medtech innovation.
With excellent links to leading universities, the largest clinical academic campus in Europe, access to health organisations and a highly skilled talent pool, the region has become one of the leading healthtech centres outside of London.
From startups and small companies that are shaking up the way healthcare is delivered to larger, more established organisations, innovative healthtech businesses are thriving across Greater Manchester.
What's driving the sector?
There are a wide variety of factors driving Manchester's emergence as an international healthtech hub, such as:
The city taking charge of its healthcare budget in 2016, giving it greater ability to make critical decisions
Home to an established digital and technology ecosystem
A strong collection of well-established healthtech organisations and innovative startups
Home to four leading universities and one of the UK's largest student populations, ensuring a steady stream of fresh new talent
One of the largest clinical academic campuses in Europe is based here
Manchester attracts students, clinicians and researchers from across the globe
A reputation as a city of innovation within tech
Access to highly-skilled talent and research
Benefits of becoming a Manchester Digital member for healthtech businesses
Attend our healthtech and other events: network with your peers, share best practice and showcase your products and innovations
Feature in content features which we share to our 28k social followers and 9k database
Benefit from networking opportunities
Raise your profile and employer brand by speaking at our events
Collaborate with other businesses within the sector
Benefit from Manchester Digital's lobbying on behalf of the healthtech sector at both regional and national level
Want to know more? Download a membership benefits brochure here!
Get in touch
If you would like to discuss the benefits of coming into Manchester Digital membership, email thom@manchesterdigital.com