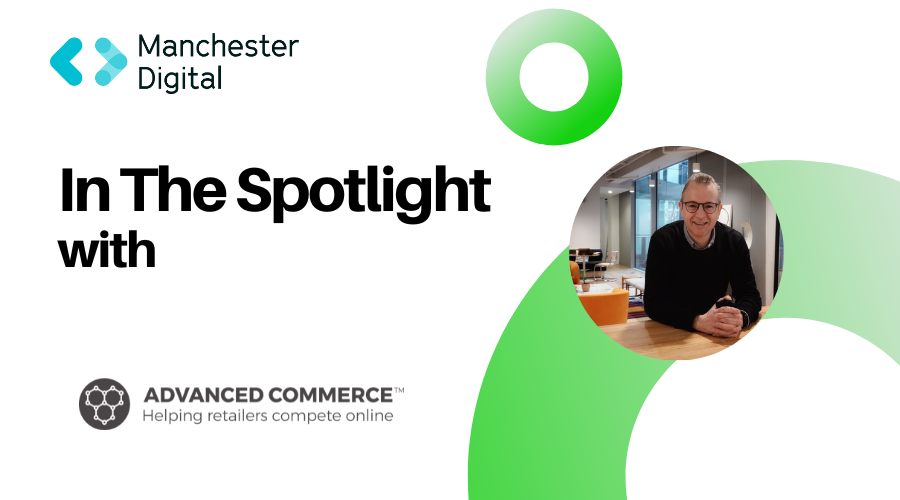 Welcome to In The Spotlight, a series where Manchester Digital interviews its members to shed light on their work within the digital and technology industry in Greater Manchester.
In this edition, we have the pleasure of speaking with Advanced Commerce's CEO, André Brown.
What does your organisation do?
Advanced Commerce's online merchandising platform, GrapheneHC, is giving retailers all the tools they need to control their visual merchandising across product pages, search results and recommendations and be able to personalize it to each website visitor. Built to out perform the competition in terms of speed, breadth of functionality and ease of use, GrapheneHC is fast becoming recognised as the gold standard for online merchandising.
What do you think is currently the biggest issue facing the digital and tech industry?
Biggest challenge in ecommerce is the increase in product catalogue, and being able to capture the shopper's attention. With a bigger product catalogue, how do you show the right product to the right audience. Personalisation and product sequencing will see a huge growth 2023.
What is your organisation's biggest achievement?
Advanced Commerce is already becoming the go to product for online merchandisers, and is being recognised as the gold standard with large agencies.
What would you consider to be your organisation's biggest challenge?
Brand awareness, the vast majority of the audience who sees the demo of GrapheneHC immediately understands the benefit it can bring to their business. The challenge Advanced Commerce now faces is to capture the market, to show the product to bigger audience.
What do you think the future looks like for Manchester's digital and tech sector?
Manchester Digital's future is bright and booming, the successful reputation will continue to grow and be at the forefront for all things tech.
Tell us something we might not know about your company?
I am founder and CEO of Advanced Commerce. I have spent 20 years in the online search and merchandising sector having been the cofounder and CEO of Attraqt for 15 years. I left Attraqt in 2018 and have taken all of my knowledge and experience in online merchandising and taking Attraqt from start up to where it is today and put that in to my new business - Advanced Commerce. Advanced Commerce are rapidly growing and establishing there online merchandising platform, GrapheneHC, as the gold standard all other platforms aspire to.