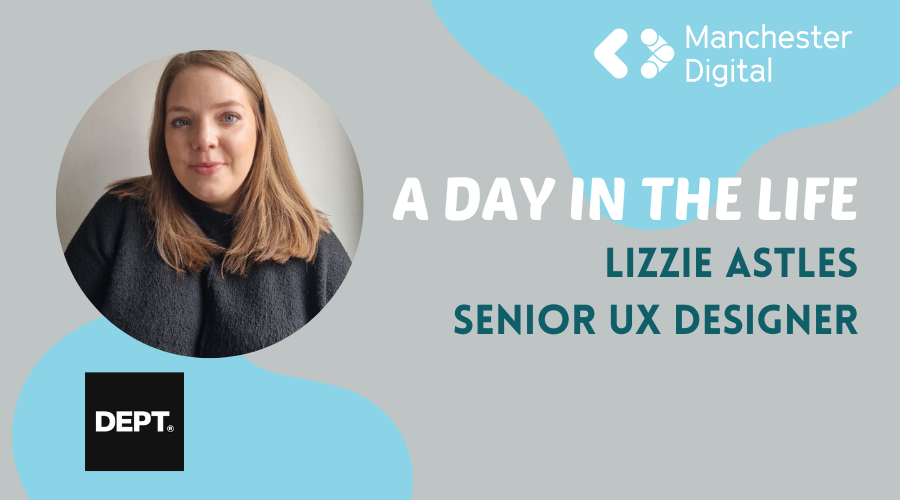 Ever wondered what it's like to work at one of Greater Manchester's leading tech employers or what specific job roles get up to each day?
Lizzie Astles is a Senior UX Designer at pioneering technology and marketing services company DEPT®.
We spoke to her to find out more about this role, her experience at DEPT® and what an average day looks like.
Name: Lizzie Astles
Company: DEPT®
Job Title: Senior UX Designer
Time in Role: 5 months
How did you get into your current role?
I studied Graphic Design at the University of Salford. After completing a few internships during my time there, I was convinced I was going to end up in advertising!
Once I graduated, I started working as a graphic designer at a couple of small agencies. I then landed a job at a larger digital agency where I had the opportunity to move into UX. I worked on some amazing projects for clients such as the NHS, Chelsea FC and Domino's.
Although my career has gone down a different path than I expected 10 years ago, I love all things UX and digital and I'm excited about my next chapter at DEPT®!
What do you love most about working at DEPT®?
I love how varied my job is! I'm usually working on a few projects at the same time, that are all at different stages, which means there's always so much to get stuck into!
It's also so exciting to be part of a global agency that is really pushing the boundaries of design and technology, with such amazing clients.
DEPT® has everything that you'd expect from a top digital agency, but most importantly, the thing that DEPT® has, which you don't often find elsewhere, is how highly they value 'Happy Depsters'. There's a big focus on making sure staff are happy and supported to deliver their best work and develop in their careers.
And I can't not mention the Depsters - they make working at DEPT® all the more enjoyable. They are an incredibly talented team and are all smashing it in their fields.
What does a typical day look like for you?
No day is the same at DEPT®, although there are a few constants throughout the week, such as, project stand-ups every day where we all give updates on what we're working on and check that the team is aligned.
Throughout the week, I also have other catch ups with my line manager, the UX team and the wider user experience design team to discuss current projects, what work we have upcoming and to share any ideas or interesting things we've learned.
The rest of my time is filled with running workshops with clients and capturing our insights in Miro, conducting some usability testing and writing up reports on our findings, as well as pulling together estimates for upcoming work.
What is it like starting a new job remotely?
Although I was initially worried it would be tricky joining a company remotely, especially to get a real feel for the place, it's been great! There have been lots of opportunities throughout my time at DEPT® to get to know not only my team but the whole agency, particularly with the various events.
The onboarding experience was great and it really helped me to get a feel for how both the Manchester office and the wider business works.
Have you learned anything new since you started?
I've learned so much in a short period of time since being at DEPT®. As my background is mostly in designing for mobile, I've been immersing myself in all things web and getting to grips with the different technologies. I'm surrounded by a talented team who are keen to share what they're learning, so there's always opportunities to continue learning!
Thank you Lizzie!
Read Lizzie's DEPT® LIFE in full to find out more about working in UX at DEPT®.
To find out more about DEPT®, click here.
If you're a Manchester Digital member and would like somebody at your company to be featured in our A Day In The Life series, contact thom@manchesterdigital.com.