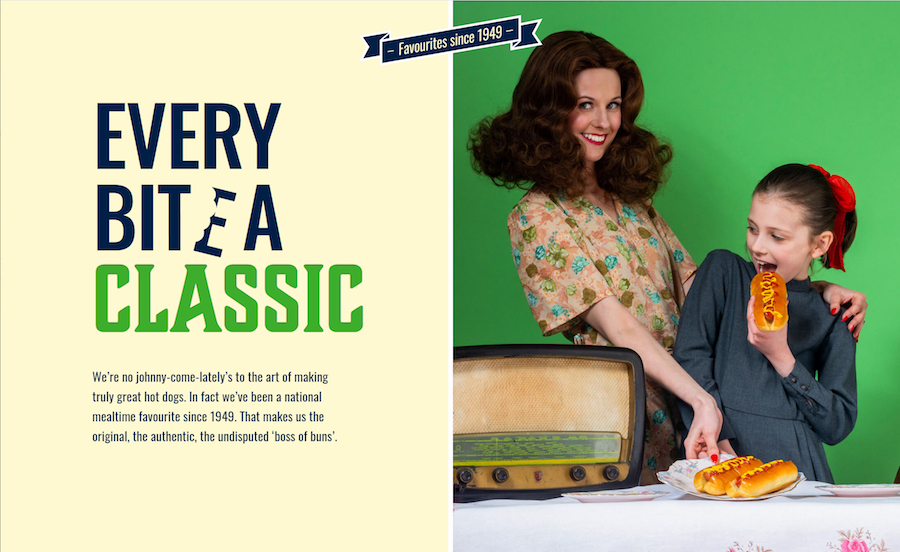 North West digital and web agency Fablr has just launched a new website for the heritage food brand Ye Olde Oak. The canned hotdog and meat brand was launched in the UK in 1949 and has been a store cupboard staple ever since.
Ye Olde Oak appointed the Fablr team to develop their new brand direction with a vibrant new web presence, supported by an extensive social media and PR campaign.
From their Leeds and Manchester bases, the Fablr team has built a modern, responsive, and dynamic website for Ye Olde Oak. The website project included the graphic design, brand voice, creative copywriting as well as the technical build.
Fablr has also launched an extensive creative social media campaign for Ye Olde Oak, which included art direction for brand videos and photoshoots to create a library of engaging creative content.
The bold and vibrant new website highlights the different hot dog and tinned meat products, alongside important information such as how the canned packaging can be recycled and is better overall for the environment than alternative packaging.
Bryn Scadeng, head of marketing and innovation at Struik Foods, said: "Once again, we were pleased to work alongside the Fablr team for another website launch. We love their creativity, which, teamed with their excellent technical ability and deep understanding of our brands, gives us an excellent ongoing design and creative partner."
Geoff Bretherick, creative director at Fablr, explained, "Ye Olde Oak has been a staple of the British kitchen for a long time but it had become somewhat overlooked in recent years. We have completely immersed ourselves in the whole brand in order to create something that gives Ye Olde Oak a real voice and a personality - celebrating both its heritage and 'favourites' status for UK hot dog consumers.
"Ye Olde Oak's new packaging was our starting point, and our job was to translate the refreshed and emboldened visual identity to a digital delivery and create more of a brand story around the UK's no. 1 hot dog.
"The new brand is backed by a really distinctive typographic framework and saturated colour palette, and we've loved bringing all this energy to the brand messaging and visual treatment of content as part of our design process."
The Fablr team has worked with Struik Foods Europe for two years now and has previously created a website and social media campaign for its new Bunlimited brand as well as their flagship brand website www.struik.nl.
The Northern agency was launched in 2015 by Philip Bennison and Geoff Bretherick, and they work across the technology, FMCG, arts and professional service sectors. They recently launched their digital marketing offering, on top of their existing web and mobile design and development services.
For more information visit: