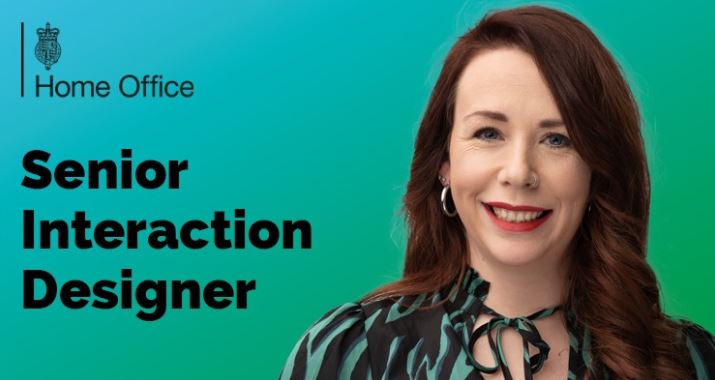 My name is Lydia. I have been working at the Home Office as a Senior Interaction Designer for the past 8 months. I want to let you know a bit about how I came to join the Home Office and what it's like to work here.
Before working my way up in the profession of Interaction Design, I was a teacher. I taught Product Design, Graphical Design and Human Interaction Design to pupils of different ages. I found that a lot of my skills from teaching design were extremely transferable to the work I do now, such as task prioritisation, public speaking, problem solving and accessibility. It was a daunting move at first, moving to a very different field, but I'm so glad that I made the move, and I'm excited about my new career!
I thoroughly enjoy my job – no day is the same. Depending on the day and work I'm focusing on, generally my role covers the following:
Mentoring and supporting other designers.
Participating in design workshops.
Observing user research sessions.
Creatively solving complex problems.
Creating and iterating prototypes that can be shared and tested with our users.
Making document design decisions to allow my designs to be built.
We have regular team days where we get to visit other office locations and run in-person workshops. This allows us to develop our ideas off-screen in an inventive way. The Interaction Design and User Centred Design community is brilliant at the Home Office. There are lots of interesting ways to get involved and contribute to the wider community, such as working groups, the opportunity to lead in certain areas and showcase some of the great work that goes on around the wider department.
What I enjoy most about working as an Interaction Designer is the chance to help solve complex problems. I couldn't do this without having such a supportive team to work with. Our team members bring many different effective skills to the table, which is crucial in our field.
There are lots of benefits for working at the Home Office, but I'd have to say that the people are the biggest benefit of all. I feel like I have finally found the right fit for me and for my career. The people I work with are like minded, passionate about user centred design and they are creative and collaborative.
My role also allows me to work flexibly, which works very well for me. Being able to put the hours in when I need to or when I am immersed in an interesting part of my work, and then being able to take those hours back at a time that works for me is a massive positive!
I would highly recommend working at the Home Office as a Senior Interaction Designer. If you're interested, you could reach out to one of our recruiters to understand what the role involves and learn about the application and interview process.
The closing date for these roles is 23:55pm on Sunday 9th July 2023. You can access the full advert here.
For more information about the types of different roles that the Home Office recruits for, check out the Home Office Careers website.