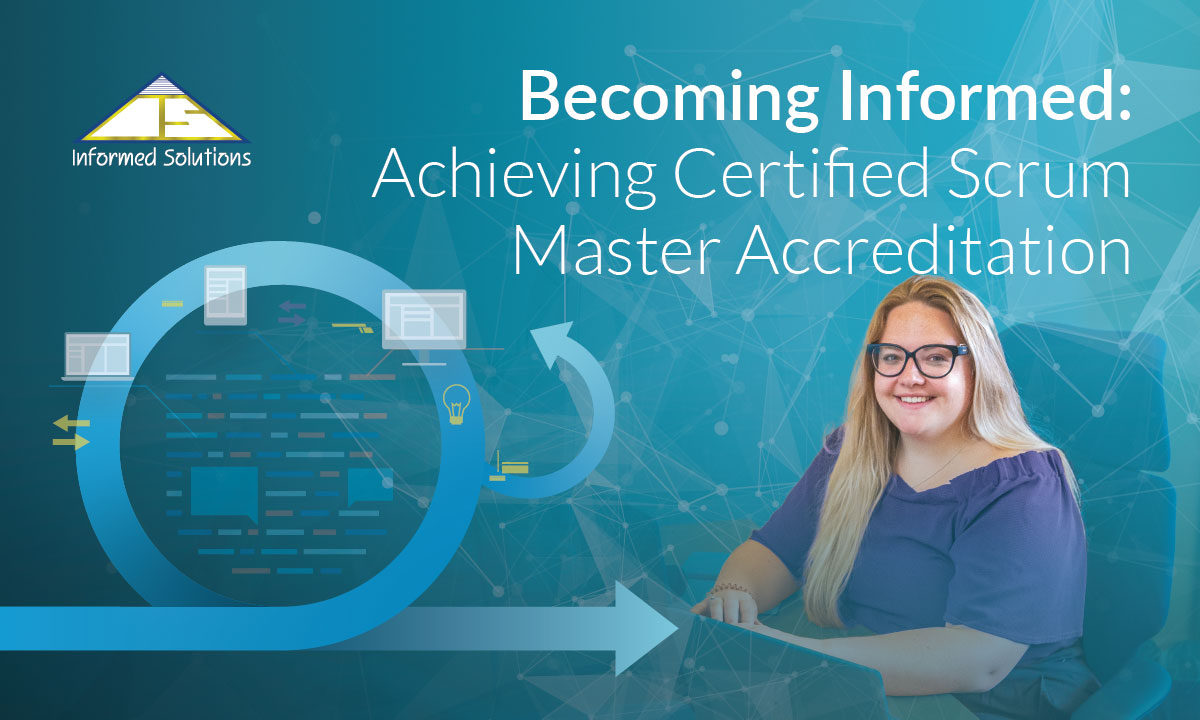 Annabel Sunnucks, Delivery Management Consultant
Spread across a variety of disciplines in the Project Services team at Informed Solutions, Annabel Sunnucks has experience in service design, delivery management and business analysis. Her expanding role sees her working on several projects that reduce technological waste, implement Clean Air Zones to improve our national environmental impact, and digitally transform central government departments, improving their operations and maximising their ability to deliver social value to members of the public.
Annabel's key role in Delivery Management involves ensuring a consistent, managed delivery approach across every assignment, aligning with Informed Solutions' core delivery principles and accreditations. Generally, Informed adopts an Agile approach and frequently implements the Scrum framework to manage complex projects.
To support our Agile delivery, Annabel thought it would be beneficial to further develop her understanding of Scrum by beginning preparations to become an accredited Scrum Master. Utilising Informed's world class learning and development framework, InformedACADEMY©, Annabel applied her learning from an internal Scrum masterclass alongside her own reading to begin reviewing the general procedures as well as the key working practices, artefacts and components of the Scrum framework.
Annabel was awarded her Professional Scrum Master 1 certification earlier this year. The accreditation exam covered a wide breadth of knowledge including the four values and twelve principles contained in the Agile manifesto. Sprint planning, product backlog and information radiators allowed Annabel to further develop her skills and knowledge of Agile, whilst providing value for our clients by facilitating Scrum sessions and motivating the Scrum team to achieve the desired project outcomes.
Throughout the learning and development programme, Annabel was able to gain knowledge, insight, and experience in dealing with issues throughout the Scrum and Agile processes, helping driving outputs and gaining understanding of how to overcome project challenges to ensure successful and efficient delivery.
The skills Annabel has gained are incredibly important ingredients that help Informed clients digitally transform their businesses and better use technology to make the world a greener, safer, and better place.
Annabel says: 'Personally, I believe that main benefit of completing your Scrum master certification is the confidence it gives both clients and colleagues that you have the right skills to see projects through successfully. I've gained more knowledge around best practice within the Scrum framework to bring new, fresh ideas into our team's working practices, to ensure that project and delivery targets are reached, and that our clients are delighted with the quality of our work".
With a continued focus on InformedACADEMY© Annabel is looking to obtain her next accreditation, PRINCE2® Foundation and Practitioner and looking to further advance her skills in Delivery Management. This will allow her to become a PRINCE2 certified practitioner, gaining experience and consolidating her knowledge for another structured project management framework.
Informed Solutions is proud to be a company that invests in the skills development of its people, training its next generation of digital leaders by encouraging curiosity and learning at pace. The internal and external masterclasses and training courses through InformedACADEMY© ensures that Informed people have opportunities to acquire new skills and experiences that help towards meeting their career aspirations. Just ask Annabel.
Get in touch to chat about how you can pursue a career in digital at Informed Solutions.