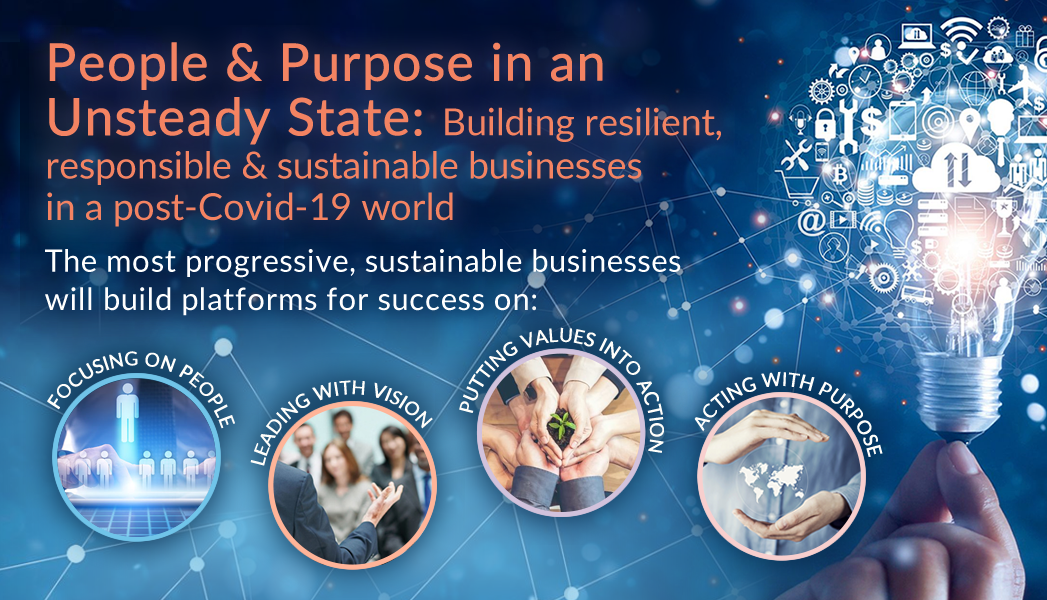 Covid-19 is having an unprecedented impact on the way we work and live. Successful businesses understand that this 'unsteady state' provides an opportunity for a renewed focus on their people, purpose, and values and new ways of working.
Those of us involved in the technology and transformation business know more than most that the world changes all the time. But some changes are bigger than others. Some changes have a combined impact on the way we work, the way we live, our politics and our economy; they tap into our hopes and fears and amplify them into a shift in outlook that operates at a global level as much as it does at the individual level. They make us re-evaluate what's important, what we do and why we do it.
The coronavirus pandemic is producing this type of seismic change and it will forever change how successful businesses operate and grow.
Within one week of March the nation was put in lockdown, and our company, like others, was faced with the multiple simultaneous challenges of reassuring our people and clients; transitioning to a fully remote working model and assessing an uncertain economic outlook. This was happening whilst family, friends and colleagues became bed-ridden with varying severity of symptoms. My own family began its journey through the realities of Covid-19 as well at this time, as our son began two unsettling weeks of suffering from an unrelenting fever and chest problems associated with the virus.
As both a parent and the CEO of our UK business, I needed to stay calm, focus on making the best possible decisions and reassure those around me at home and at work. The weeks since then have been filled with many activities, working hard to see that our people are well and settle into new and unfamiliar working patterns, our clients are looked after and supported, our business remains resilient and, on the home front, ensuring that our boy is getting the care and attention that he needs.
It has also been a time to reflect on how these (and, let's be clear, often worse) personal and professional challenges are being replicated across much of the world and on the ongoing impact this will have into the future. How will this reshape our economy and society in the future and what does that mean for any business that emerges from the tunnel of lockdown?
The impacts are many and complex but I believe we can already see four broad themes emerging.
An increased concern with safety, health and wellbeing. Chancellor Sunak recently said; "The single most important thing we can do for the health of our economy is to protect the health of our people". Health has always been high up on the political and societal agenda, but not for a century has such a healthcare crisis touched all our lives in such a tangible way. Since the cholera epidemics of the 19th century there has been an expectation that government and modern medicine will protect our wellbeing. But has there ever been such absolute clarity on the symbiotic relationship between the health of the economy and the health of its people?
A greater reliance on family and community relationships. Despite the enforced remoteness, our family and community networks have in many ways found ways to become even closer. The office is brought into the kitchen and our concerns for the wellbeing of people we know have transcended the traditional personal/professional boundaries. Whilst state structures such as the NHS can only focus on the most serious of cases, communities are finding ways to look after themselves to a large degree; relying on family, friends, neighbours and colleagues to build support systems that help protect our most vulnerable and ride out the storm. The values that underpin and hold communities together have never been more important.
Sustainable growth for the right reasons. Purpose driven businesses operating in a more sustainable economy is not a new idea. However, witnessing how the global economy helped rapidly spread an epidemic around the world, helps us better understand how interconnected and vulnerable our society is. This is making us face new realities and closely consider whether we are building businesses and economies that are sustainable, resilient and that 'do good' for society. Profit without purpose was already being challenged before this pandemic and it will now increase because we have a growing sense that our notions of progress and growth need to evolve and become more humanistic.
Ever greater scrutiny of leadership. We look to our leaders in time of crisis, assessing their responses and performance with a sharpened scrutiny on the evidence of their behaviours. What do they prioritise? Do they do what they say they will? Do they have good judgement? We are all balancing our perception of risk with the reality of the need to get back to 'normal' life as quickly as possible – are our leaders striking the careful balance of economic recovery with a concern for people and communities?
These shifts in our thinking will change our behaviours; how we consume, how we invest, what we want from our government, and how (and where) we want to work. How will businesses respond to this and what will a good, sustainable business look like in a post-covid marketplace? Of course we cannot be sure but there are clues in these emerging themes.
Acting with Purpose. Successful businesses are driven by a purpose to contribute to the wellbeing of society and the economy. This purpose is more than a concept or marketing tool. Authentic purpose is a practical intent that shapes how a business engages with customers, staff and communities, and it materially influences how it prioritises investment, generates income, and gives back in terms of creating social value.
Focusing on People. Truly focusing on your people means listening to them and giving them a voice in the direction and operation of the company. It starts with recruiting for the right person, not just for their existing skills, and it continues with being open with them, consulting on key strategic issues and inviting them to collaborate with the leadership of the company as it sets the course ahead. Above all it means investing in the wellbeing and development of your people, not just in their technical skills but also supporting their personal development, such as building personal resilience and communications skills so that they can do more fulfilling work.
Putting Values into Action. The companies that remain the most resilient and cohesive during a crisis are those where culture and shared values bind people together. For example, encouraging innovative suggestions and rewarding collaboration and team working helps develop mutual respect and trust. This means turning leadership narrative into practical plans, coaching and action, and assessing performance means looking at how well you support your colleagues as much as on how well you meet your own targets or objectives. Building trust within and across a company in this way changes its DNA and it flows through to better engagement and collaborative problem solving (including with clients) which results in strengthened, more resilient relationships in the face of seismic change and crisis.
Leading with Vision. The world has changed and so must our leaders. Leaders need a renewed focus on people, purpose and values as Elizabeth Vega's recent Computer Weekly article on leadership in unsteady times noted: beyond dealing with the current realities of Covid-19, 'every decision that leaders make must also help organisations and people recover and become more innovative, collaborative, resilient and adaptable.' This means having leaders with vision and wisdom, leaders who are engaged enough with their staff to build trust and collaboration across the business, ready to manage risks and make the most of new opportunities together.
I am grateful that our son came through his illness and I am also optimistic that the fundamentals of our economy are sound enough to come through this challenge. Those of us that have hands-on experience of running a business, know that the economic recovery is not going to be easy or swift, as some have suggested. However, for all the anxiety and too often tragic news that Covid-19 is bringing us, this is also an opportunity to refresh, renew and reset our notions of what great leadership and responsible, sustainable business looks like. The best companies will understand and seize this opportunity, and will be driven by having a worthwhile purpose and valuing the wellbeing of people, beyond just making a profit for their shareholders.