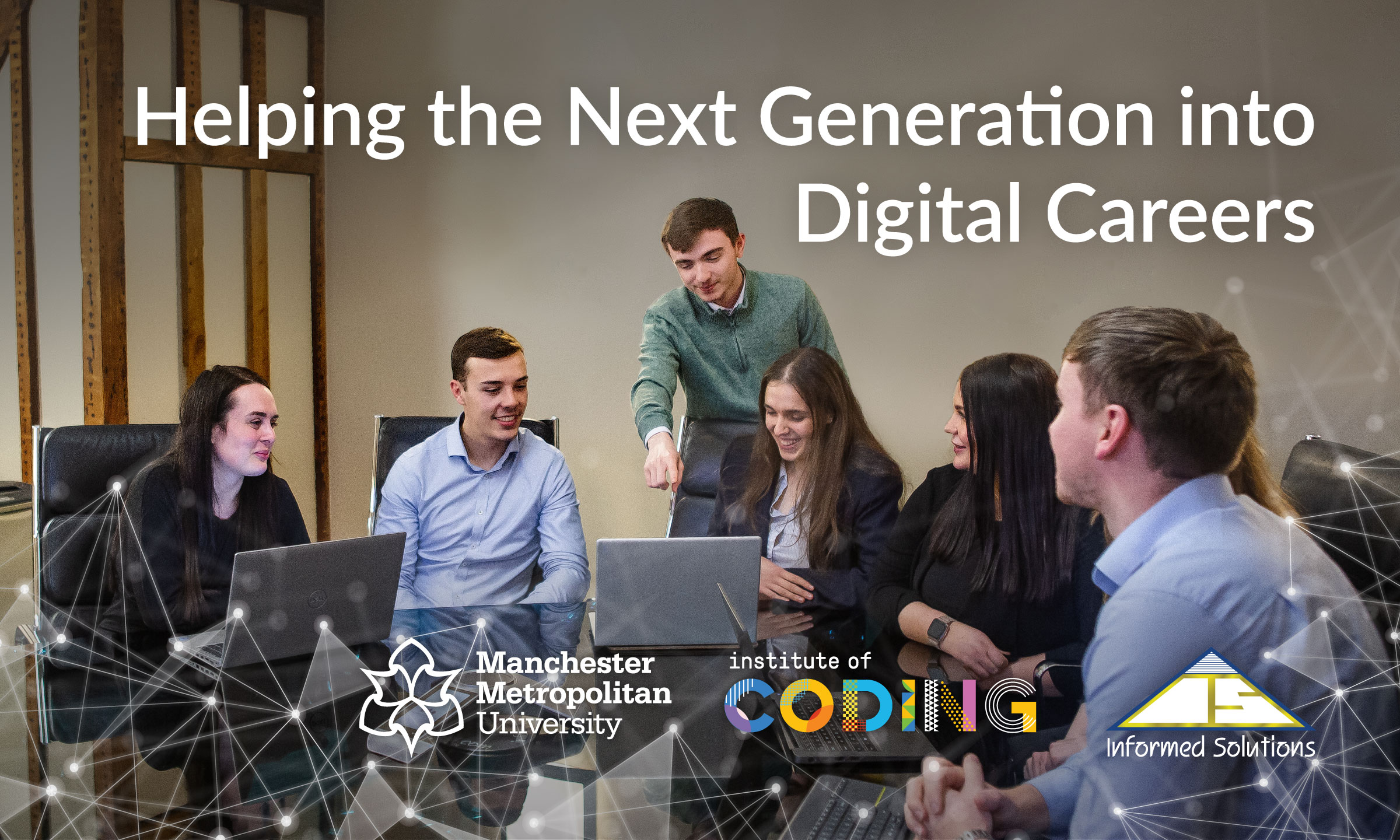 Working in partnership with Manchester Digital, Manchester Metropolitan University and the Institute of Coding, Informed Solutions' Skills Outreach team has been working with young individuals in the North-West, helping guide them towards digital career
At the heart of Informed Solutions purpose is a strong focus on creating economic and social value by helping to build a more inclusive, fair, and safe society through the ethical use of technology and data. The tech4good digital services and platforms that our people design and deliver continue to bring value to citizens, patients, and the environment.
Our purpose is strengthened by a sustained investment in digital skills through the dedication of our teams in coaching and skills-sharing with people from a wide variety of backgrounds, with varying levels of experience and education.
This sustained investment is delivered in part through Informed's Skills Outreach team, which works to nurture and inspire the next generation of technology professionals through established partnerships with Manchester Digital both for its digital skills initiative with The Prince's Trust, and career readiness activity with Manchester Metropolitan University and the Institute of Coding. This activity allows us to reach a wide community of learners in Manchester and across the North-West, including those from disadvantaged backgrounds, so that we can help them both develop an interest in digital, and better understand the key ingredients and aptitudes needed to start exploring a career in an exciting and fast growth industry.
Our most recent support for this partnership has seen our Skills Outreach teamwork with Manchester Digital, Manchester Metropolitan University and The Coding Institute and a group of young people, conducting practice interviews for early career digital role opportunities.
The interviews gave the participants an opportunity to demonstrate their interest in technology, as well as helping to develop important soft skills such as effective communication, approaches to collaboration and teamwork, and critical thinking, which are important aspects of roles within the digital service design and development cycle.
A real positive for the Informed team was the attitude and enthusiasm from the participants. Everyone demonstrated their passion and interest for a career in digital, which made it easier for the Informed team to provide insight and guidance to help further develop their understanding of the skills and requirements needed to take the next steps into early digital career pathways.
The interviews aimed to build and develop the confidence of the participants and offered a timely opportunity to emphasise where the technical skills development would be of particular benefit, as well as problem solving and analytical capability.
Alongside the interview training, the session helped participants get a taste of IT in the real world, demonstrated through stories about the application of Artificial Intelligence (AI) and Machine Learning (ML) to solve some of our biggest challenges, helping make the world a safer, greener, healthier, more inclusive, and smarter place.
to explore your career in digital, get in touch: careers@informed.com