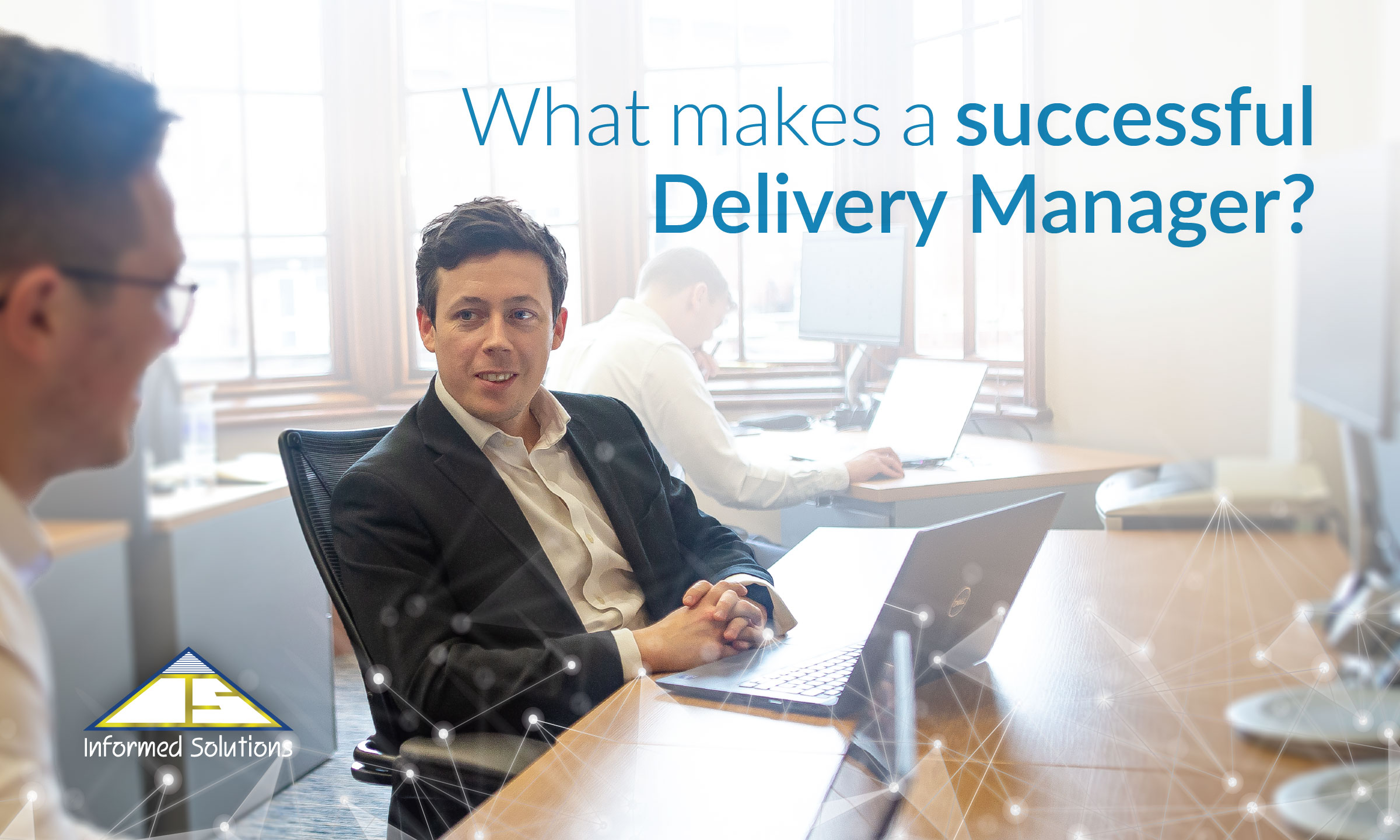 Throughout the nine years since joining Informed Solutions, I've been given opportunities to develop my professional skills, gain more experience and advance my career. I initially joined Informed as part of the Service Management team, working on the front-line support with our clients, primarily tackling live service issues.
The growth and development culture at Informed continues to present me with opportunities to learn and develop, whilst I cultivate new skills through on- the-job coaching. Earlier in my career, my interest in, and exposure to project and delivery management grew and I was able to work with my Line Manager and Coach to explore what a career in delivery management might look like.
Working alongside many different clients in multiple countries, and with fantastic support from my colleagues, I have taken on more senior roles, which bring with them greater responsibilities. Being a member of the leadership team means that my role can vary considerably from day-to-day. My responsibilities now include ensuring that we continue to meet the needs of our clients through project delivery, driving the sustainable future of our business through growth activity, and helping to recruit and support new colleagues as they join and help the business scale.
We work incredibly hard to ensure that our business continues to grow sustainably. This growth is driven through the delivery of a growing number of nationally and internationally significant projects, each bringing challenges of complexity and scale. To ensure continued, successful, delivery for a growing number of national and international clients, we're always looking to attract talented individuals to join our delivery management teams.
To this end, Informed Solutions' lead consultants, Sara Di Domenico and Elizabeth Stutchbury recently led an internal user research initiative with Informed colleagues from a variety of specialisms to identify the key capabilities and competencies of a successful delivery manager. So, what did they find?
Project Management Skills
A key aspect of the role of delivery manager is the ability to work collaboratively with colleagues, delivery partners, and clients to establish and track project plans. Effective delivery managers are able to facilitate open, transparent, and authentically collaborative working approaches to mitigate blocks, risks, or challenges to delivery success.
Alongside this, our clients trust us to protect their interests by making best use of the financial resources that they set aside for service development and delivery. Developing the commercial understanding and skills to manage project budgets transparently is more important than ever with every client being increasingly encouraged to evidence value for money to stakeholders, shareholders, and citizens alike.
Interpersonal Skills
Aside from specialist project management skills, a delivery manager must also have strong communication and negotiation skills. Being both able and comfortable in developing positive, honest, and authentic approaches to communication results in the development of strong and collaborative relationships, which are essential cornerstones for project delivery success.
Curiosity and Passion
Exceptional delivery managers are curious and passionate about the potential for technology to solve some of the most challenging societal, environmental, and economic issues we face today. The ability and dedication to follow and understand the latest trends, whilst researching new innovative technologies and best practice allows our teams to adapt and adopt more efficient, effective, and sustainable ways of working both as a business and through the delivery of contracts for our clients. This curiosity and passion for designing new ways of working helps us deliver for our clients and ensure we deliver high quality public services that citizens value.
Accelerated Development
Delivery managers must be willing to learn about each of our clients and their needs. This can include their preferred way of working, pain points, long-term goals, wider market constraints, and the public policy landscape within which digital services are designed and delivered. This widened understanding allows our project teams to truly understand client needs and tailor delivery management frameworks and ways of working to meet individual and specific needs and challenges - under a variety of differing pressures.
As well as helping our clients succeed, our delivery managers have a responsibility to pay it forward to new generations of talent by supporting the progression of less experienced members through InformedACADEMY© - our world class ISO9001 Certified Talent Development Framework. Through this framework, skills development is delivered through external training and internal masterclasses, reinforced by practical elements including coaching, shadowing, and through our Delivery Management Communities of Practice, which test and stretch team skills across a number of disciplines including User centred design, DevOps, Geographic Information Systems and Spacial, Data Science (including AI, ML, NLP), Software Design and Delivery Management. Through these communities, we encourage our delivery managers to actively collaborate and share their skills with others, accelerating our supportive working practices, and developing new talent.
Co-designing Career Success
The continual evolution of practitioner expertise is vital. As part of InformedACADEMY©, our colleagues have access to a variety of external training courses and formal accreditations. These include the Scrum Master accreditation, PRINCE2® Foundation and Practitioner and ServiceNow ITIL 4.
In addition, delivery managers are given exposure to a wide variety of different project and service environments, allowing them to gain experience across a wide variety of sectors, and interact with a variety of clients, each facing different challenges and opportunities. All of our people are assigned a coach, providing a strong support system as colleagues take on more complex and challenging projects. This foundational support network enables career progression through continued support from experienced and trusted colleagues.
Informed's mission is to create economic and social value by helping to build a more inclusive, fair, and safe society through ethical use of technology and data and investing in digital skills. Our work covers the protection and service of citizens, patients, and the environment and as we continue to scale and take on exciting new tech for good projects, we need curious, passionate, and dedicated colleagues to help shape success for our clients and our people alike.
If delivery management sounds like a role that you would be interested in - get in touch – there are always roles for talented, driven individuals to join our team!