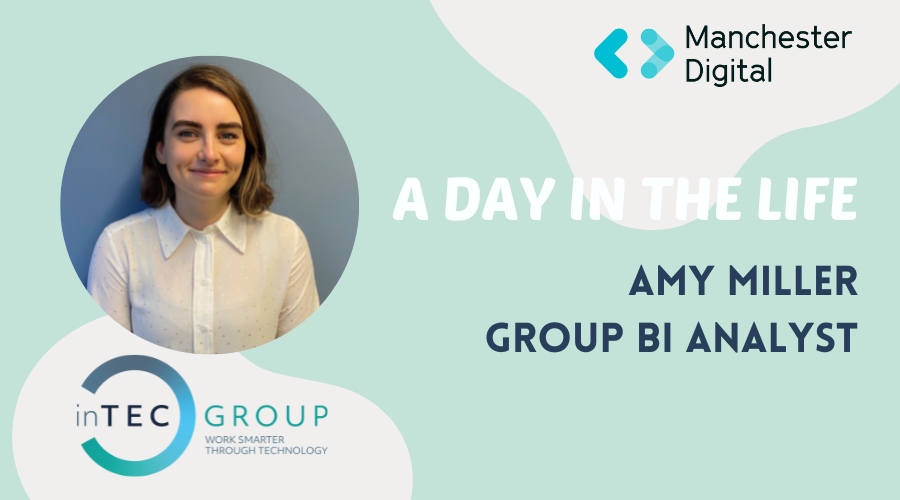 Ever wondered what it's like to work at one of Greater Manchester's leading tech employers or what specific job roles get up to each day?
Amy Miller is a Group Bi Analyst at ICT specialists inTEC Group.
We spoke to her to find out more about this role, her experience at inTEC and what an average day looks like.
How did you get into your current role?
I have had experience working in different sectors supporting the operational needs of different businesses. My background was heavily involved in the operational side of retail, ensuring the delivery of high performing stores KPI targets, overseeing budgeting and payroll and managing the team. When I read about the position in inTEC I knew it was right up my street. I have been given great opportunities to grow and expand my knowledge and also be on the forefront for developing the reporting needs of the group.
What do you enjoy most about working at inTEC?
I love that no two days are the same. Having the opportunity to keep expanding the reporting possibilities available to the business, educate users on different systems and spending time developing and refining internal processes to ensure everything runs as smoothly as possible.
What does a typical day look like for you?
I will check if anything urgent has arisen from the night before and get that actioned first. After this, my day can vary from supporting with incoming tickets to continuing to roll out any new systems we are going to be implementing soon. However, my primary responsibilities consist around data and it is the part of my role I love the most. It has involved a lot of self-teaching but is definitely a really rewarding aspect. I have to understand the 'ins and outs' of any systems we are using and how they interact with each other and then from that build accurate and reliable data sources to report from. I am currently mapping out the data that will form the foundations of our reports when we move over into a new system and I love the challenges this is throwing at me and how it makes you think outside the box.
What is it like starting a new job post-pandemic?
With coming from a busy retail background the biggest adjustment I have found is how remote the world is now we are post-pandemic and how much can be done online! My job is now more desk based rather than being on my feet all day but inTEC promotes flexible working. When I am working from home it is nice to be able to go for a walk to my local park on my lunch, take some time away from a monitor and still get my steps in.
What excites you the most about the work?
How I feel like I am continuing to grow and pick up new skills every day. I am always trying to learn and broaden my knowledge and make sure that the reporting needs for the business are the highest quality we can provide. But this role has evolved into so much more and I have had lots of great opportunities to develop processes and systems that I would not have had visibility of before.
Have you learned anything new since you started?
I have taught myself SQL coding and data warehouse management in my time with inTEC. My manager has pushed me to grow my understanding of the analytical world and I have had many great opportunities to make a difference whilst travelling around the UK and meeting all the different people who work for inTEC.
To find out more about inTEC GROUP, click here.
If you're a Manchester Digital member and would like somebody at your company to be featured in our A Day In The Life series, contact ami@manchesterdigital.com.