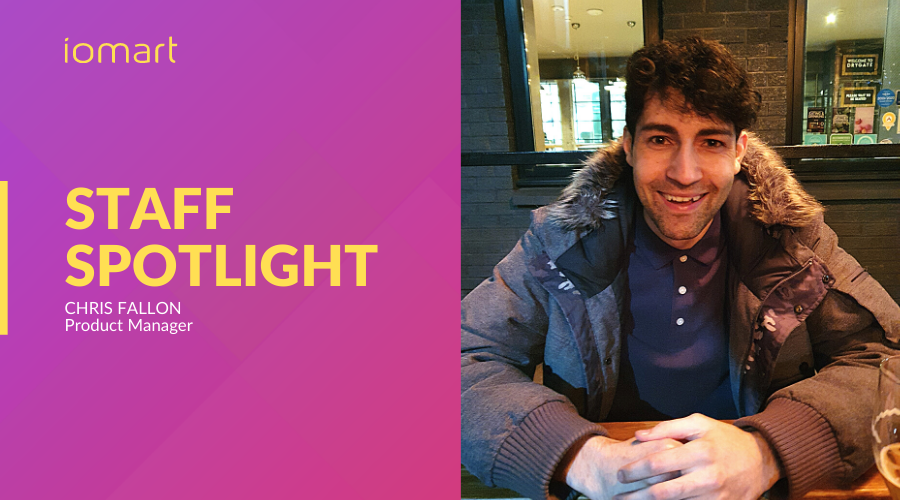 We love helping people to develop their careers at iomart. Chris joined us as a Business Analyst and was recently promoted as a Product Manager.
When did you join iomart, and what position did you start in?
I joined iomart in August 2020, lucky enough to find a new opportunity during lockdown, as a Business Analyst.
Why did you choose to work for iomart?
I joined iomart as I had been told about the opportunities for growth and transformation and I felt my skillset and background would allow me to be a key part of this journey across process, people, and culture. Coming from a traditional TelCo environment it was also an opportunity to expand my knowledge into cloud technologies.
Tell us about your iomart journey so far?
At iomart so far I've worked within the Support function delivering reporting capability, and adding governance into the deals assessment and customer transition processes. In the relatively short time I've been here I've built valuable relationships across all business functions as well as with some of our key customers.
What support did iomart give you to help you achieve your promotion?
I've had endless exposure to functions across the business which has allowed me to organically learn about the technology estate and cultural identity of the business. Specifically for this role iomart supported me by putting me in front of Solution Architects and Bid Managers to hear more about what we are selling and how we are getting those solutions across the line. I've also had access to free education which I'll continue to use.
How have you found the transition in to your new role?
It's still early days but with our new Head of Product, Andy Sinclair, at the helm I'm finding the transition smooth so far. There are good plans in place to further bolster my own personal capability as well as having an opportunity to put my own ideas and plans on the table which, so far, are being supported. We're already sowing the seeds of collaboration which is the foundation of what we'll be doing going forward and it's good to get this going from day one.
What does your new role entail?
My new role entails the definition of the Product roadmap, supporting development of our new products and services, and ultimately executing on this with a primary focus on the service we deliver to our customers. A key responsibility of mine is to treat our internal teams as customers and set them up for success to support iomart's ambitions for growth.
What is your favourite thing about working for iomart?
My favourite thing about iomart is the endless world of opportunities ahead of us. We have a real chance to be ambitious and truly differentiate ourselves from competitors without ripping deep roots up and starting over, bringing everyone in the business on that journey.
What do you enjoy doing when you're not working?
When I'm not working you can find me sim racing, playing games with friends or obsessing over Formula 1. When the world was open for business I loved cycling/mountain biking and hill walking – Scotland's a beautiful country and we should all be out seeing it!