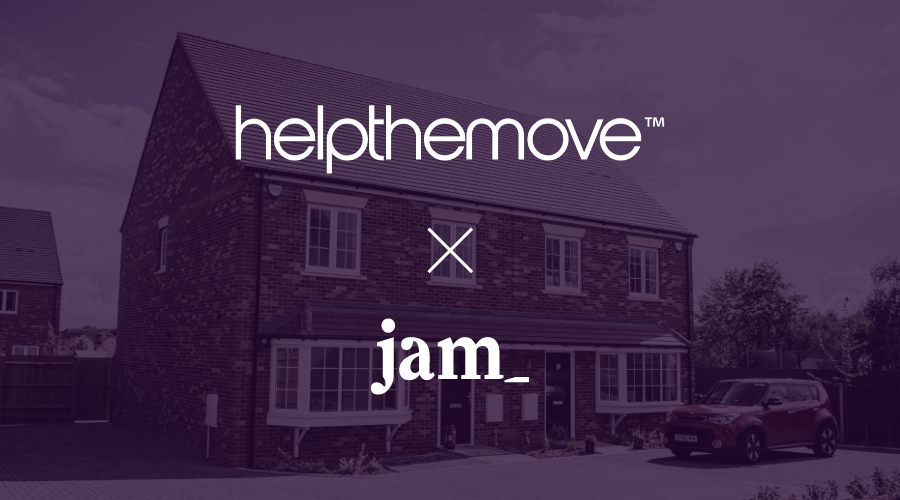 Helpthemove, an online utility management platform for Letting Agents, Housing Associations and Developers, has appointed Jam as its new partner for branding and marketing, following a competitive pitch.
Jam will be working with Helpthemove to create a distinctive and powerful brand proposition and identity, which will be introduced onto a new website, which Jam will design and build. Jam will be Helpthemove's retained marketing partner, overseeing digital content, PR and social media.
Helpthemove provides an efficient, easy to use platform for agents and property managers to manage their tenant and landlord utility obligations for change of tenancy notifications (to council tax, water and energy) in one central place. The service is free, drives significant efficiencies and enables revenue to be generated for an admin task that's otherwise unprofitable and time-consuming. Helpthemove's customers can earn revenue for each property switched to its preferred energy supplier and for each tenant service signed up via Love Resident.
Helpthemove currently services 1000+ letting agents, social housing associations, PRS organisations and property developers with a combined housing stock of 1m+ properties nationwide.
Stephen Henesy, Founder and CEO of Helpthemove, said: "We are thrilled to have Jam on board as our new marketing agency. They have proven experience in the PropTech sector and we were impressed by their creativity, expertise, and strategic approach to marketing, and we are confident that their innovative ideas and tailored solutions will support brand growth and reach new audiences."
Jaime Gee, Managing Director of Jam, added: "We are excited to be working with Helpthemove, a company that shares our values of exceptional customer service and innovation. We are committed to delivering creative solutions and effective marketing campaigns that will help Helpthemove to achieve their business goals and stand out in a competitive marketplace."
Jam is a creative-led, marketing communications agency based in Manchester, delivering services such as PR, branding, web design, social media, and digital content.
Helpthemove joins Jam's impressive roster of B2B and B2C clients including Staysure Group, TFR Group, Optimus, and Manchester Pride.