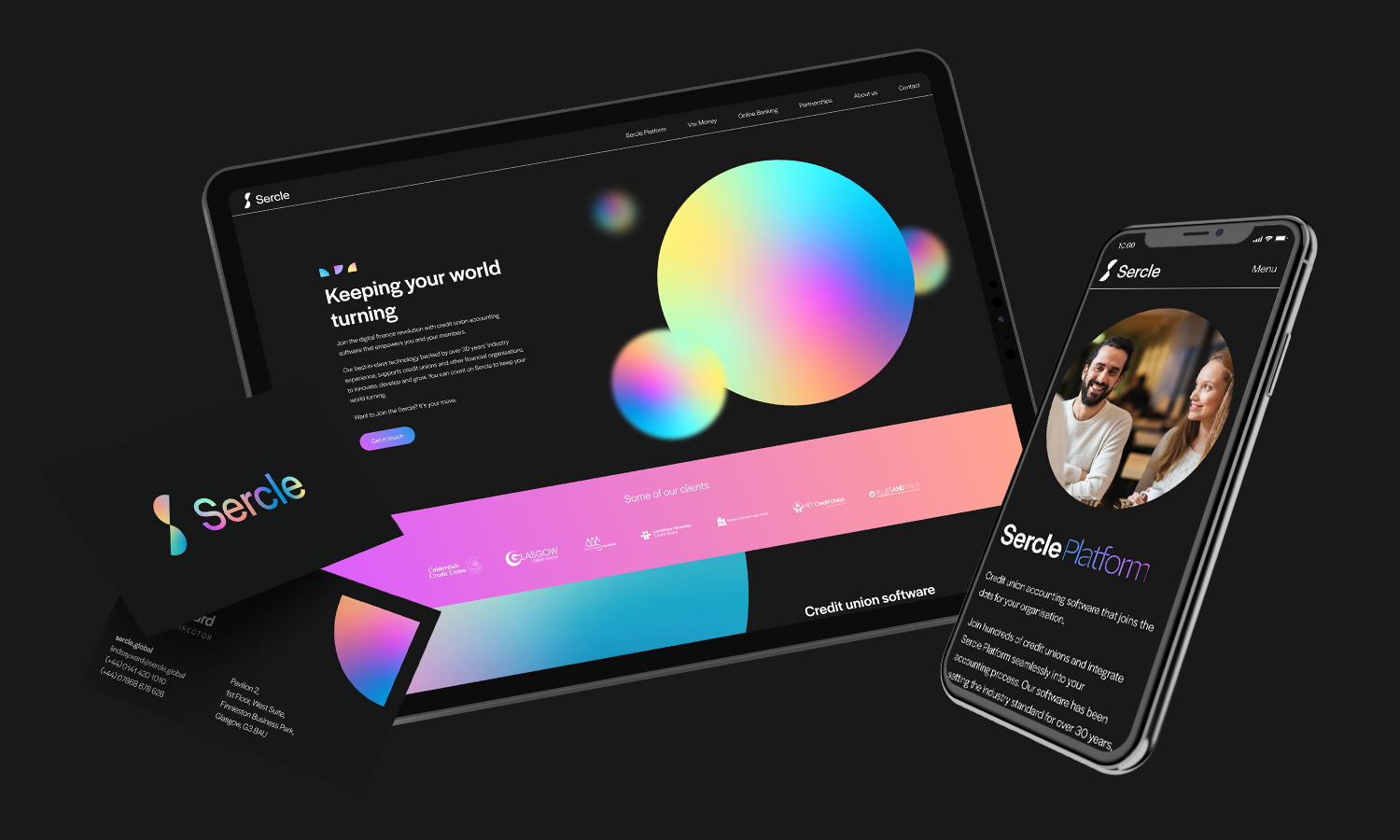 Jam has completed an exciting branding project for Kesho, a financial technology partner, further strengthening its position as it moves into 2021.
Following a three-way competitive pitch, Jam was enlisted to rebrand two of the company's core brands, Kesho and Curtains, whilst creating and launching a brand for a new consumer e-money account.
Providing credit union accounting software for over 30 years, Kesho and its core product, Curtains is widely used and trusted among hundreds of credit unions and financial organisations across the UK. Jam was challenged with upholding the brand's heritage and maintaining customer loyalty whilst refreshing the brand in line with the company's vision for the future.
Jam re-energised the brand, carefully developing a new narrative, creative and tone of voice that harnessed the brand's heritage and customer-centric attitude, whilst embracing its digital future. With a bold new look and narrative, Jam transformed Kesho into Sercle introducing the refreshed brand to new and existing audiences across the industry. The brand's industry leading accounting software, Curtains was also rebranded to Sercle Platform, providing cutting-edge technology to empower its partners and their members for the digital finance revolution.
Shaking up the digital personal finance market, Jam delivered Vox Money, an 'exclusively inclusive' online e-money account for those previously overlooked by traditional banks and for those who generally like to move to a different beat. A clearly defined brand and proposition, vibrant creative and a bold narrative offers consumers financial progress.
Putting Sercle and Vox Money at the fore of the digital finance revolution, Jam designed and developed interactive websites for each brand, prioritising user experience, design and functionality.
With an entire suite of brand assets, Jam ensured every touch point was diligently planned and carefully crafted.
The huge success of the initial brand development project led to Jam being awarded the retained contract to deliver integrated, digital marketing strategies for both Sercle and Vox Money. The agency is tasked with launching the brands to the credit union and consumer market respectively, driving conversions and building brand equity.
Jam's services will include digital and creative copywriting alongside the development and implementation of strong digital and social media strategies and bespoke creative assets.
Jaime Gee, MD of Jam said, "We are thrilled to be working with Sercle, part of Omnio Global, to deliver new brand identities and digital strategies reflective of the organisation's innovation and dedication to not only financial technology solutions but exceptional customer service.
"It's Jam's proven experience within the financial services sector, teamed with our creative excellence and growth strategies that truly sets us apart. And during the economic uncertainty that we currently find ourselves in, our assurance that budgets are working as hard as possible to achieve strategic and measurable results gives our clients confidence that their budgets and brands are truly protected ."
Lindsay Ward, Executive Director at Sercle said, "Jam really impressed us with their thorough approach to brand development, extraordinary creative and clear understanding of our audience and the sector. The Sercle and Vox Money brands and propositions Jam has created are striking, future-proof and support our vision for the future. After the fantastic work delivered on bringing these two brands to market in a relatively short time frame, we knew they were the agency we trusted with our brands.
"We are confident that Jam's approach, understanding of the financial services industry and the digital strategy they have devised for us, will have a positive impact on our strategic business objectives and ensure our brands have a strong presence in a competitive market."
Jam has a wealth of experience in the financial services industry, with previous clients including Argos Pet Insurance, APJ Solicitors, Carrot Insurance, First Target Recoveries and Due Course.


Sercle joins Jam's extensive roster of clients, which includes MakeUrMove, The Furniture Recycling Group, Brooks Life Sciences and Printworks.
To find out more about Jam's services, please visit www.wearejam.agency