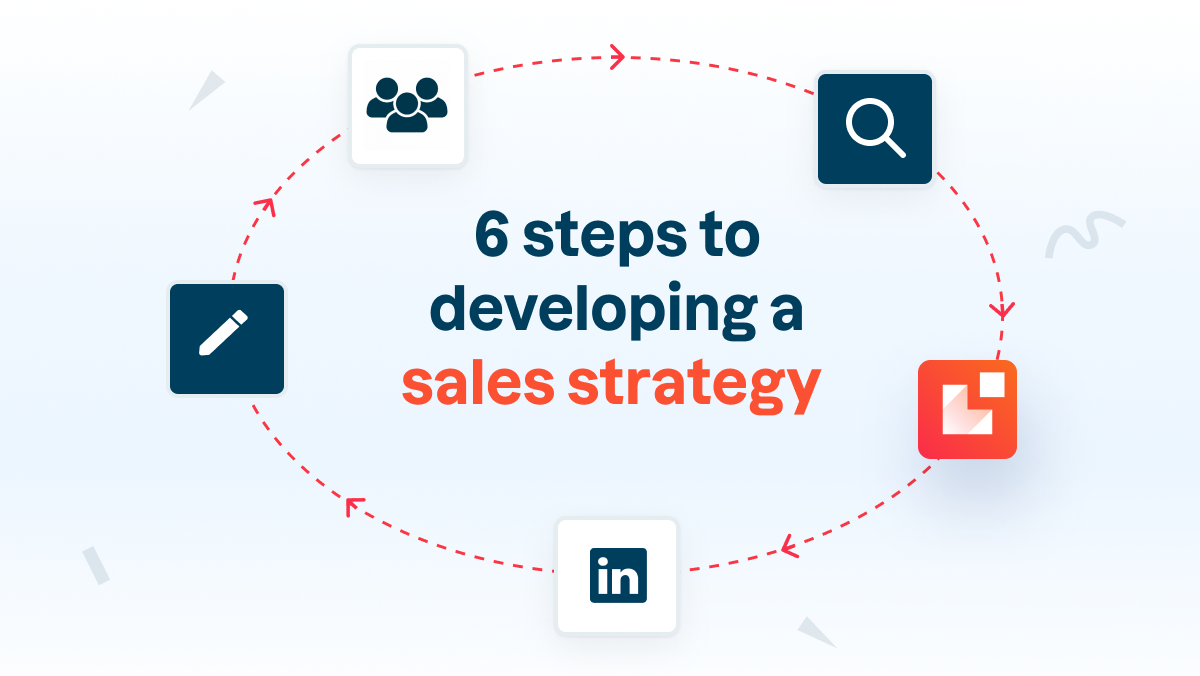 This is true across the board. From construction sites, which require a blueprint to guide the building process, to your sales department, which need an outline explaining how to achieve set goals.
When it comes to B2B sales, strategy is even more vital because the sales cycle is more time consuming and involves more decision-makers and touchpoints. So how do you kickstart your B2B sales strategy? And what information needs to be included anyway?
We've broken down what a sales strategy involves and how you can create your own in six steps.
What is a B2B sales strategy?
Let's start with the foundations. Business to business or B2B sales is a transaction between two companies. It can involve raw materials, finished goods or services such as software, hardware or professional services.
A B2B sales strategy is a roadmap that outlines long-term sales goals, summarises your buyer persona, and the processes a sales department needs to follow to achieve preset revenue goals. It's meant to inform your sales team and help them reach the right target companies and individual prospects, convert leads and ultimately win over new business. So it should include a lot more than your yearly revenue goals.
Your sales strategy is an extension of your overarching business strategy. A business strategy describes the big picture long-term plan for the coming years and depicts a company's current positioning and overarching growth and profit goals. A sales strategy lays out how to achieve these revenue goals within your sales department.
How does a sales strategy differ from a marketing strategy?
Marketing and sales teams are two major drivers within any company, and the two departments must work together for company growth. However, each team has their own set of goals and responsibilities.
A marketing strategy explains how you will reach your target audience and sets the direction for promoting your core message, building interest in your brand, and increasing your reach.
A sales strategy describes how to transform leads and prospects into paying customers. It will include different sale tactics for different buyer personas in addition to product or service positioning and competitor analysis.
6 steps to setting up your own B2B sales strategy
Setting up your first B2B sales strategy will take a lot of research and analysis. However, once it's in place, it's a document that can be easily updated year after year. And it gives your sales team a clear blueprint as to what they should aim for and how to do so.
But how do you get started? Build a solid sales strategy by following these 6 key steps.
1. Identify your B2B sales goals
Before you can effectively sell your product or service, you need a vision of what you're trying to accomplish. This is where sales goals come into play. They give direction to your sales strategy and act as a guiding light for your team to work towards.
However, sales goals shouldn't be randomly set. To set realistic sales goals, start by taking stock of your company's resources. How big are your sales and marketing teams? Do you have tools in place to move leads through your sales pipeline and automate tasks? Combine this information with past sales data such as won and lost opportunities and cost per lead.
Based on these facts, create both long-term goals, such as a yearly target, and short-term goals. Smaller objectives, such as weekly or monthly targets, hold your sales reps accountable while building their confidence with incremental wins.
2. Define your buyer persona
Next, it's important to establish who exactly will buy your products or services by creating a buyer's persona. Because if you don't know who your customers are and what challenges you can help them overcome, you won't be able to influence the buying process.
However, a buyer persona is more than "Lola, 32-year-old Supply Chain Manager". It's an in-depth profile that allows you to understand and empathise with your customers. So go beyond demographical information. Instead, learn what motivates these people, what frustrates them and what career goals they may have. And then determine how your offering helps potential leads overcome or improve their current standing.
Not sure how to best kick-start this process? Check out how to define your buyer's persona in five steps.
3. Analyse your competitors
Once you know who you're selling to, you need to determine your competitors. Map out the current market and observe how your offering compares to others. What are your competitor's strengths and weaknesses, and how are you different? And what's in it for your customers?
Such information empowers sales teams by allowing them to target people in a different but meaningful manner. All the while arming them with knowledge about why prospects should choose you over another company. Making them better at their job.
4. Equip your team
A solid B2B sales strategy only works if your sales team is able and ready to execute it. Therefore, it's essential to give them proper training to do just that and provide them with the resources to succeed.
Apart from familiarising sales reps with annual and monthly sales goals and buyer persona information, offer them the right tools to maximise their output. From systems that organise contact information and automate tedious tasks to software that identifies your anonymous website visitors, providing you with free leads to follow-up with, invest in tools to boost productivity. Making your salespeople's life easier benefits the entire company. After all, their success is your success.
5. Outline a plan of action
With the foundation of your B2B strategy in place, it's time to take action. Define the activities your sales team need to follow to meet your sales target.
To do this, break down your B2B sales cycle. Typically, there are around six steps involved in this process: lead generation, lead qualification, initial contact, proposal, closing and post-purchase follow-up.
Based on this cycle, outline the channel, activity and message associated with each stage. And don't be afraid to get detailed. For example, will you use cold emails to reach new leads? Or connect with prospects on Linkedin and nurture them via that platform? Will price proposals be sent via email, or will you conduct all negotiations face to face? And how will you keep in touch with leads who are not quite ready to commit yet?
This information can be compiled into one document, called a Sales Playbook. A guide that acts as your sales team resource hub because it contains all sales-related content in one place. Boosting your team's performance while making it easier to train new hires.
6. Use sales KPIs to track progress
With all of the above decided, you can put your strategy into action. But don't create a nice PDF and forget about it. Instead, update your sales strategy yearly to reflect new goals and regularly check in with your sales team. Optimise processes and approaches and discuss progress, challenges and new potential sales tactics worth trying.
To better measure your team's performance throughout the year, implement Key Performance Indicators (KPIs). These metrics track success when compared to your goals.
Common sales KPIs include:
Number of sales opportunities,
Average sales cycle length,
Lead to opportunity ratio,
Opportunity to win ratio,
Average purchase value,
Customer lifetime value,
Customer churn rate,
However, this list is by no means exhaustive and should be tailored to your company, goals and sales team.
6 steps to sales strategy success
To strategically grow and build relationships with potential customers, you need a strategy. With some digging and analysing of your current situation and goals, your B2B sales strategy can take shape in six steps or less.
With this foundation in place, you can keep optimising and fine-tuning your sales process and tactics as you go. Enabling your sales reps to perform at their peak.