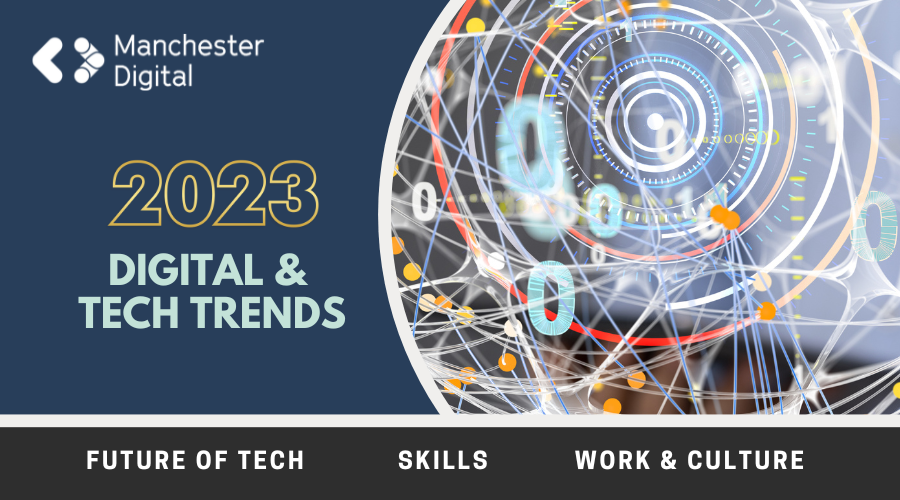 As 2022 draws to a close and we start to look forward to the new year, we have asked a selection of businesses from across the Manchester Digital community which digital and tech trends they are anticipating in 2023, with insights on:
Future of tech
Skills
Work & culture
Featuring contributions from Zühlke, Naimuri, TalkTalk, RiskSmart, ThinkEQ, Rainy City Agency, CTI Digital and Onepoint.
Future of Tech - "What innovative tech trends is your business excited about for 2023?"
Zühlke stands for empowering ideas. Along with our partners we are observing an increasing demand for Artificial Intelligence (AI) skills. We foresee that Reusable AI would have a lot of potential in the future and strongly believe that automation in this part of the industry would be a promising investment for the software community.
Reusable AI empowers organisations to reuse prebuilt AI solutions for a new problem statement without needing many coding changes – although some purpose-specific model training would still be required. Reusable AI can be envisioned as a boilerplate mechanism. Big cloud players in the industry, such as AWS & Azure, have heavily invested in Reusable AI solutions, like Chatbots and Face recognition. These solutions provide customers with pretrained models which can quickly hit the ground running with minor modifications.
To give an example of a reusable AI project we have worked on, we developed a federated semantic segmentation Machine Learning prototype within as little as three months. The team thoroughly evaluated the model performance to demonstrate the benefits of federated learning.
Our federated learning platform enables healthcare organisations to train models in a complex data ecosystem of multiple clinics whilst preserving the privacy of sensitive patient data. As trained models can generalise, the platform further enables the deployment of trained models for existing and future partner clinics. This implementation is a great example of AI's potential in the healthcare sector, improving people's lives.
Ease of reusability still needs to be in the hands of trusted practitioners to navigate the key risks of modelling, such as handling bias and capturing uncertainty properly. Zühlke's AI model development process is done to exacting medical-grade standards, with production-strength deployment that scales. That's exciting, because it's the right way to be ready for the growth of the global AI market that lies ahead.


Over the past few years, consumer purchase trends have changed quicker than ever before due to the pandemic.
Shifting from entirely online to kerbside pickup and eventually click and collect. Now that some normality has been restored, consumers have sought a more omnichannel approach.
Luckily with e-commerce integrations getting better, more e-commerce brands are taking advantage of curating an omnichannel experience to bridge the gap between online and in-person shopping.
That's not to say consumers are just seeking in-store experience, in fact, we're seeing another consumer shift.
Research from DataPortal shows that over half of the world now uses social media (59%) and the average daily time spent using social media is 2h 29m. With the rise of video platforms like TikTok, Reels and LiveCommerce, the gap between social media usage and eCommerce has shrunk significantly.
Integrations between Shopify and social media platforms have shortened the time it takes for consumers to be interested in a product and then make a purchase. The continued rise in acquisition costs has pushed brands to go back to basics and create original content, or use influencers to help increase brand awareness and product discovery on social media.
As Shopify is integrating with a lot more social media platforms and bigger software companies are acquiring smaller apps, it's likely that we'll see many more tech integrations that make it easier for consumers to purchase products through technology that they're using throughout their daily life.
Technology today is evolving rapidly, enabling faster change and progress. Amidst the significant shift, we at Onepoint are excited about the following technologies. -
Wider adoption of cloud and serverless
Serverless computing has established itself in mainstream adoption and started appearing in the technology roadmap for enterprise organisations. This brings new levels of agility to tech processes that support agile businesses. We are particularly excited about cloud-native Data Management and Analytics tools.
Low-code and no-code
Low-code tools varying from UI and workflow systems to drag-and-drop integration frameworks help in democratising business departments and reduce time to value for software solutions.
Gartner estimates that the no-code / low-code market will grow to $30 billion by 2025. They estimate platforms will grow by 20 percent year over year, with 50 percent of medium-to-large companies adopting low-code development.
Advanced data analytics with machine learning
Many businesses have accumulated and unexplored data over the years that can be transformed into intelligent systems to support future business decisions. With AI spreading its wings across sectors, new jobs will be created in development, programming, testing, support, and maintenance, to name a few.
Skills - "What skills will be in demand for your business/industry in 2023?"
Working in the technology industry with a focus on software engineering the key characteristics we will be looking for are based on the assumption that we will continue to recruit apprentices and graduates with the fundamentals of software engineering, testing, data science and ML engineers. In support of that we will need specialists with…
Technical leadership - the ability to understand when a project is technically struggling and what is needed to help resolve issues


DevOps expertise - cloud engineers with an ability to build secure public facing platforms


Agile mindsets - an ability to focus on delivering just what is needed, at the right time. And to shut out the unnecessary.


Leaders/Managers - to continue to inspire the next generation and also to understand when a project is in trouble, and how to help resolve


Data Expertise - how to ingest, store and process varying types of data at scale
As one of the biggest tech employers in the North West, TalkTalk operates from its HQ in Salford (Soapworks) and employs more than 1,800 people across various business areas. Including tech, operations, product, engineering and marketing - to name just a few.
A pivotal time for the telecoms industry, working to accelerate the leap to full fibre broadband, things are changing faster than ever. And planning, preparation, agility and resilience are at the forefront of the business and people.
As we look to 2023 and beyond, critical to driving the business performance is our people. One of vital skills across the business, and any business in fact, is commercial acumen. Whether that is to aid how we negotiate agreements with suppliers to get the best possible outcome for our company, or to build business cases that form part of our tech strategy. Commercially minded tech professionals are key to the success of TalkTalk and wider business activity.
Experience working with agile methodologies has also been key for many businesses for many years, and remains so. A key focus for TalkTalk is ensuring we attract, develop and retain really strong Product Owner capabilities to connect with the business and ensure backlogs are a good quality and effectively prioritised, to aid effective delivery.
Due to the evolution of how IT functions operate, there is an increasing focus on acquiring cloud-based capabilities. This is something that requires different skills and planning concepts to align with, and benefit, the wider strategy. This doesn't mean that we are moving away from more on premise-based platforms, but having the blend of skills is important to aid efficiency and cost effectiveness.
As technology evolves at pace, the business, teams and strategies must be equipped with the skills to react and adapt.
I certainly think that Emotional Intelligence skills will be in high demand because they allow practitioners to better understand the needs and desires of their clients' target audiences.
There is already is a strong trend in our industry that will continue into next year.
Skills like this are indispensable to the ThinkEQ team for successful workshopping, decision making and problem-solving.
Additionally, we promote the same philosophy for our clients to use with their customers. To help a business formulate a successful and effective strategy, it is necessary to be able to read its audience and understand what type of message is needed. Additionally, empathy skills can contribute to a business's relationship with customers and help them build trust, enabling the brand to create more meaningful relationships.
I anticipate more people seeing the value of this throughout 2023.
Work & Culture - "How do you see work culture evolving in 2023, and what plans does your business have in place for your employees?"
In 2021/2022, how we treated employees during the pandemic was paramount. Going into 2023, I believe we can expect both employees and candidates to be asking employers what initiatives they are implementing regarding sustainability, the environment and their impact on the wider social community. Mental well-being and equality, diversity and inclusion will remain high on people's agendas and become truly embedded in work cultures - that's certainly the case for us.
Our employees' feedback directly inputs into our People & Culture initiatives as we continue to invest and build upon the solid foundations we've established over the years. Our dedication to supporting our employees' mental health and well-being continues as everyone across the Group has access to a free mental well-being platform which creates bespoke mental health journeys for each individual based on their responses and the content they engage with, and in 2023 we will be providing well-being workshops as well as specific training for line managers to further support our people.
We have set up an ESG Committee that looks at our impact across Environmental, Social and Governance, and we have set clear targets to achieve - this isn't just about having correct policies in place; it's embedding this in our culture. Employees can volunteer to join and contribute to the ESG committee and drive employee engagement and participation on the important issues that matter most to our team.
We have recently created an employee-led intersectional equality, diversity & inclusion committee to drive intersectional EDI across the company for our employees, candidates, clients and partners.
This will enable us to educate each other by raising awareness, advising on and maintaining best practices, championing inclusion and celebrating and promoting community and well-being across the company.
We're also keen to partner with specialists to raise awareness on more specific topics such as imposter syndrome and neurodiversity - I believe all employers should be supporting to raise awareness of this as part of the work culture.
There's been no shortage of work culture buzz in 2022.
For one, we know that hybrid and remote working are here to stay. There are plenty of businesses out there calling their staff back to the offices – they certainly shouldn't be demonised, but we also shouldn't look at flexible working simply as something that's 'permitted'. It should be embraced.
Workers have more power than ever to choose what's right for them, and businesses that only offer lip service when it comes to matters of culture such as Diversity, Equality and Inclusion (DEI) will struggle to attract or retain talent.
We've also seen discussions around mental health and neurodiversity in the workplace increase, both of which are unlikely to slow down. Workers globally are learning to understand how they work best – something that forward-facing businesses will learn to accommodate.
Here at RiskSmart, we're looking to grow the team in the coming year. Whoever joins the team next, we plan to let them work how they know works for them.
It's not just about how staff work, though, it's about how whole businesses work. Now that the first batch of UK companies participating in a four day work week trial near-universally deemed it a success, we can expect that to be a conversation continuing into 2023 and beyond.
All in all, 2023 seems more likely to reinforce existing trends than introduce current ones. But if the last couple of years have proven anything, it's that we should expect the unexpected…
This question seems particularly pertinent, following Covid-19's appearance, the resulting global responses, and how this affects working models moving into 2023.
The pandemic forced the world to adapt, including our working environment. Remote-only and building teams that included Zühlke colleagues from across the globe, helped us to deliver critical solutions like the NHS Covid-19 app.
We realised the need to train mental health first aiders, empowering the whole team to feel comfortable saying "I'm not okay".
We swiftly adapted our operations, enabling self-onboarding and streamlined equipment provision.
Some of us have explored our creative sides in client calls, with coordinated clothing and virtual backgrounds – providing positivity to client engagements.
We still have a remote-friendly working approach. We maintain an open and accessible feedback climate within our teams, enabling everyone to learn their strengths and where they need work, growing as a group – no matter where (in the world) they live.
Our office has evolved into a tool for project collaboration rather than a traditional space for lone working, so it requires more than the usual benches of desks.
To meet this evolution, we are changing our office space and location in the New Year, focusing on accessibility, and sustainability by moving to a carbon-neutral building.
Naturally, challenges remain. Hybrid-working, especially in conference/meeting situations, requires an evolution in both technology and training for facilitators of those situations.
Going into 2023, we remain committed to our colleague's wellbeing. As members of the Stonewall Diversity Champions Programme, through our involvement in Tech returners, releasing our D&I policy and flexible working, we create opportunities for diverse minds, reaching our shared goals in new ways.
We will continue to use methods that empower our teams the most, allowing "home" and "office" to be tools in their toolbox rather than a mandate affecting their work/life balance.