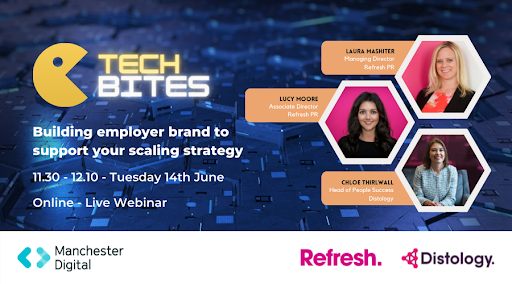 Last week Manchester Digital's Kate Wilson welcomed award-winning PR and communications agency, Refresh's Laura Mashiter and Lucy Moore, alongside specialist IT cybersecurity distributor, Distology's Chloe Thirlwall, to a panel discussion centring on how employer brand should be an instrumental element of any scaling strategy.
The event was the first in Manchester Digital's Tech Bites series and covered recommendations for scaling tech companies competing in an increasingly competitive marketplace.
Over the past few years, Manchester has become a thriving tech hub. From the northern HQs of global enterprises to several tech unicorns and multiple successful startups, the city has become a renowned hotspot for flourishing tech companies. However, competing in a crowded market to attract and retain the best talent in the business can often be a challenge.
One of the companies currently relishing in Manchester's booming tech scene is Distology, which Refresh is supporting with its scaling strategy. This is the advice they had for other companies in a similar situation during the discussion…
1. Ensure your timing is right
Engage a PR agency at the right time and don't rush into it. Following series A funding is a good time
to look at PR support - prior to this is often a little too early.
It's important to establish what your brand stands for and what your values are first.
A strong brand really does make the process much easier and ultimately, the company more appealing to relevant stakeholders from employees and clients/customers, to prospective investors you may want to target as you work towards series B funding.
PR can then support everything from building employer brand to attract and retain talent to increasing brand awareness across new and existing target sectors/markets, and even sales lead generation.
2. Make the time and strategies
Like you would with your overall business strategy, put the time in to plan and assign a dedicated team to develop and shape your employer's brand strategy, plus put it into practice.
Further to this, ensure you set SMART objectives that centre around what you're looking to achieve, before developing your approach/overall strategy that details how you're going to get there.
Set KPIs too! Like with any strategy, it's essential you measure success and adapt as needed. If something isn't working, you know you need to switch your approach, so revisit frequently and track
your progress.
3. Ensure your marketing and HR teams are working collaboratively on your employer brand strategy
To maximise your chances for success, your employer brand strategy should be developed by both your marketing and HR teams collaboratively. This ensures it really emulates the business and marries up both internal and external viewpoints, your messaging is cohesive across the board and your values are not only represented but championed and embraced unanimously.
4. Start with your current people
Gallup data confirms business units with engaged workers not only have 23% higher profits against
businesses with miserable workers, but they also have higher rates of customer loyalty.
Starting with your current workforce and putting a big focus on instilling a positive culture really does
impact the whole business.
While it's impossible to magic candidates out of thin air, living and breathing your values internally across your current team first is essential before shouting about them externally.
This way, when the right candidate does come along, you've already done the work to back up your culture/employer brand.
Your current people really are your biggest advocates, so it's important to start with them as they'll
organically become your company champions.
Treat them well, celebrate their successes/milestones, reward them for great work via things like surprise and delight packages, involve them in your mission, let them have a say in the direction of the business and inform them on how they can personally make an impact when it comes to the success of the company.
Beyond this, shout about their success externally, for instance across your social channels. Where
appropriate, you should also position them as figureheads to the company, if they're comfortable with
that.
Enabling them to comment across external channels on things like trends, is a great way to make them feel empowered.
There could also be an opportunity for them to deliver talks to university students/at relevant industry events, centring on how to pursue a career in tech - this way, when those who attend such events are ready to start their careers or are potentially looking to switch careers/jobs, your business is already front of mind.
5. Practice what you preach when it comes to your employer brand.
It's no secret the tech sector is struggling to bridge a growing skills gap, making attracting and retaining talent an essential element of any business strategy.
Focusing on your employer brand specifically is becoming increasingly important, with talent shortages proving a major threat across the board. Positioning the company as a great place to work and really shouting about your positive culture will help bolster your talent pipeline.
It is however essential you really do practice what you preach when it comes to adopting a positive culture and implementing perks/benefits that affirm your company's spot as a great place to work.
Further to this, don't be afraid to ask people what they think of your business, both internally and externally, plus what their sentiment towards it is - constructive criticism only helps you to grow and improve.
In addition, when hiring new employees, ensure their values align with the company's. You can teach
the role and the skills required to do it, but you can't always instil/change someone's values.
6. Humanise your brand
Beyond building your general brand, which is very much centred on the company and the work it does showcase the faces working behind the scenes across the business on your own channels (particularly your website and social media).
While general brand building really focuses on getting in front of as many of the right people with the
right messages as possible, communicating what you're passionate about, what your offering is (from
a products and services standpoint), and the business in general, employer brand very much builds
on all of this to take it to the next level.
It centres on your values, how you're supporting your team and really tells your story as a company,
including the people behind the brand. It's this piece particularly that helps people understand if they
want to work for you, if your values align and ultimately, what you stand for – these are the pieces that are most likely to resonate with prospective and existing talent.
7. Industry awards
Awards are hugely effective and should be included in any employer brand strategy – Distology has had a lot of success in this area, winning multiple coveted awards including CRN's 2020 Technical Employee of the Year at the Women in Channel Awards, which it continues to be recognised as a result of its focus on diversity and gender parity.
In addition, CRN named Distology its 2020 Cloud Distributor of Year and 2019 Distributor of the Year sub £250m – these have really helped build a positive employer brand, as people want to work for award-winning companies.
While in the past year alone, Refresh was named Prolific North's tech PR agency of the year and PR Moment's boutique PR agency of the year.

And, it's not just winning that's important – being shortlisted is also effective from a brand awareness/employer brand standpoint.


8. Capitalise on your owned channels and lean into the resources available
Social media is key here. The work both Distology and Refresh are doing to humanise their businesses across owned social media channels and essentially showcase the people behind the scenes via series such as 'meet the team,' has proven successful.
There's also an opportunity to weave in messaging around really practicing what you preach from a workplace culture standpoint, which helps build a network of internal advocates, who organically share their positive personal workplace experiences across their own LinkedIn channels, further helping to build a positive employer brand.
Beyond this, Distology has had a lot of success via its dedicated careers website. It's worth noting that it doesn't have to be polished but, as long as you have something to drive candidates to, it really does help attract talent.
Refreshing job adverts and adapting the language you're using in job descriptions, while playing around with different job titles, is another great way to ensure you're appealing to different people.
It's also important to ensure there are no barriers within your job ads – if something is in there, make sure there's a reason it's there. Ensure your recruitment process isn't too lengthy either and involve your team in decisions on new hires – as anybody you appoint, impacts their experience at work.
Finally, capitalise on the resources readily available to you and collaborate with relevant associations/credible partners within the sector. As well as Manchester Digital, the Greater Manchester Good Employment Charter, Business Growth Hub and GrowthAccelerator are great resources to lean into for everything from hiring, to sharing best practice and helping shape your company culture.
If you're interested in finding out how PR could help promote your employer brand, reach out to the
team at Refresh. And if you're interested in a career in tech, explore the roles Distology is currently
hiring for here.