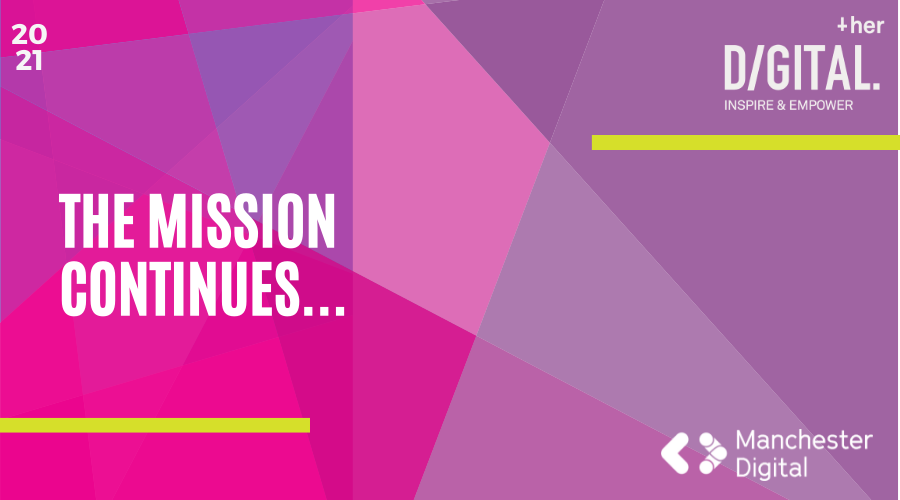 Today (23rd June) is International Women in Engineering Day, and we believe it's important to take a moment to acknowledge all of the women in engineering and development roles and the fantastic work that they do.
Since its inception, Digital Her has aimed to encourage more women into the digital and tech industry by offering support, guidance and opportunities.
Despite the challenges brought about by the pandemic, last year was no different and we're incredibly proud of the work we did and all we have achieved over the past 12 months, which wouldn't have been possible without our supporters who enabled us to exceed expectations. We reached over 2000 young women last year alone.
Plans for 2021/22
We're delighted today to announce our supporters for the year ahead, including returning sponsor Auto Trader, new sponsors BAE Systems Applied Intelligence, Bruntwood SciTech and KPMG.
Over the next 12 months we can look forward to more interactive employer designed and delivered digital skills and career insights workshops, real role model engagement, as well as Women Talk events and meetups.
We'll be introducing our Digital Her mentor programme (Mentor Her) and our virtual curiosity camp this year as well, and like everyone hope that we can start to think about the return of in-person events in 2021/22.
Victoria Knight, Strategic Campaigns Director, at BAE Systems Applied Intelligence, said: "Breaking down barriers and encouraging more women into the technology and digital industries is not just a business and societal imperative. Quite simply, it's the right thing to do.
"Diversity of approaches, points of view and thinking contribute towards improved performance. Diverse teams help encourage innovation and new ways of problem solving, and also offer a variety of skills to meet evolving needs. And as Manchester, and indeed the world, seeks to Build Back Better, we need the best and brightest to be at decision-making tables and this only occurs when organisations – in technology, digital and beyond – are truly representative of the societies they represent and serve.
"That's why BAE Systems Applied Intelligence is so delighted to support Digital Her and its mission to bring forward more women into technology and digital. At a time when still too few STEM students are female, this work couldn't be more important. We're honoured to help forge a fairer and more inclusive workplace across the technology and digital industries."
Tom Renn, Managing Director for Bruntwood SciTech in Manchester, said: "The work that Digital Her does in breaking down stereotypes and gender bias in tech and digital is so important right now and shows just how exciting, accessible and diverse the sector is. We work with many inspiring role models within the 200 science and tech businesses based at our four Manchester and Cheshire campuses and look forward to introducing them to the women and girls participating in Digital Her over the coming months.
"Encouraging diversity within the tech sector is massively important for influencing innovative technologies of the future that will change the way we live in the world - from better detecting and treating viruses and other illnesses to creating the most life-like computer games, or getting connectivity to people around the world in places where they can't access it, to thwarting threats from cyber hacking. To do this, businesses need to continue to find and retain the best and brightest talent they can and through the Digital Her programme it could be these minds and ideas that change the future."
To all of our sponsors and supporters, thank you for your continued support and commitment - we look forward to continuing to work with you.
If you're interested in becoming a sponsor of our Digital Her programme or want to find out more about becoming a real role model, please contact emma@manchesterdigital.com.