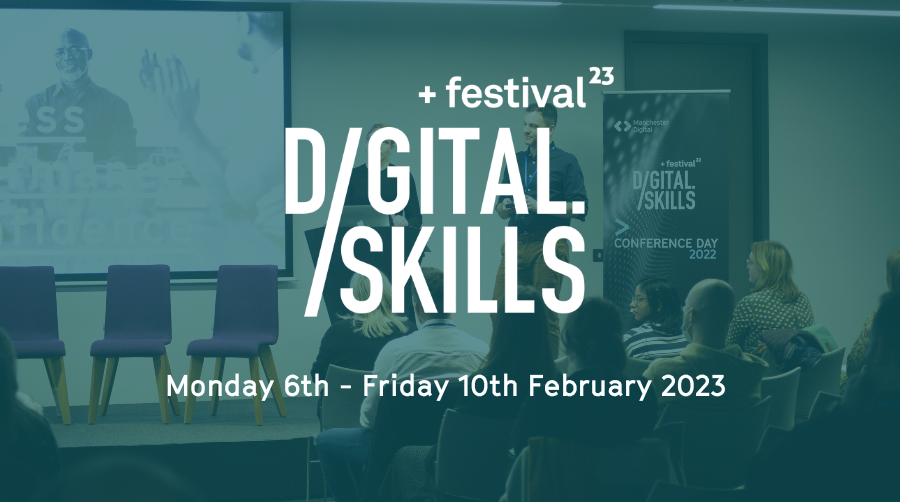 Manchester Digital have announced the return of their annual Digital Skills Festival in 2023 for another eventful week that connects future talent, educators and businesses.
Having run for more than a decade, the Digital Skills Festival is designed to bring together tech and digital businesses with new recruits, graduates, apprentices and career changers. There are opportunities for businesses across the North West to meet potential new candidates face to face, as well as taking part in panels, presentations and talks.
Running between Monday 6th February and Friday 10th February, the Digital Skills Festival 2023 will take place at various venues across Manchester city centre and online.
Leading Manchester automobile brand Auto Trader will return as headline sponsor, whilst Manchester City Council will be joining us as our Strategic Partner. Other sponsors for the festival include BAE Systems Digital Intelligence, Zühlke, hackajob, University of Salford and Bruntwood SciTech. Further sponsors will be announced shortly.
Katie Gallagher, managing director of Manchester Digital, said: "Our 2023 Skills Festival will show the region's digital and tech sector at its best and will ensure that even through difficult economic times, we are demonstrating that great job opportunities for those seeking to join the sector are still on the table.
"Whilst the sector is always impacted by economic conditions, its resilience and ability to innovate will mean that the sector continues to grow and importantly create high quality jobs which are key to the region's overall prosperity and improving the lives of our citizens."
The programme
Held across five days, the festival will provide various opportunities for digital and tech businesses, educational institutions and future tech talent to get involved.
Our Digital Skills Conference Day will launch the festival, as we tackle the skills challenges facing the sector and reveal the results of 2023's Digital Skills Audit, plus there will be a keynote speech.
This will be followed on Tuesday 7th February with a focus on digital apprenticeships as we celebrate national Digital Apprenticeship Week. Wednesday 8th February will see the return of Talent Day, the largest digital and tech careers fair in the North, as 50 of the region's leading employers meet over 1,500 students, graduates and jobseekers. To conclude the week, two days of free-to-attend industry insights and professional development sessions will be delivered in-person and online.
This year our industry insights sessions will provide opportunities for local schools and colleges as well as a dedicated 'switch to digital' employer-led session for career switchers and upskillers.
Monday 6th February - Conference & Skills Audit Launch
Tuesday 7th February - Digital Apprenticeship Day
Wednesday 8th February - Talent Day
Thursday 9th February - Industry Insights and Professional Development Day
Friday 9th February - Industry Insights and Professional Development Day
Get involved
There are various opportunities available to get involved with the Digital Skills Festival 2023. If your business would be interested in sponsoring the festival or exhibiting at Talent Day, register your interest here and we'll get in touch. To find out more about sponsorship, download our sponsor pack.
Further details of how to get involved with the Digital Skills Festival 2023 and our sponsors will be announced shortly. Sign up for the Manchester Digital newsletter to keep up to date with the latest announcements.