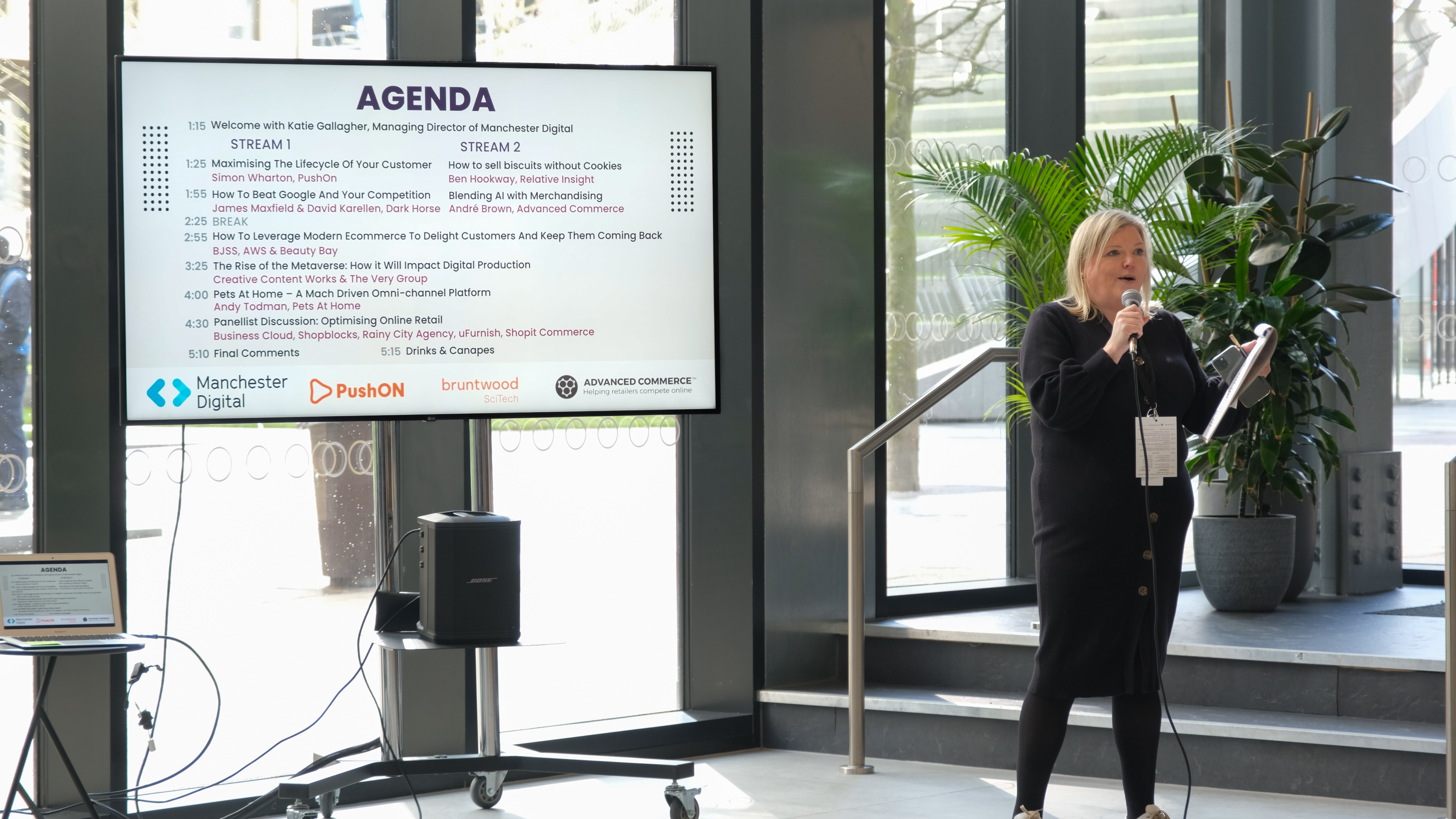 For the first time, Manchester Digital has dedicated a week-long programme of events and activities to celebrating Greater Manchester's thriving ecommerce sector.
Across Ecommerce Week, Monday 20th - Friday 24th March 2023, we've discussed some of the key challenges facing the sector, learned about exciting technological advancements and shone a spotlight on some of the businesses operating in the space. Read on for our roundup of the week.
Ecommerce Week 2023 was sponsored by Advanced Commerce, PushON and Bruntwood SciTech.
Monday
The week began with the publication of our Industry Insights piece "The gold standard of mapping a customer journey". Anybody with an ecommerce store understands the importance of mapping out their customers' journey, and we asked leading ecommerce businesses such as Advanced Commerce, PushON, The Very Group, Dark Horse, Rainy City Agency, Userism, One iota, Creative Content Works and Phoenix Digital how you can optimise different stages of the customer journey.
"Visual merchandising is a crucial component of successful retail strategy, and retailers can delight customers by creating visually appealing, informative, and entertaining displays that guide them on a journey through the store."
"Automation ignites personalisation, which enables you to transform contact data into genuine customers."
"Ensure your customer journey flows, eliminating 'dead ends', offering multiple options of entering and re-entering the purchase funnel throughout."
"Mapping a customer journey can help create a more user-centred experience, increasing user satisfaction and leading to improved business outcomes."
"If your brand has a story to tell, you should absolutely be looking for ways to weave that into your product proposition."
"Monitor your data and based on your insights, create actions to improve your customer journey."
"Immersive technologies have the power to transform your user experience, and provide significant benefits to both customers and brands."
"In a highly competitive space, securing an online sale is key, so make sure your return policy is clear, visible and as easy a process as possible."


Tuesday
On Tuesday, Leon Calverley, Director at conversion focused agency Door4, led an informative 30 minute webinar on the "See Think Do Care" framework - a proven approach that can increase engagement, drive conversions, and improve customer loyalty.
The STDC framework helps businesses to understand how customers interact with their product, and Leon was keen to stress that this isn't linear - the state of mind of your customers at any time is about intent of purchase, which can be fluctuating all the time.
Some of the key takeaways from the session were:
Recognise that your audience interacts with your brand differently at each stage and not all are ready to commit to purchase

See: Focus on increasing brand visibility
Think: Emphasise consideration and engagement
Do: Prioritise conversion
Care: Concentrate on customer retention

Determine the digital and offline channels you plan to employ in order to optimise the four stages of the STDC framework, including search, email, video and paid search.
Leverage analytics to assess the success of your campaigns across all stages, and gain insight into the comparative influence of your efforts at each phase.
Recognize that retention plays a vital role in maintaining engagement and encouraging repeat conversions; avoid focusing solely on acquiring new customers.
Wednesday
Ecommerce Week continued with two professional development sessions and the publication of our Ecommerce Businesses to Watch feature.
The first professional development session of the day was led by Rachael Kotadia, Marketing Director, and Claire Treloar, Account Director, from marketing automation experts RedEye.
In an informative session with plenty of actionable takeaways, Rachael and Claire ran through 10 ways that you can get more value from your existing channels, customers, teams, technology or data as the UK navigates tumultuous economic conditions.
Rachael: "Give your customers unexpected moments of delight. Show them you really appreciate them and send them discounts or rewards at times that are special to them."
Rachael: "Make purchasing really easy for customers. We should be removing barriers for our VIPs."
Claire: "Know what your customers care about and their pain points. What's led them to your products/services/brand? You'll never be short of content if you know those great insights about your customer."
Claire: "People in your marketing department aren't the only ones who can create content. Ask customers to share your products or services on social media. Imagery from real customers and people can be more authentic and trustworthy."
Rachael "Test everything and it doesn't cost you a penny. Really subtle changes can increase your conversion rate and in turn your revenue. Remember to test one thing at a time over a period of time."
Later in the morning, Ecommerce Week sponsor Advanced Commerce delivered a session on Online Search & Merchandise Optimisation, led by Katie Woodhead, Client Services Director.
"Deeply understand what customers think and feel. Understand how these emotions are impacted by psychology, relations, economics and culture."
"Create relevant frictionless and attractive experiences. Relevance removes friction, but needs to be combined with additional UX Optimisation through to end-to-end journey."
"Filters rely on optimal data. Good housekeeping is necessary to correct poor data. Or use AI to map and refine options."
Thursday
Thursday saw our flagship conference event take place at No.1 Circle Square as we were joined by some of the region's leading ecommerce businesses.
In Studio 1, PushON's Business Strategy Director Simon Wharton delivered "Maximising the lifecycle of your customer", where he talked through how brands really need to understand their customer and how they can solve a problem for them. Simon brought the presentation to life with up-to-date examples of what brands are doing well in terms of personalisation, loyalty and user-experience.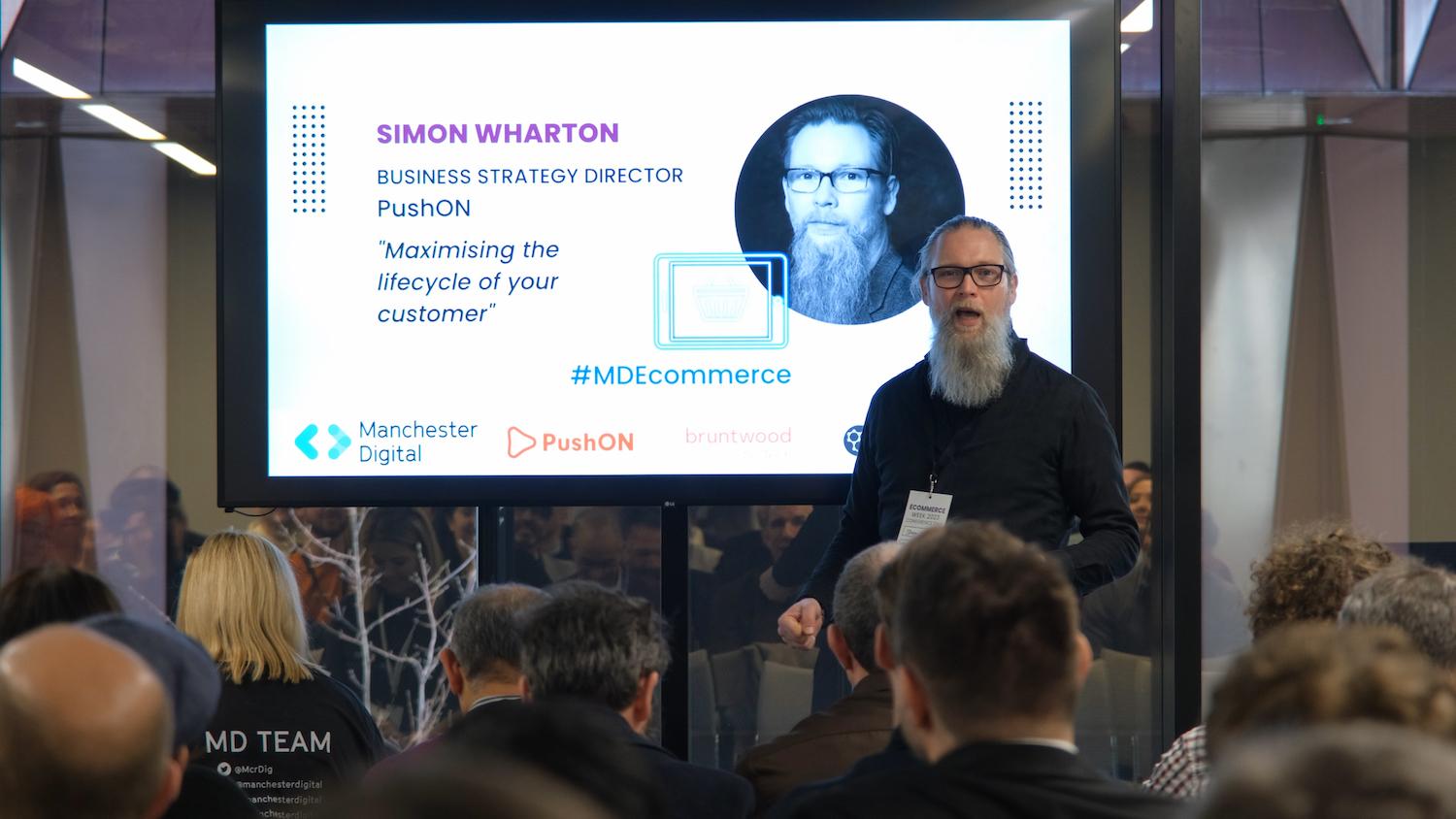 Meanwhile in Studio 2, Ben Hookway, CEO of Relative Insight discussed "How to sell biscuits without cookies", talking through the issues surrounding the ending of third-party cookies on web browsers and how that will affect ecommerce retailers. He discussed how brands and agencies can use a comparative methodology to get more value from four types of text data: survey data, review customer service, CS transcript data and social listening.
The next sessions saw James Maxfield, SEO Lead, and David Karellen, Head of PPC, from marketing agency Dark Horse discuss "How To Beat Google And Your Competition".
The duo focused on how to rectify: loss of visibility, limited control and sneaky additions. They explained how to make your ROAS increase and showcased SEO fundamentals to maximise revenue growth.
Meanwhile in Studio 2, André Brown, CEO and Founder of Advanced Commerce, presented "Blending AI personalisation with Merchandising". This was a fascinating insight into how ecommerce retailers can use AI to personalise the visual merchandising experience, which includes controlling the sequence of how the consumer views the products, which could highlight the highest markup products or seasonal products, for example. Andre also discussed the role of AI and how it needs that human judgement to make the best decisions. He asked retailers, "Do you want to be an order-taker or a trendsetter?".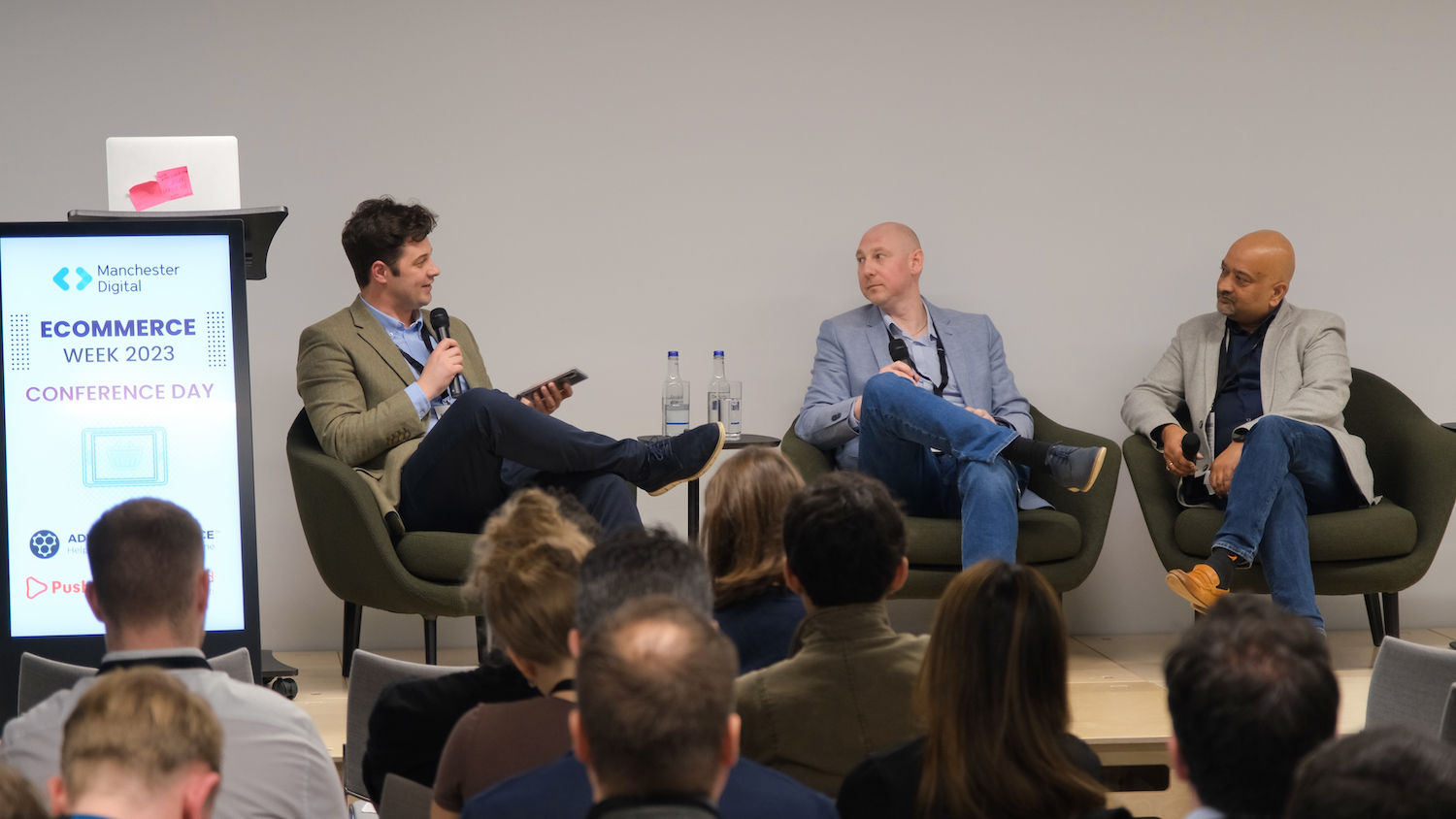 Next up was a panel talk, led by Ralph Robinson, Head of Retail & Consumer Markets at BJSS, who was joined by Rob Black, Head of Technology at Beauty Bay and Puneet Goenka, Sales Leader at AWS.
The discussion centred around how Beauty Bay is laser-focused on its core demographic, which has grown with the business. At the start of 2022, Beauty Bay had 60 million active users, which is more than voted in the 2019 election. They also talked about 'anywhere commerce' where customers want to buy there and then when they see a product. With the website re-architecture with AWS, Beauty Bay now has 50% less computer costs and can autoscale in order to be adaptive to any future disruption and periods of higher web traffic and orders.
A talk called "The Rise of the Metaverse: How it Will Impact Digital Production" by Vladimir Mulhem, Innovation & Technology Director at Creative Content Works, and Mark Stocker, Senior Creative Manager at The Very Group was fantastic, highlighting that currently the metaverse is the equivalent of the internet in the 1990s, which demonstrates how much potential there is yet to come.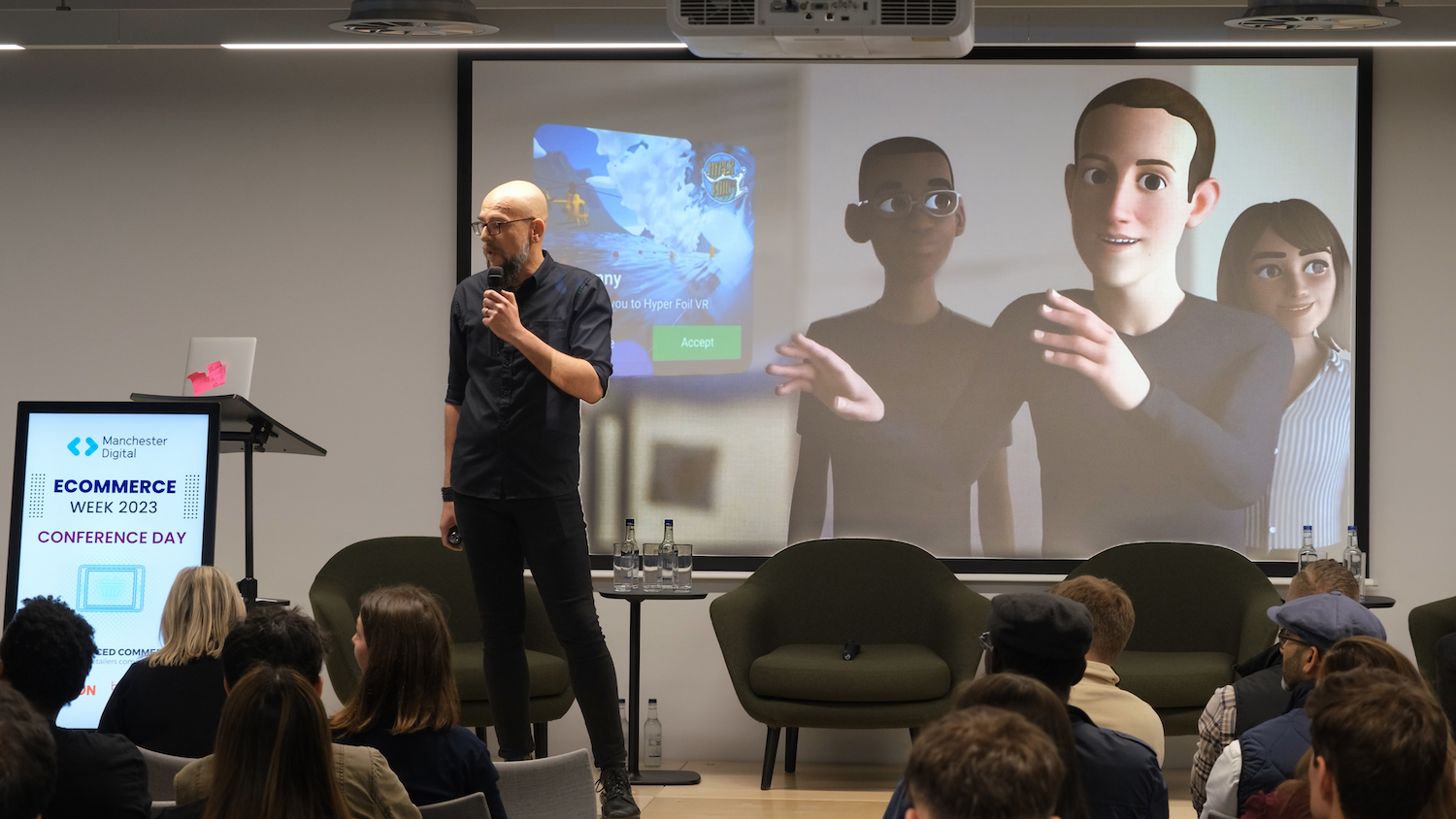 Mark Stocker talked us through how The Very Group had a problem to solve during the Covid pandemic, where their online orders had very obviously shot through the roof, but they were struggling to shoot enough product photography due to the health and safety regulations to limit the transmission of Covid.
The group came up with an interesting solution which saw them use digitalisation of models, which sees clothes photographed on a mannequin that are the exact dimensions of their own models. Digital software then adds the clothing to the model so it is almost impossible to see that the model was not photographed for each item of clothing. Of course, there are interesting ethics around this and the models sign up to licence their image to be used in this way.
Our keynote speech was delivered by Andy Todman, Director of Engineering at Pets at Home who discussed how the business is going through a huge digital transformation. 80% of their business is from the 450 bricks and mortar stores across the UK, and online customers have multiple log-ins for the different services offered by Pets at Home.
Andy talked us through the whole journey of how they are developing a MACH-driven omni-channel platform, which joins up the digital eco-system for customers with multiple touchpoints.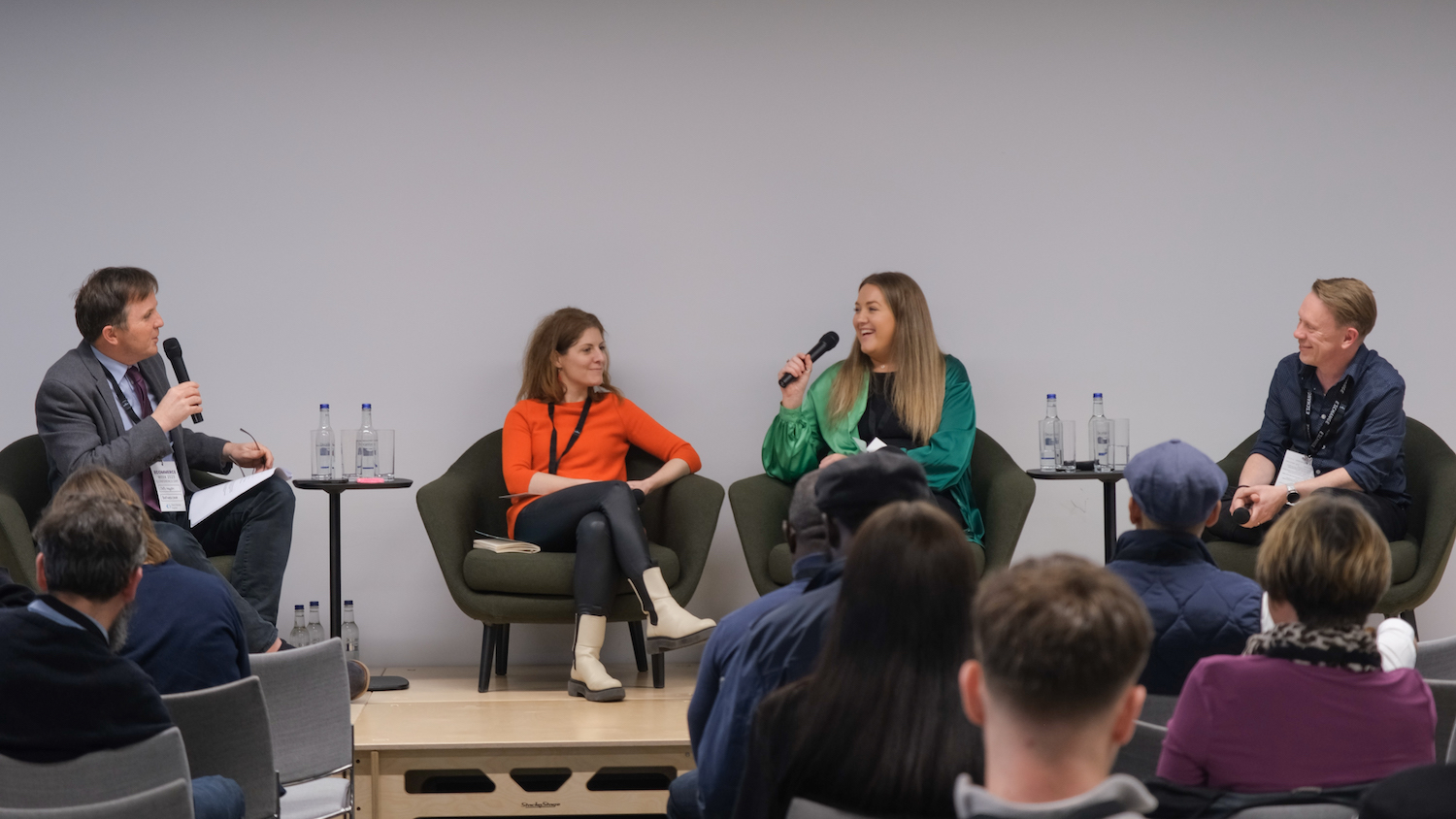 The final panel discussing "Optimising Online Retail" was expertly chaired by Business Cloud editor Chris Maguire, who was joined by Rebecca Worsley, Founder & CEO of Rainy City Agency, Deirdre McGettrick, Founder of ufurnish.com and Adam Pritchard, Founder of Shopit.
All three founders came together to share their experiences and knowledge of setting up an ecommerce business and how to optimise the online experience, which includes knowing your customers and target audience inside-out.
Together they discussed how they ensure their own ecommerce experience, or that of their clients, is completely optimised and targeted to their demographic. Deidre explained how 85% of purchasing decisions are made by females, so their ecommerce experience is completely aimed at this target market.
We like to say a huge thank you to everyone who attended the conference, all of our speakers who kindly shared their own experiences, insights and knowledge, and our sponsors, PushON, Advanced Commerce and Bruntwood SciTech, for supporting our conference and our work with the ecommerce industry.