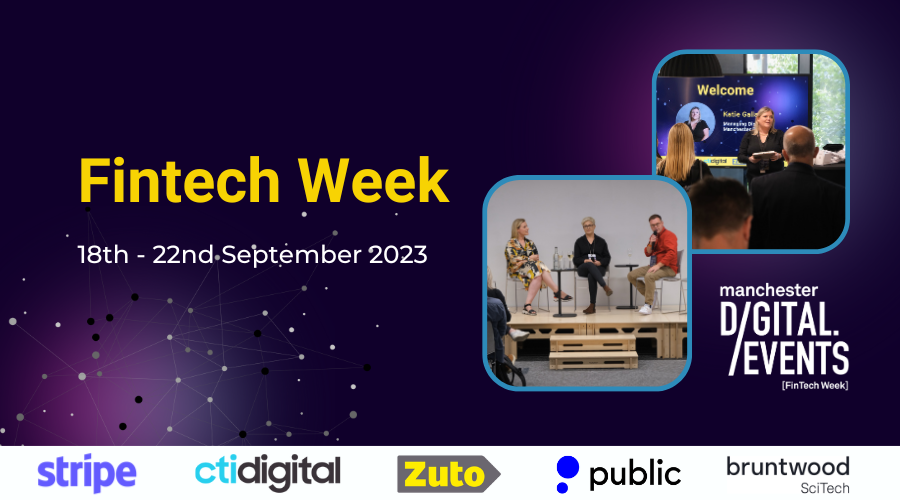 Manchester Digital have been celebrated Greater Manchester and the North West's innovative fintech sector with a dedicated week-long programme of events and activities.
Fintech Week ran from Monday 18th - Friday 22nd September 2023, as we've discussed some of the latest technological trends impacting the sector, some of the challenges businesses are facing and opportunities for future growth.
Suffice to say, AI remains one of the hottest topics of conversation, but elsewhere across the week we touched on topics such as payment processes, customer experience and the future of banking.
Fintech Week was delivered in partnership with Stripe, CTI Digital, Zuto, Public and Bruntwood SciTech.
Read on for our roundup of the week's activities.
Monday
The week kicked off with the publication of our latest Industry Insights piece, "Exploring the Shifting Financial Landscape and Emerging Trends".
For this piece, we asked a selection of leading fintech and financial experts to delve into some of the shifts impacting the sector and highlight emerging trends that are redefining the ways that we think about money and transactions.
Featuring insights from businesses such as CTI Digital, Stripe, Zuto, GlobalLogic UK&I, Woodhurst, Barclays, TLT, Arctic Wolf and Leyton UK.
"Gaining public trust is key for widespread adoption of AI systems. Users need confidence in an AI's safety, fairness and integrity before relying on its outputs. Enhancing transparency and explainability of these systems helps build more trust."
"By innovating and digitising the dissemination methods for services in the financial industry, businesses can enjoy easier access to necessary resources, consequently boosting the performance and stability of the small business ecosystem."
"We need to understand what problem we solve for our customers, what they would do if they didn't have our product or service, how they use it, what annoys them, how they think, and what else they have experienced that's better."
"Ensuring the safety and security of digital wallets, transactions and the blockchain technology that underpins it will be paramount to prevent cyberattacks, theft and counterfeiting."
"The Future of Payments? It's all about data. Because of the insights it unlocks – better understanding of customer preferences, and anticipating needs, means better, more tailored propositions."
"The field of Financial Technology is one which is naturally rife with innovation; both at the level of the industry itself and the underlying technologies that enable developers to pursue the objectives of the software being built."
"The introduction of the Consumer Duty represents a step-change in regulation, which establishes new cross-cutting rules for regulated firms to act in good faith towards their customers, avoid causing foreseeable harm and support customers to pursue their financial objectives."
"Self-service banking has evolved from the ability to check balances and transfer money, through to more advanced services such as account opening, instant lending decisioning, and e-signing on such as mortgage applications."
"As customers embrace mobile banking apps for a secure banking experience at their fingertips, Fis must prioritise data security and maintain communication with customers to educate them on steps they can take to safeguard themselves and remain vigilant."


Tuesday
On Tuesday, we asked the community which trend they thought would have the biggest impact on the fintech sector over the next 12 months.
It was not a huge surprise to see AI come out on top, with 60% of the votes. This was followed by an increase in cybersecurity, then the rise of open banking, and lastly the evolution of embedded finance.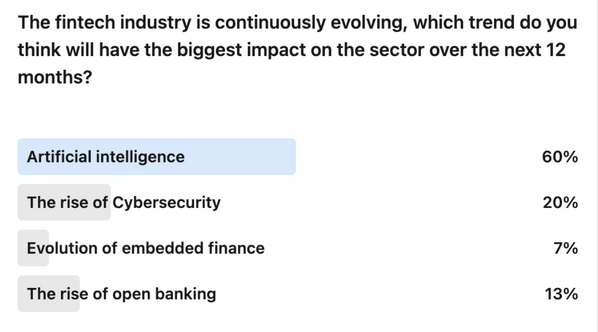 Wednesday
Fintech Week continued on Wednesday with a Tech Bites webinar, delivered by Sarah Hunt from Stripe.
During the bitesized session, Sarah delved into the state of European checkouts, the common mistakes that they make and how to drive revenue growth with a better checkout experience.
Some of the highlights that Sarah shared during the session included:
Consumers often notice at least five errors when processing through a website's checkout system, including a long process time, a company not using the most popular payment methods and companies not allowing consumers to store their information for faster check out. This can negatively impact a business and their sales as customers are more likely to abandon their purchases if it isn't convenient for them.
64% of European checkouts did not allow customers to save their payment details for future use
"It's important to take a localised approach - 86% of consumers would frequently abandon a purchase if their preferred payment method was available!"
"European customers are more likely to complete a purchase if one-click checkout is offered."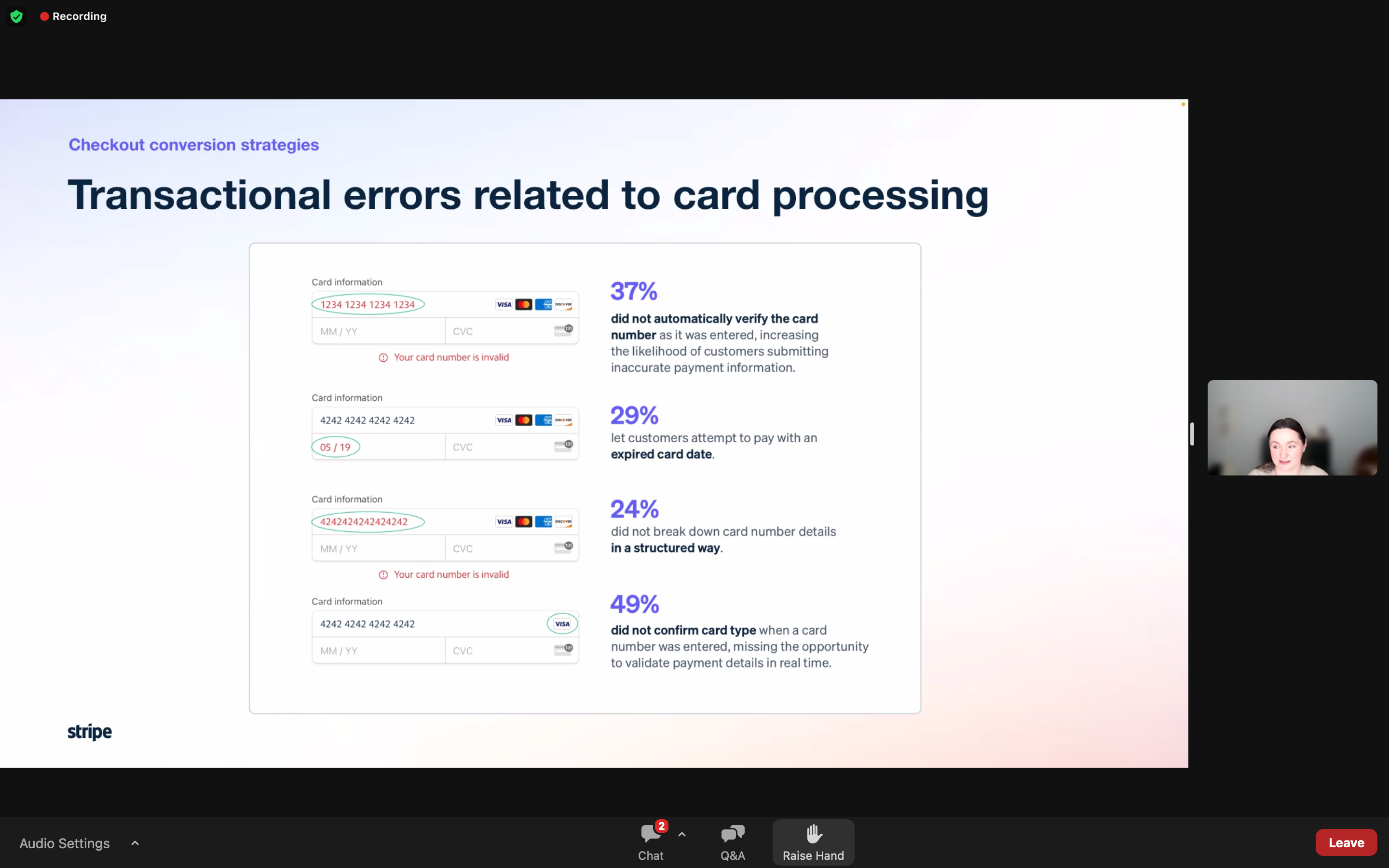 Meanwhile on Wednesday, Digital Her launched the Digital Her Podcast, which will bring together women from the 350-strong Digital Her community to have a series of inspiring conversations about what the tech industry has to offer, what opportunities are available, as well as topics that affect many people such as understanding Imposter Syndrome or moving into leadership roles.
The first episode focuses on careers in fintech, with guests Zahraa Murtaza from GFT; and Sian English and Jo Gibson from Bankifi.
The Digital Her podcast is available from all podcast platforms and can also be found via the link below.


Thursday
Thursday saw Fintech Week's flagship event take place - a Fintech Conference at No.1 Circle Square.
Across the afternoon, guests enjoyed a series of engaging presentations on a range of topics, followed by two panel discussions and the opportunity to network and connect with fellow fintech enthusiasts.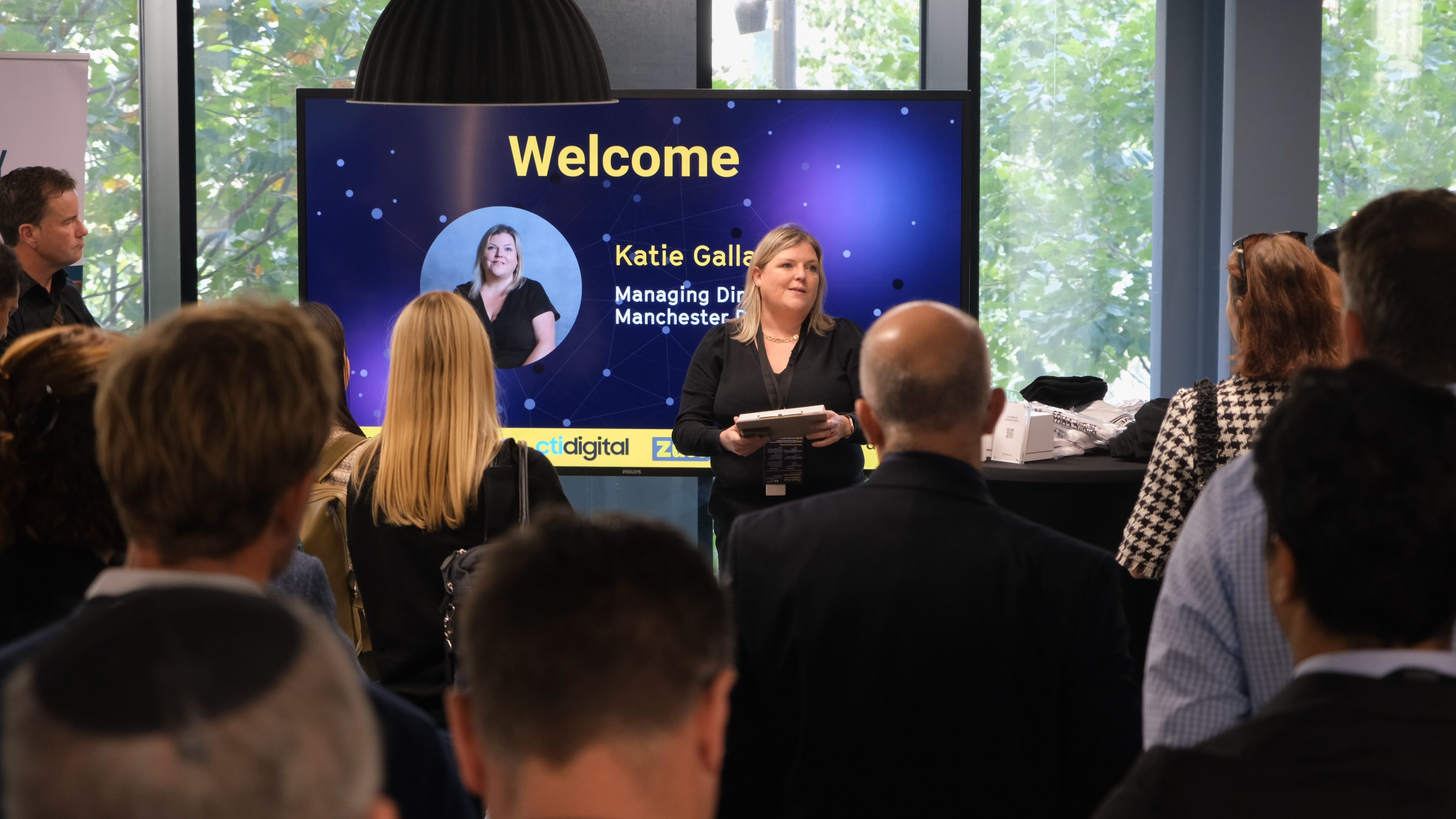 Katie Gallagher, Managing Director of Manchester Digital, welcomes guests to the Fintech Conference
The afternoon began with two streams of presentations for guests to choose from. In Studio 1, proceedings kicked off with a session from Lee Egerton, Global Head of Financial Services at Robiquity, who discussed the journey to a 'Self Driving Business'.
According to Lee, "intelligent automation is just the beginning", but how do we get towards a self driving business? By improving productivity, agility, experience, resilience and compliance.
"We are on the verge of the third significant trigger of business operations arbitrage - autonomous technologies at speed."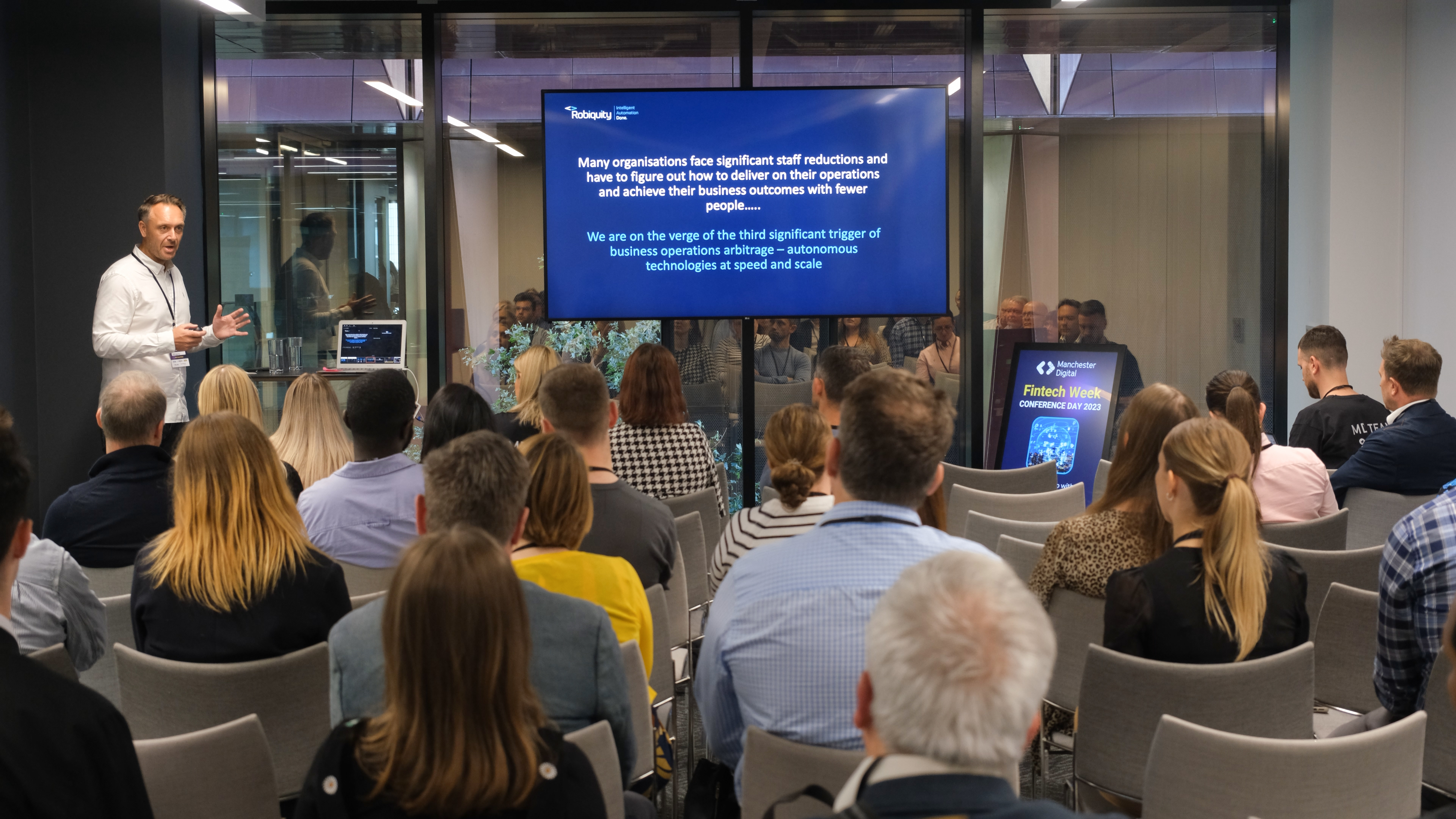 Lee Egerton of Robiquity discusses the path to a 'Self Driving Business'
Meanwhile in Studio 2, Lucy Ironmonger, Tech Lead at Zuto gave a truly inspiring talk about how to encourage your tech team to push through their own self-limiting beliefs to become a better team member and advance their own skills.
She covered her own personal experience and how she developed confidence and communication skills by creating her own mantras which challenged her fixed beliefs.
She explained that people have self-limiting beliefs and a fixed mindset partly because they have a fear of looking dumb. This means that people don't speak up in meetings, don't share projects before they think they're perfect and don't ask questions.
However, Lucy argues that to create a growth mindset, we must all leave the ego at the door and not worry about looking stupid. She said, "You've got to get comfortable with looking dumb. Allowing yourself to be vulnerable is brave."
Her advice was:
Participate in meetings or group situations - it will encourage others and help you grow too.
Show gratitude - it lifts others up, you might find it comes back to you.
Challenge - ask the difficult questions, seek out a better way.
Lucy Ironmonger, Tech Lead at Zuto, presents at the Fintech Conference
Lucy said she was a strong believer in the ability to change your belief system by changing what you tell yourself. She said: "Changing your belief system means you can get better at anything - running, cooking, changing career. Change what you tell yourself, massive changes can happen. Confidence unlocks your ability to go after your growth. Hard things are going to help you grow."
Our next session in Studio 1 was from Alex Richardson, Enterprise Architect at GFT, who led a session on some of the results from GFT's latest Banking Disruption Index, a quarterly assessment of consumer attitudes towards digital transformation.
Some of the highlights of the assessment include that we are seeing an improved consumer sentiment towards AI, but attitudes remain complicated. Certainly, we're seeing different attitudes towards AI across different demographics as you may expect.
With the launch of Large Language Models, Alex suggested that we need to manage consumer appetite and expectations around what these services will do for them and also how we do it in a sensible and ethical way.
"There's lots of nervousness about AI in the retail banking sector but it is here and it will benefit consumers directly."
If you would like to access the Banking Disruption Index, click here.
Our next session in Studio 2 came from Shaun Adams, Co-founder and COO, and Matthew Bycroft, Data Scientist, of Credit Canary.
Shaun and Matthew gave an in-depth talk on how generative AI can develop financial services. Financial companies have a huge amount of historical data, but in different places, which can be pulled together by AI.
60% of financial businesses are now using AI within their businesses, and it's up 58% from the first half of 2022 to the first half of 2023.
Matt explained that within their business, AI helped them to scale faster and be more efficient. "We have been able to diversify the skillsets of our team, by using AI to help them with tasks."
Matt then outlined the current issues with bringing in the use of AI, which included consumer trust; the cost and also sustainability issues. He also covered accountability and ethics, in that it's really important to ensure there is no discrimination written into the AI.
Shaun added that there are a number of areas where AI can really drive value in financial services. He said, "We will see some cool things coming out of the fintech space in the next year. The key areas are operations efficiency, which will enable businesses to go faster and work harder."
Our final session before the networking break in Studio 1 was delivered by Sarah Hunt and Meg Walsh from Stripe, who discussed payment and fintech strategies during an economic downturn.
Sarah and Meg explained how despite challenging economic conditions, businesses are still planning to innovate with new strategies, such as embedding financial services into their products or platforms.
"Businesses are having to adapt in the current climate, and those that are doing well are adopting different strategies, expanding into new business models and finding new revenue opportunities."
Meanwhile in Studio 2, Kirk Winstanley, COO at Bankifi discussed whether AI coding will be replacing all of our developers and when.
Kirk opened his talk with an AI-generated talk, where he had given the AI a number of prompts to cover what he wanted to say and an example of his voice recording. This was a great attention-grabbing way to open a talk on AI!
In terms of using AI to create software code, he said: "If I can do something at 3000 less of the cost than we do it today, or even 300 times less, then I'm going to sit up and notice. AI is going to have a massive revolutionary effect and developers will have to adapt to change. 48% of code on GitHub is already written by AI. This is happening, so people will have to learn to adapt."
He explained that software developers will have to change their mindset about what their job entails. Instead of writing 100 lines of code per day, they will have to get very good at asking questions rather than solving coding problems themselves.
Kirk said that he's going to start experimenting and comparing projects which is 100% created by humans vs projects that have used AI to help them to see what that looks like.
To sum up he said: "AI will enable people to use technology without having to understand how it works or how to write code. It's very like how years ago if you wanted a website built then someone would write HTML code but now you can create your own website using Wix, for example, without needing to know any code at all."
Following a break for networking and refreshments, the conference was brought together for a fireside chat on "Optimising customer experience in fintech to drive customer acquisition" led by Steve Gale, Chief Commercial Officer at CTI Digital. Steve was joined by Ciara Cox, Head of Growth at Interactive Investor, and Nina Mack, CX Director at CTI Digital.
On how CX has evolved in fintech, Ciara said, "It was previously more about the 'fin' and less about the 'tech', whereas now it's definitely more about the 'tech' than the 'fin'.
Ciara explained how you can invest your time in creating a high functioning product, but your customer's feelings and thoughts can be left to the side. This is where the future of fintech needs to focus - customer experience and to more retail focused.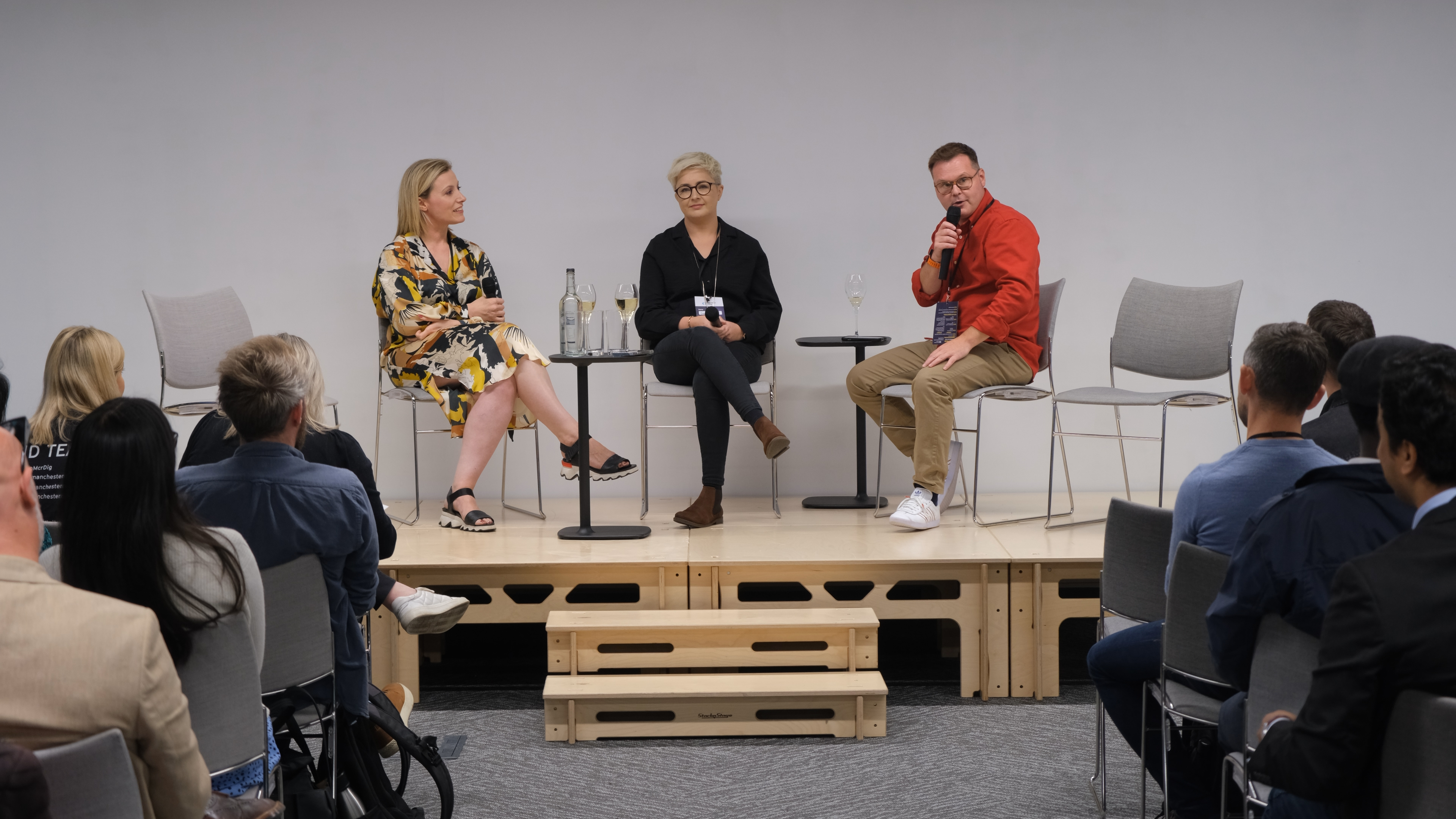 Fireside Chat with L-R: Nina Mack, Ciara Cox and Steve Gale
Nina continued, "Customer experience is a really strong differentiator for us. We can put lots of time and money into R&D, but if the customer experience is filled with friction, anxiety or inconvenience then we won't build our customer base or loyalty."
The panel all shared similar experiences with traditional banks, where something as simple as changing your address or closing the account can be a real struggle, so it's no wonder that so many disrupters have entered the market. Although as Ciara pointed out, "acquisition is always much more difficult than retention".
The final session of a packed afternoon was a panel on "The impact of AI on transactions in the future".
Ben Nadel, Co-founder at Woodhurst, led the session and was joined by Roger Zorlu, Data Scientist at Blue Motor Finance, Yeliz Kılınç, Sr Cloud Solution Architect, Data & AI at Mircrosoft, Martin Keelagher, CEO at Agile Automations, and Tamana Bhambwani, Head of Regulatory Portfolio Delivery at Barclays.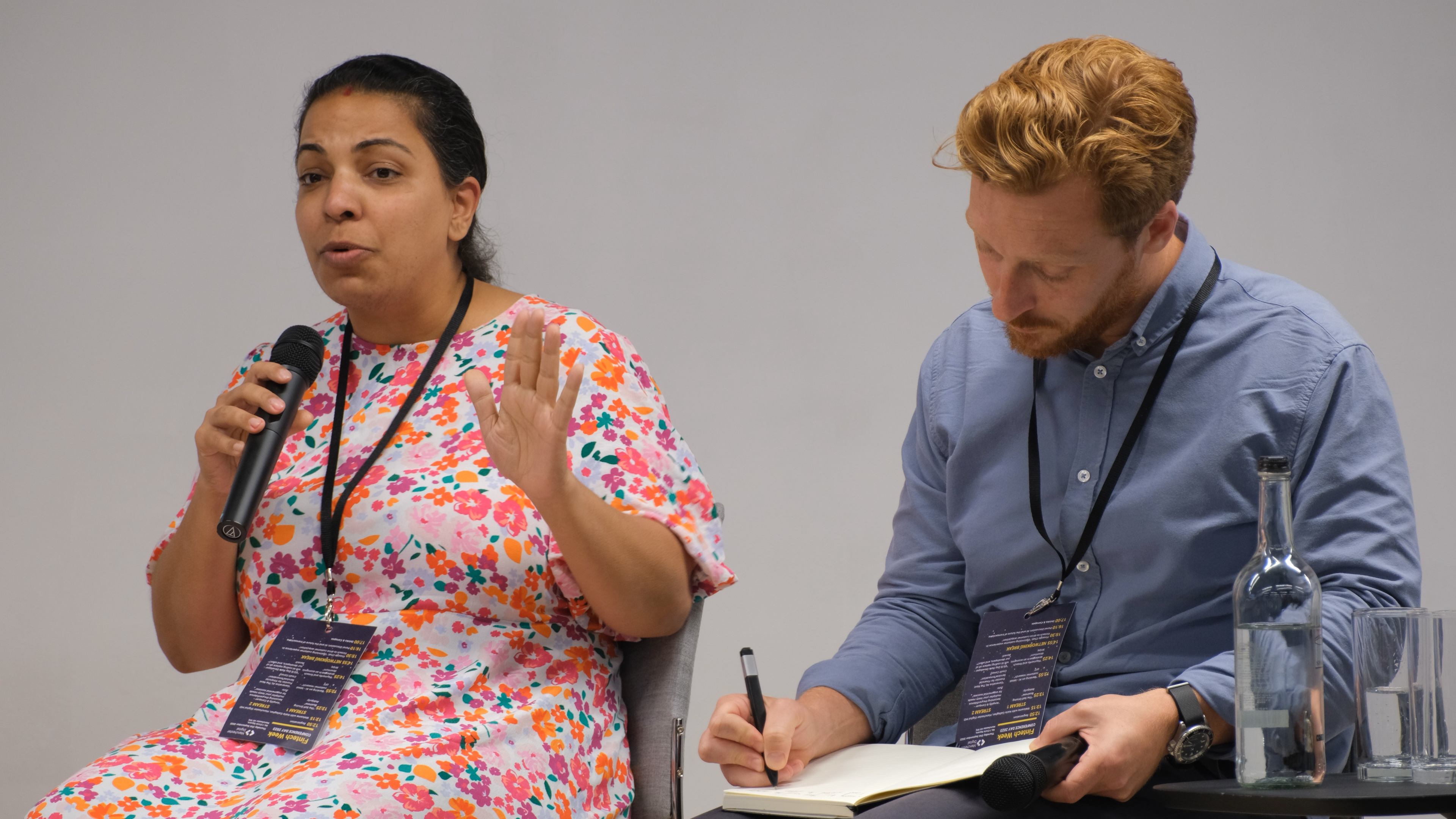 Tamana Bhambwani and Ben Nadel on the 'Impact of AI on future of transactions in the future' panel.
Tamana: "You talk about optimisation, there's no financial institution that isn't trying to replace all of the things that traditionally happened in branch with automated processes. If you're thinking AI is going to come in in the future, it's already here."
Roger: "At Blue Motor Finance, we can score customers based on credit risk thanks to AI, getting a 360 view of a customer which you couldn't get manually."
Yeliz: "Generative AI will ease your customer's daily transactions, particularly disadvantaged customers if used properly."
Martin: "When it comes to where to deploy AI, look where your biggest headaches or challenges are. Look at where you are doing a lot of recruitment, and consider implementing tech into those environments instead."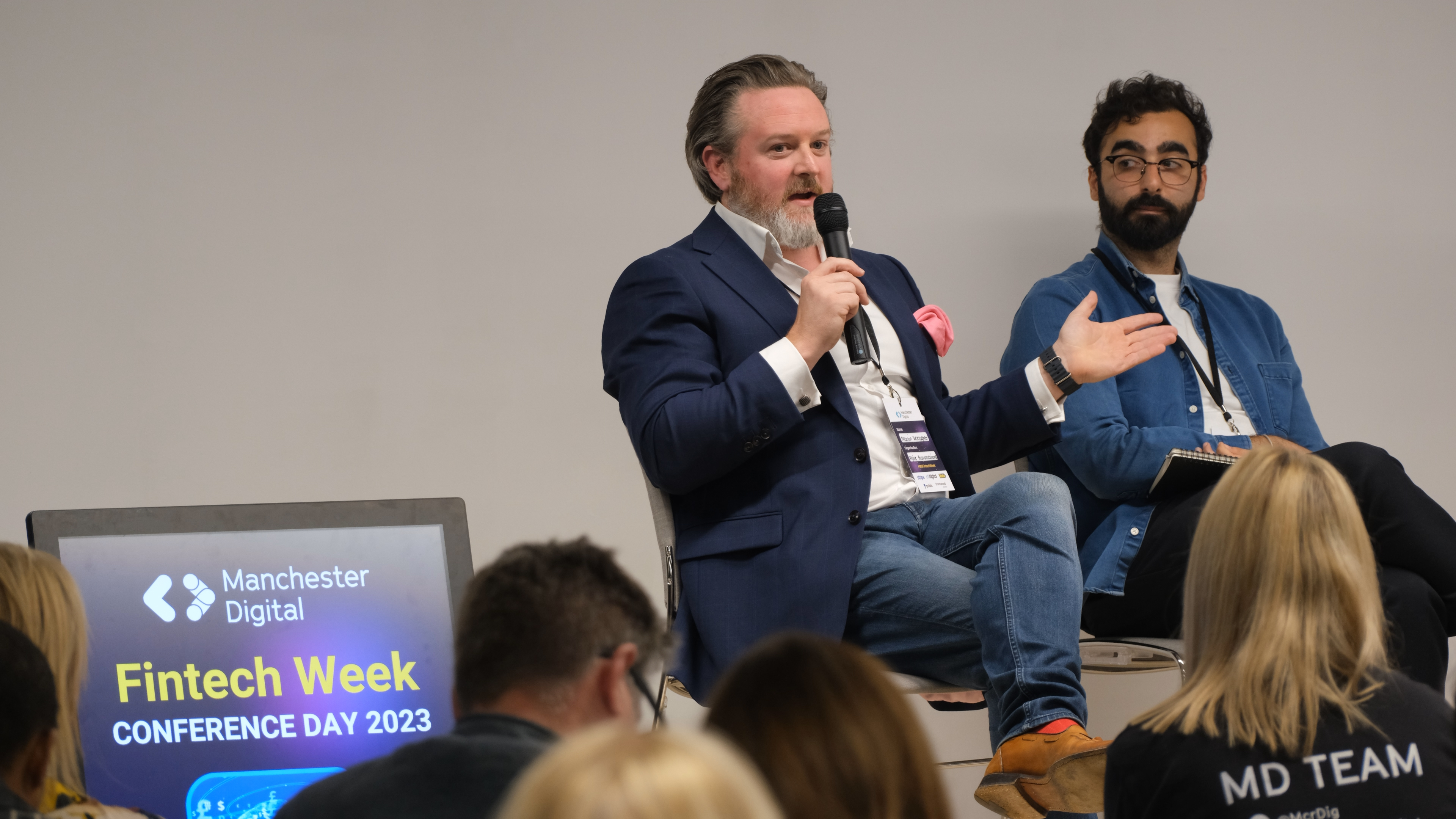 Martin Keelagher and Roger Zorlu discussing AI at the Fintech Conference
Following the conference, guests were able to enjoy canapes and drinks provided by Public.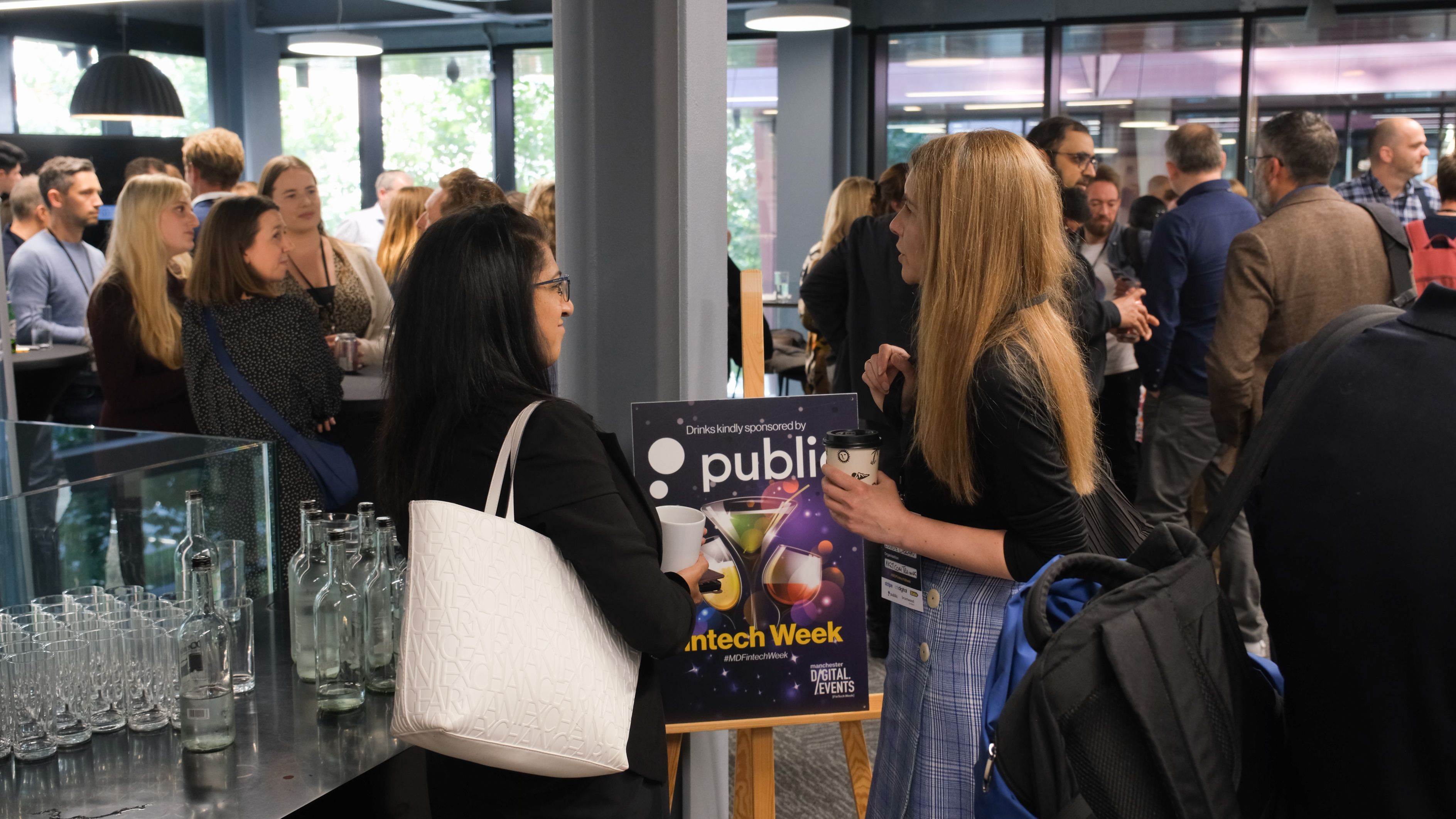 Friday
On the final day of Fintech Week, Steve Gale and Nina Mack of CTI Digital led a professional development session on how to design a Customer Experience that drives Customer Acquisition.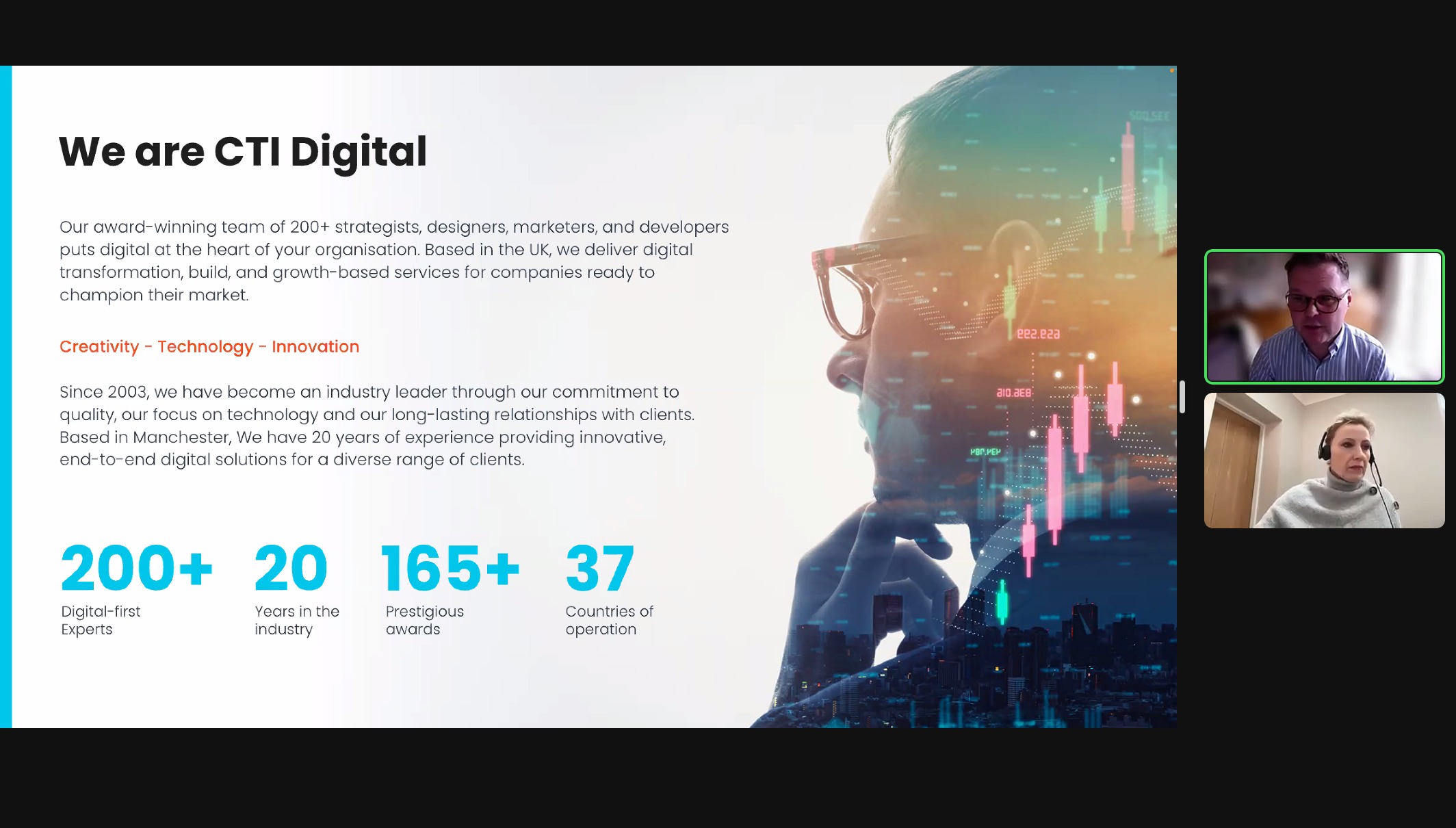 Expanding on some of the topics discussed the previous day at the Conference, Steve and Nina explained how when people arrive on your website, the value proposition you present plays a central role in how they will behave.
This has to communicate what you offer, be compelling and remarkable, and be specific.
They went on to explain that when we use CX as a key differentiator,
We can attract people who are prepare to pay more for a great experience
We can build loyalty through great interactions
More profit means more money to reinvest in the product
"Ultimately, great Customer Experience builds our value proposition for new customers."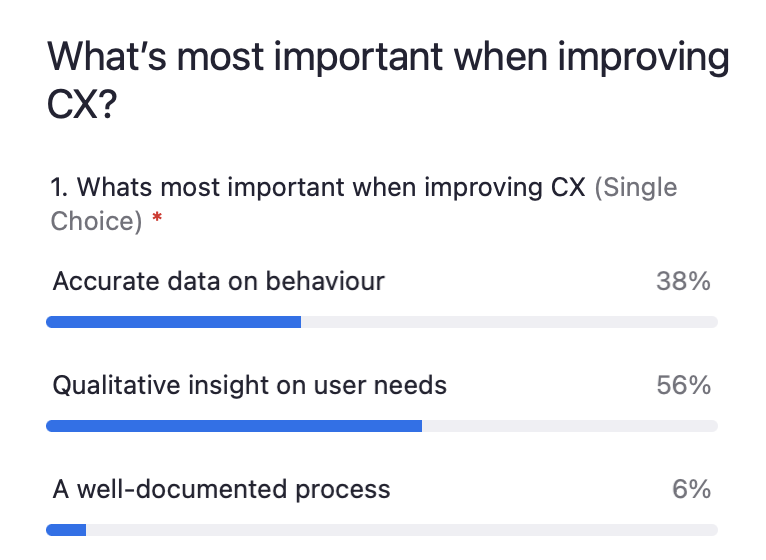 We'd like to thank everybody who attended any of the events across the week, plus all of the presenters and speakers who shared their experience, insights and knowledge.
Once more, we'd like to thank our sponsors who helped make Fintech Week possible: Stripe, CTI Digital, Zuto, Public and Bruntwood SciTech.