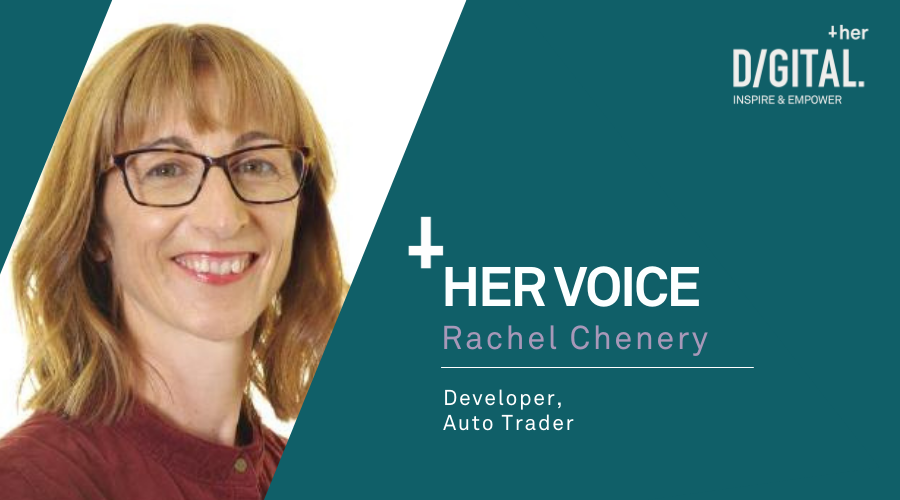 Digital Her was set up to address the gender imbalance in the digital and tech industry in Greater Manchester. Our programmes aim to inspire the next generation of women to join the industry, and support the current generation working in the industry.
From Law to Coding
The last few years has seen a huge increase in people switching careers to join the digital and tech industry, bringing with them a wealth of experience and transferable skills. Rachel Chenery is one of those people. Here, Rachel talks about her experience of leaving a successful career in law behind to become a software developer.
Do you want to tell me about your journey into digital?
I had a successful career in law, but in 2016 I started to think about doing something different. I loved working with clients, and I loved the intellectual challenge of the job, but it required long hours and was very target driven. I felt like I had learnt everything I wanted to and this, combined with becoming a parent, made me ready for a new challenge. I just wasn't sure what.
I went to a one day women's festival in Manchester and one of the sessions was a mini code academy, run by a female software developer from the BBC. This really sparked my interest, so I started doing some online courses. I found it really challenging and probably only understood about 50% of it, but it was really interesting, so I kept practising - whilst still working as a solicitor.
In 2017, I decided to give up my law career, and joined the pilot programme of TechReturners, learning coding one day a week. On the course I met other women, and other mums, who also wanted to change careers. That's when I realised making this career change was totally possible.
After TechReturners, I signed up for NorthCoders. What was great was that I was able to do the course part time whilst looking after my children. At that stage, full time would have been too much for me. The course was great! It was very challenging, and I really liked how my brain was stretched in all sorts of directions, in a really good way! It was through this programme that I got my first job as a junior developer.
Unfortunately, due to the pandemic I was furloughed and then eventually made redundant from that position. To be honest at that point I'd lost confidence as a developer. I didn't know whether I was any good at it, whether I'd made the right move, and was actually wondering whether I should go back to law. Luckily, I came along to the Manchester Digital Switch to Digital Careers week last October, and that was really the biggest turning point for me. Through this I was awarded a scholarship with CodeNation, and this made me realise that even as a junior developer I'd learnt so much already. I was able to do a lot of the work on the course and this really boosted my confidence and polished up my skills. After CodeNation I was invited to apply for another TechReturners course, Your Return To Tech. It was through this and their links with employers that I was offered a job with Auto Trader, where I'm working now.
What was it that appealed to you about the industry and that encouraged you to switch?
I would say it's because it's quite creative, there's lots of problem solving, and lots of opportunities. There are so many different jobs you can do, more or less technical and even being a programmer, you can specialise in different areas. And because things are always changing, there are always new things to learn, so you never get bored. It feels very open and full of opportunities.
What would you say were the challenges that you faced along the way?
I think the first challenge was my own self-limiting beliefs. It's hard to feel vulnerable and not know what you're doing when you've been so used to being pretty competent in a previous career. I've learnt that it helps to keep going, push through this feeling. Ask questions and the more you do, the more you learn, and the more confident you feel.
Secondly, the stereotype of working in this industry, particularly as a developer. I remember having a conversation with another mum at my children's school, when I was just starting to learn code. She said, "Isn't software developing something teenage boys do in their bedroom?" And it made me think, "I'm not in my 20's, I don't fit the stereotype". But I really had to push that aside, because…Why? Why should it be like that?
Thankfully, most people I've met in the industry have been really encouraging and supportive, but I think we need to challenge that stereotype more widely, to encourage more people like me to feel confident to join the industry.
I also think it's important that employers have the right level of support in place for junior developers joining the business. Investing time in the beginning and supporting that growth is essential.
What could the industry do better to encourage and support more women career switchers into the industry?
I think it is interesting to compare the situation with my previous profession. More than 50% of solicitors are women, and in my experience, even though it's a demanding job with long hours, the firms I worked for were open to flexible working. After having children I was able to work part time, and one firm enabled me to split my time between the office and working from home, as a solution after I came back from maternity leave.
Since I've been part of the tech industry I've become aware of quite a few companies that are not open to people working less than the traditional 5-day week. There's a skills shortage in the industry, and I know brilliant candidates who have been overlooked because of this. This may change following the pandemic, but I think it is hugely important that companies are able to support their employees to balance work, family and life commitments.
It was really refreshing applying for a role at Auto Trader. The application form includes a section on how many hours you would like to work, which is great because they are normalising that conversation. I'm now working 4 days a week which allows me to balance my work, family and other commitments. For example, I run a code club with another parent at my children's primary school, to encourage more girls to try coding.
What is your favourite thing about being part of the industry?
It's just so lovely to be working in such a positive environment and to be learning new things. There is always something interesting to work on and I get plenty of support from my more experienced colleagues. I also like the feeling that I've future-proofed my career. I have skills from my previous career, but I'm growing new skills all the time too, skills which will be in demand in the future. Plus I'm doing such an interesting job, every day feels different. I don't feel stuck in a rut like maybe I had before.
Why is it important for programmes such as Digital Her to inspire young people to join the industry?
It's so important, because it's about being able to see yourself there, and seeing other women just like you doing those roles. This will help to break down the stereotype of 'It's only for teenage boys' that some people still have.
It's about making young women and girls aware of what the possibilities are. There are so many different, interesting jobs that you can do. It doesn't have to be technical. I think it's really important to give girls those aspirations and show them what's possible.