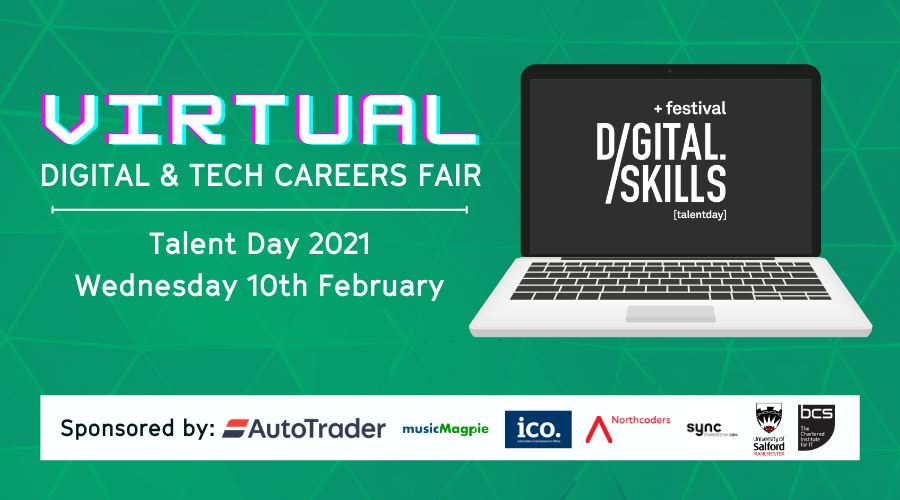 Talent Day, part of Manchester Digital's annual Digital Skills Festival, is the largest free-to-attend digital and tech career fair in the North and will give you the opportunity to meet up to 40 of the region's leading employers, secure your first job in the industry or line up some work experience.
As with any career fair, it's important that you have planned and prepared ahead of the day as you would for an interview. There will be a wide range of businesses exhibiting and this is a fantastic opportunity to talk to them at a time when they are looking to recruit or develop their talent pipeline for the future.
In addition, this year's event will be taking place virtually so there are practical steps you need to take in order to be able to access the career fair platform which will be outlined below.
Setting up your profile
You'll need to register on the career fair platform that will be hosting Talent Day. Find the link in the email we've sent you, or click here.
Once you have registered you'll be asked to set up your profile, where you can add your education history, work experience and skills. You can also upload an up to date CV.
We would advise you to have your profile set up by Wednesday 3rd February (one week before Talent Day). Employers will be able to browse attendees ahead of and during the event, so if your profile isn't completely set up you may miss out on some approaches or opportunities. Employers will list their available video chat timings ahead of the event - so make sure you request your slot and don't miss out on an opportunity to meet and chat with a potential employer.
Preparation
Make sure you know your stuff! Research which businesses will be exhibiting and what they do. We'll send you a list of the attending companies before the event.
Update and tailor your CV, and make sure it's uploaded into the Talent Day online platform. Think about how you can demonstrate the skills and interests you have as well as your qualifications. And remember to show a passion for the industry too! If you want some tips on setting up your CV, watch this video.
Got a LinkedIn/Twitter account? Ensure the information on there is up to date and follow/connect with the companies that interest you.
Prepare questions that demonstrate your interest in the companies you wish to speak to on the day and think about how the companies would benefit from employing you.
Prepare and practice a career elevator pitch that will introduce yourself to potential employers and make the right impression. Initial contact is likely to be over Live Chat so you could have concise introductions written beforehand. Then, if an employer wishes to talk to you over video call, practice a 30-60 second pitch that will explain who you are, what your skills are and what your career goal is.
Book time in with the companies you wish to speak to. Although you can approach any of the exhibitors on the day (and companies can also approach you), the career fair platform allows you to request specific time slots with employers. The event lobby will be open from 3rd February, after which you can browse exhibitors and request a conversion slot.
For more tips on how to prepare for Talent Day and meeting potential employers, watch this recording of the Preparing for Employment session we ran with Zuhlke Engineering on 14th January.
On the Day
Although you don't need to be online for the duration of the whole event, we would advise that you are free throughout the day in case any employers attempt to contact you.
Dress appropriately. Whilst you don't need to be dressed professionally, remember that first impressions can count for a lot so it's important that you are presentable!
Find a quiet spot where you won't be disturbed, preferably with a neutral background behind you - though don't worry too much about your background as employers appreciate the working from home situation.
If you have any additional needs, either let us know beforehand or tell the employer before you speak to them so that they can provide any adjustments required.
Ensure that you have a good internet connection that will be able to cope with audio/video conversations, and shut down any windows or programmes that could impact on connectivity.
Know where any documents are saved on your computer (e.g. CVs, cover letters, portfolios etc) so that you can easily send these to employers when you are talking to them.
If you have any conversation slots booked, make sure that you arrive on time and check that your tech (camera, microphone) is working correctly.
Whilst on video calls with employers, maintain eye contact, practice active listening and remove any distractions from your immediate area (such as mobile phones etc).
Use your elevator pitch. Be curious, engaging and show some passion! Businesses will want to see some enthusiasm and remember, competition will be fierce.
Make sure you remember recruiters' names and get their contact details.
Be open to the advice that you will receive from prospective employers or recruiters, it may open up new opportunities or roles that you hadn't considered before.

After the event
Follow up. Make sure you follow up on any of the conversations you had with employers - even if it's just as simple as thanking them for their time. If you said you would send them any additional information then make sure you do so within a day or two.
Keep up to date with what is happening in the industry and with the companies you spoke to. One great way to do this is to sign up to the Manchester Digital newsletter, which you can do here.
Not booked your place at Talent Day yet? Book here now.