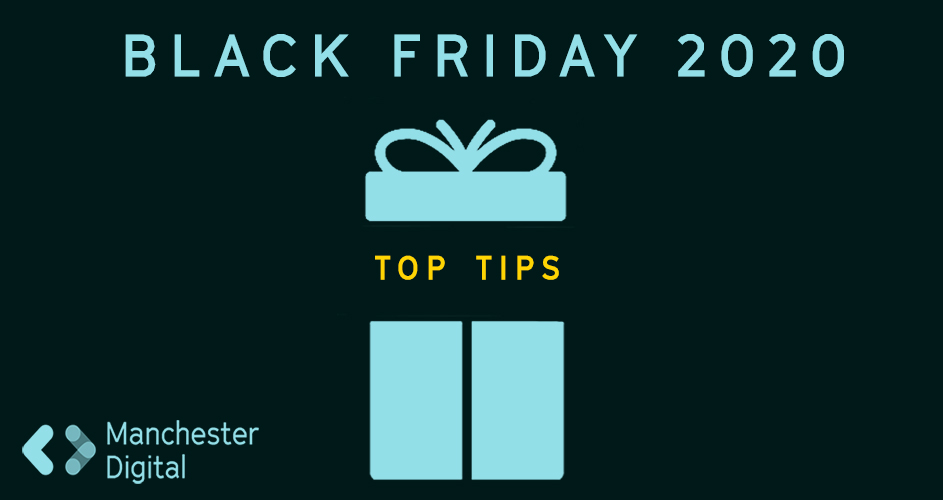 Ahead of what is set to be a busier than ever Black Friday event this year, Manchester Digital members from across ecommerce, digital marketing and cyber security have shared their top tips for getting your ecommerce store and digital marketing strategy ready for this year's peak period.
With shops closed across the UK, Black Friday will move entirely online for the first time, and whilst the outlook for ecommerce sites may appear bright, there's a definite sense that we're moving into the realms of the unknown.
Preparation will be key in order to maximise sales and keep your site secure, so whether you've pivoted to online retail in 2020 or you're a seasoned professional, we're sure you'll find some actionable tips for Black Friday in the advice of our members below.
What's the one thing you recommend to anyone who runs an ecommerce site, to prepare for Black Friday?
Chris Ashcroft, Head of Technical Services - Datacentreplus:
"Let's face it, everyone loves a good bargain and that's why Black Friday is so popular! However, when preparing your website for possibly the biggest weekend of online shopping (of the year) and capitalising on all those essential sales, it's crucial that your website will be able to manage the sheer number of traffic that pushes its way onto the site.
Increasing your website capacity to be able to handle surges in web traffic, and analysing historical web traffic data will play an important factor in providing the best shopping experience and maximising sales opportunities this year."
In order to successfully reach new customers, are there any tools you shouldn't be without this Black Friday?
Luke Pheasey, Field Marketing Manager UK - Sana Commerce:
"It would definitely be a webstore that is fully mobile optimised. By 2021, it's expected that over 54% of all ecommerce sales will have been conducted on a mobile device. So from an ecommerce solution providers' perspective, it's vital that the solution we're providing businesses with is fully mobile optimised out of the box, otherwise it will result in lost revenues.
It's also imperative that a business's website loads up quickly. Almost half of all consumers expect a webpage to load within 2 seconds. Just a 1 second delay can result in 7% fewer conversions!"
Tell us the best advice you've been given to help convert website visitors into customers?
Robert Hufton, Director & UX Consultant, Higher Ground UX Agency:
"A career in Digital has allowed me to work with incredible people all over the world. Having returned to Manchester to start my own UX Agency, I still seek advice and support from professional mentors, as I strongly believe in the benefits of lifelong learning.
Without doubt one of the most influential people in my 20-year career has been Paul Boag. He's one of the best digital strategy minds on the planet. He once said, "Test and keep testing. Nobody can build the perfect conversion machine on their first try. It is only through careful monitoring and testing different approaches that you can discover what really works for your audience.
The other person I must mention is my old long term boss Steve Stylianou who said, "Make sure you're digging in the right hole" and "your ideas have to make a return."
What are some quick tips to increase website conversions on your Black Friday deals?
Holli Barrett, Head of CX - Space48:
"No longer do you need a store to win this time around. Therefore, strong first impressions count. Nailing the foundations is important in delivering a solid user experience. Competitive pricing, clarity on stock and delivery times, and strong technical performance are all musts when it comes to this year's Black Friday season.
Customers have more choice than ever and know if a brand doesn't suit their needs they can easily go elsewhere. It only takes 0.05 seconds for a visitor to form an opinion and decide whether they'll stay or leave.
We would emphasise optimising your site performance as best as possible. Users will become frustrated with laggy page loads and won't wait around for fear of missing out. You need to remove any technical issues that negatively impact site speed. November and December are the two busiest months of the year for many retailers and your site must be able to handle increased traffic - especially when they can no longer go in-store to do so."
How can we choose the right channels to promote an offer, this Black Friday?
Simon Wharton, Business Strategy Director - PushOn:
"There is no universal panacea for Black Friday. It depends entirely on where you are as a business. You may well have sophisticated customer data and a deep understanding of your customer segments and their typical needs and wants. It may be that this is your first Black Friday and you're still trying to work out how to make this work for you. It makes sense to talk in some core principles:
Value the customers you already have and make them feel special. Think lifetime value of client
Use the opportunity of Black Friday to generate new customers and consider what their relationship with you might be. Again, think lifetime value of client.
Make sure you don't lose money on your offer unless you are confident that you will recoup those losses and more through the relationship with that customer
Think how you can incentivise your existing customers to introduce you to potential new customers who are their friends.
Remember that many of your customers will research prior to the event. Make sure your remarketing is on point.
Email. Still works
Once they are on your site, make sure that they fill their basket with further product
So, remember, Black Friday isn't about selling, it's about customers."
How can businesses get the most out of paid advertising this Black Friday?
Geoff Bretherick, Creative Director - Fablr:
"One of the things we see time and time again with less experienced ecommerce businesses is where there's a disconnect between their ad creative and the experience shoppers end up getting served to them when they land on the pages from which they're expected to convert.
As consumers we're all hyper-sensitive to anything that doesn't match what we perhaps expected – either visually or in the messaging we see. Most importantly, we're also all very impatient! Site owners need to make sure that their landing pages are optimised for making the user experience completely frictionless. Make sure your ad creative is perfectly aligned and on-brand with what shoppers will see and read on your landing pages, and don't make them have to make more choices to get at the very thing they were first drawn to in your ad.
For some categories of products, businesses need to remember that it's not necessarily the very best products that sell well online, but instead it's ones that people can gain an understanding of really quickly and assess their value proposition to them as a buyer.
Landing pages that combine good design with explainer video, high quality testimonials and low-density, sharply written copy will convert much more effectively by taking customers by the hand from the moment they click on your ad. As with any sales process, you're looking to take away any potential objections the buyer might have directly through the user experience you're offering. As a site owner, spending a little time considering your offer through the eyes of your customer from initial awareness through to converting them will be a quick win to get improved value from this year's Black Friday sales drive."
How do you get your customers talking about your upcoming Black Friday deals?
David Ingram, Founder - Bring Digital:
"There's always a lot of marketing noise coming into Black Friday, with major brands pushing substantial budgets into digital awareness and acquisition campaigns. With the current lockdown closing the majority of physical retail outlets, we can expect the 2020 Black Friday period to be the busiest yet, with brands throwing everything they've got into online channels.
There are some incredible examples of brands using innovative ways to stand out in the crowd in the run-up to the festive retail peak, but I always remind eCommerce brands not to forget about their existing eCRM channels. Email lists are worth their weight in gold in a highly competitive retail period, and using a well-balanced build-up campaign towards Black Friday can be one of the most direct, effective and efficient ways of building awareness and excitement for an upcoming deal launch. It might not be the most glamorous marketing route in your mix, but I've consistently seen it be amongst the highest performing."
What threats should anybody running an ecommerce site be aware of ahead of Black Friday and what can be done to prepare?
MJ, Senior Cyber Security Consultant - The Cyber Resilience Centre for Greater Manchester:
"One important trend that we've been seeing through police reporting is brand catfishing. This is where an e-commerce website or social media account is replicated for fraud. During busy online purchase days such as Black Friday, fraudsters use this technique to deliver traffic to the fake website and attempt to either steal card details and credentials or put charges on people's cards. For example, consider a start-up gift shop that's now got a decent customer base and a website to promote and sell products. Criminals create a fake social media account (Instagram or Facebook) then copy all the material from the real page and start following the actual brand followers. Criminals also provide a link to their desired website which is also a copy of the actual one. During busy times of the year such as Black Friday when everyone is in a hurry to go online and purchase gifts, many will fall for this trick and their credentials, card details, etc get stolen. Bear in mind that cybercriminals do a lot of preparation in advance.
To avoid this ecommerce site owners should make their clients aware of this threat and encourage them to be vigilant when they shop online. Probably announce that they have no other social media accounts or websites. It's also good practice for them to monitor such activity by simply googling their brand. Criminals often purchase domains that are close to the actual brand's domain to fool customers, then they purchase google keywords to appear on the top of Google's search results. Simply by Googling their website and brand they can see if there is any suspicious activity going around their brand. I'd say do the same on all social media platforms to see if there is a fake copy of their brand out there."
Thank you to all of our contributors: Datacentreplus, Higher Ground Marketing, Fablr, Space 48, Sana Commerce, Bring Digital, PushON, The Cyber Resilience Centre for Greater Manchester.
Further reading & upcoming events
How to make sure your eCommerce website is prepared for Black Friday - Datacentreplus
B2B ecommerce technology in 2020 and beyond | 25th November - Sana Commerce
3 ways to prepare your app or site for Black Friday - Beeta Tech
Research - Are online retailers unprepared for Christmas surge? - Edge Testing